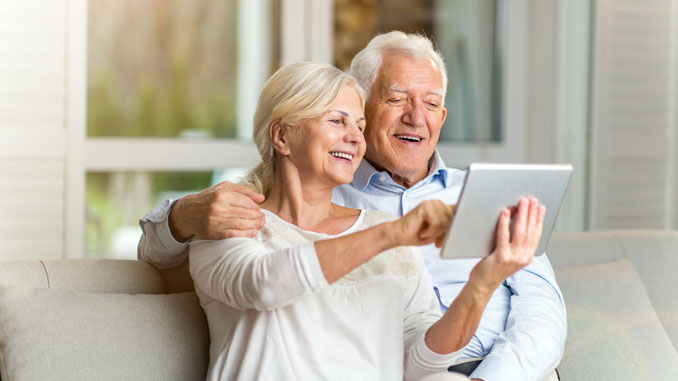 As people get older, it's normal for social circles to become smaller. At the same time, their independence may begin to slip, they get out of the house less often, and loneliness sets in. Now add a pandemic into the mix and it isn't hard to imagine older adults struggling to keep up their social connections and routines.
Luckily, technology can help bridge this gap while also preserving independence – even for a generation that can be hesitant to embrace new forms of technology. "You have some older adults who are very technologically savvy and others who are kind of fearful," says Elise Vigil, adult services division chief at San Joaquin County's Department of Aging and Community Services. "The technology gap with older adults contributes to loneliness, depression, isolation – a myriad of things that can impact a person's physical as well as their mental health." In fact, loneliness can have the same impact on your health as smoking 15 cigarettes a day.
So how do we get older adults on board with new technologies? According to Elise, sometimes it's just a question of access. If there's no one to introduce the technology and explain how to use it, it can be extremely hard for seniors to understand it or even see the need for it. But when it comes to which devices are better suited to seniors' needs, it's really personal preference. Elise says that cell phones have been a game changer, allowing seniors to stay connected to their loved ones and also rest assured that if they have an emergency while not at home they will be able to call for help – no more need to wear that a medical alert button wherever you go. Others prefer tablets, whose larger screens can make them more user friendly. But whatever tech you choose, what's important is how you use it. These are some of the ways technology can help keep seniors connected, independent, and thriving in the digital age.
Can you see me now?
Calling up a friend is certainly nothing new, but when you can't visit someone in person, a video call can be the next best thing. "Nothing substitutes face-to-face interaction," Elise says of the rise of video chatting, "but, while it's not a full substitution, it provides us that human contact that we need and it allows us to remain safe at the same time."
Pandemic aside, regular video calls with loved ones can help seniors keep connected with their family members who don't live nearby or are always on the move. Something as simple as a weekly call can be incredibly helpful in fighting loneliness.
An apple a day
Even if you can't (and you shouldn't!) avoid the doctor altogether, technology makes it possible to take care of many of your routine needs from the comfort of your own home. Healthcare providers like Kaiser Permanente and St. Joseph's Medical Center offer video chat appointments to address concerns ranging from prescription refills to shortness of breath, pain, and many other symptoms. And, while we're on the topic of an apple a day, you can get your fruits and veggies without ever leaving the house through grocery store delivery apps like Walmart Grocery or Raley's.  
Feel the burn
Aches and pains? Now you know you can set up virtual appointments with your doctor, but did you know that you can also join virtual exercise classes specifically designed for older adults who are looking to stay active and relieve pain, too? "Something like Tai chi for arthritis," Elise says. "We're partnering with the public health department so we've going to be able to launch a virtual class."
Find Resources:
SJC Department of Aging and Community Services
333 E. Washington St., Stockton
(209) 468-1104