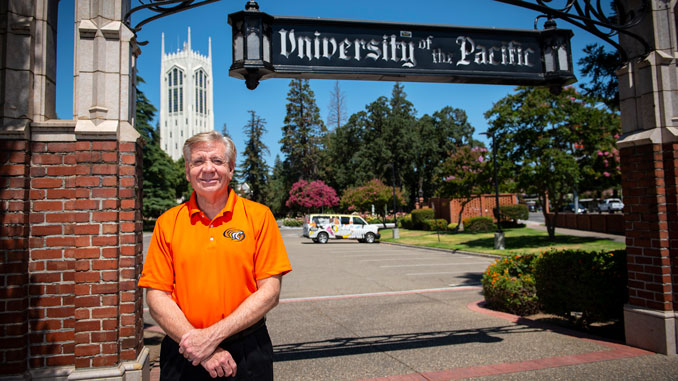 University of the Pacific is looking toward its future as Christopher Callahan takes the helm as the University's President. With a background in multimedia journalism and more than 25 years of academic leadership and management experience, Chris hopes to help boost UOP into the digital world and earn it the recognition he believes it deserves. 
Chris himself is a first-generation college graduate, earning first his bachelor's degree in journalism from Boston University's College of Communication and then his master's in public administration from Harvard University's John F. Kennedy School of Government. After nearly a decade working as a correspondent and editor for publications such as The Associated Press and the American Journalism Review, he discovered a passion for higher education. Coming from his role as the founding Dean and Professor at Arizona State University's Walter Cronkite School of Journalism and Mass Communication, Chris is eager to embark upon a new adventure at University of the Pacific. "I looked at this adventure – and I do see it as an adventure – as what are we going to do together," he says. "How are we going to take this really, really good university and make it even better?"
Chris says he was first drawn in by the history of innovation at UOP, pointing to the fact that not only is it the oldest university in the state, but also the first co-ed university in California and the first music conservatory west of the Mississippi. "At Pacific, the idea of innovation is really embedded in our DNA," he says. "That was a huge attribute that got me really excited."
He was also drawn to the unique structure of UOP with three campuses that, between them, exemplify the strengths of both a small, close-knit liberal arts school and a large, comprehensive university. In his experience, "it is very rare to have both of those elements combined into one university." He sees these strengths as the key to future success at the university, which he believes hasn't received the large-scale recognition it deserves. It's a matter of drawing attention to an already great system of education.
"Quite frankly, I would take this problem over the opposite," he says. "The opposite problem is having a mediocre school that is pretty well-known and then you have to make the school better. That's really hard. What we have is a really, really good school that I think today is not as well-known as it should be. I'm not talking about the future – we're going to take this university from very good to great – but even right now, does it have the prominence that it should? I don't think it does."
Which begs the question, how exactly do you bolster the reach of the university's reputation? Chris believes that you start by bridging the gap between how quickly the digital world moves and how slow higher education typically is to adapt. "One of the first things we're doing… is a brand-new digital presence," Chris explains. "A whole new website that is focused on mobile devices, focused on young people. It's very interactive and to me that's step one."
Moving forward, Chris hopes to shepherd in new ideas and support the evolution from idea to reality.  "I'm not the expert on Pacific," he says. "Hopefully what I can do is help promote and stimulate and lead conversations among our faculty, among our students, among our alumni who can then generate cool new ideas and then my job is to help them execute them." And he feels his collaborative and communication-based leadership style is particularly well-suited to accomplishing this goal. He admits, however, that his priorities right now are very different from what he had imagined when he first accepted the position. "One of the things I have heard over and over from our students, parents, faculty, staff, from everybody is they want to be back on campus," he says. "So, my short-term goals have changed fairly dramatically in COVID world, which is just working with the rest of this really strong team to make sure we're going to be able to do that – and we are going to be able to do that."