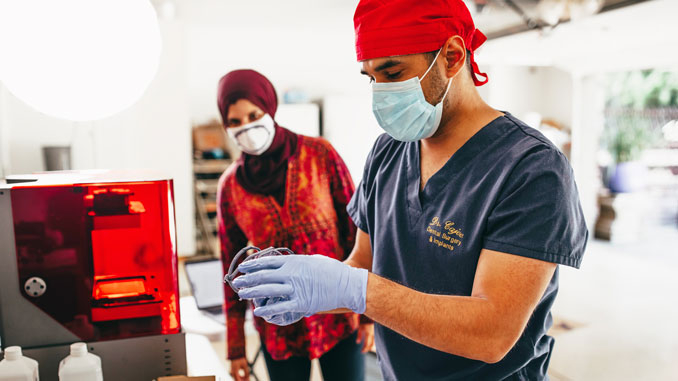 When the COVID-19 pandemic shuttered the doors at Dr. Cajee's private dental practice in Manteca, he could have gone home like many others dentist had. Instead, he turned his free time into a mission, serving San Joaquin County healthcare workers and beyond by 3D printing much-needed PPE equipment.
"The PPE shortages really hit home," Dr. Cajee says. "We couldn't get proper Level 3 or N95 masks in our dental practice. And I was shocked to learn that… early in the pandemic hospital and nursing home workers couldn't get PPE either."
Recognized in the top 10 percent of dental offices nationwide for technology, Dr. Cajee was already adept at using a 3D printer in his dental practice. With all of the necessary equipment at his fingertips, he didn't hesitate to start creating the PPE equipment needed across the county. He named the organization PRINTtoPROTECT.
With the help of community entities such as The Community Foundation of San Joaquin County and Mayor Michael Tubbs' StocktonStrong, Dr. Cajee and his colleagues were able to fund the project and produce large numbers of PPE to include masks for healthcare workers. The pieces are donated—not sold—to frontline workers. More donations rolled in including plastic donated by the regional Coca-Cola bottler and a GoFundMe account that filled the gaps.
People to make the masks, however, were also needed. "Above all, we were able to raise a small army of dedicated and talented local volunteers from Stockton to Merced who donated their time, knowledge, and creativity," Dr. Cajee says. There was also a need for space to create and Hatch Workshop, the University of the Pacific's libraries, the Stockton-San Joaquin County Public Library, Manteca Unified's be.next Game Design Academy, and others stepped up to open their doors to the emergency network of individual makers  and community partners using 3D printers, laser cutters, and other tools to create PPE needed across counties. "We have an amazing and unique community spirit in the Central Valley," Dr. Cajee says. "When we reached out people stepped up to the plate."
Dr. Cajee is back at work, with operations at his dental office starting up again on May 4, but he hasn't abandoned PRINTtoPROTECT or its mission to create 10,000 face shields (enough to outfit every frontline worker in San Joaquin, Stanislaus, and Merced Counties hopefully before a COVID-19 peak hits).
Get Involved:
PRINTtoPROTECT
Stockton
Facebook.com/Groups/PrintToProtect
@drcajee