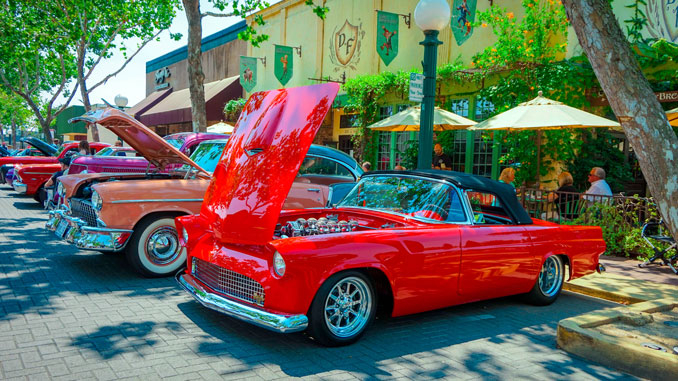 Whether you live in Lodi or just outside of it, chances are you've been to the area to explore, but when we live somewhere it can be hard to see our hometown for the tourist destination it is. Step out into Downtown Lodi and enjoy all it has to offer, as if you're seeing it for the first time.
Savor Lodi
This easy walking tour is perfect for sampling cuisine throughout town, plus you'll be on foot between destinations, making it easier to explore. But don't worry, it's just a one-mile trek in all. For 2.5 hours enjoy meeting owners of popular restaurants, sipping wine, and tasting local brews. Must be 21+. (Weekends only). Choose from a walking food tour, happy hour tour, or Sunday brunch tour. Downtown Lodi, (209) 294-8677, SavorLodi.com
Hutchins Street Square
Self-Guided Walking Tour
Experience 100 years of Lodi history on a self-guided historical walking tour of Hutchins Street Square. Follow the brochure (available at Lodi.gov/439/Historical-Tours) for fun facts dating back to 1913. Even if you've lived here all your life, you're likely to learn something new. 125 S. Hutchins St. # A, Lodi, (209) 333-6782, Lodi.gov/433/Hutchins-Street-Square
Downtown Tasting Rooms
Wine Tasting
No trip to Lodi is complete without wine. Lucky for us, downtown is home to some popular tasting rooms so you won't have to go out of your way to sip the county's bounty. Slip into Cellardoor where Michael David and Van Ruiten wines are served, order bubbles at Weibel Family Tasting Room, have a mix of cider and wine at Scotto's, or taste vinos from Jeremy Wine Company and McCay Cellars—all walking distance from each other.
Dine-In
Finish your evening with a meal at one of Lodi's delectable restaurants. In the heart of Lodi guests can grub on German-inspired bites at West Oak Nosh or enjoy an upscale meal of modern delicacies at Rosewood.
Alternate Ending: Not yet ready to leave? Schedule your tourist day on one of Hutchins Street Square's concert nights. On Tuesday April 14, Sons of Serendip will perform and on Saturday, April 24, John Waite will host a VIP Meet & Greet.