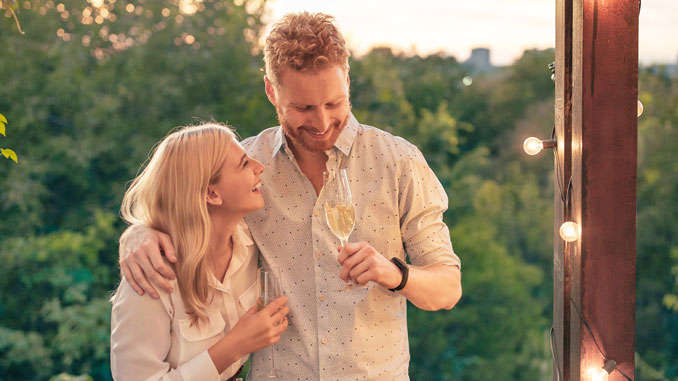 Looking to impress someone special this month? Whether the goal is to plan the perfect Valentine's Day, or simply to treat your significant other to a night on the town, our list of local excursions is perfectly curated with lovers in mind. From first dates to 50-year anniversaries, there is a date for every type of couple on this list. So, fall in love-for the first time or again-over a plate of decadent fair, experience the world of Lodi wine and chocolate, or race against the clock to escape a terrifying fate inside a (safely) locked room. Each of these excursions is sure to have your heart pumping, either with adrenaline or that loving feeling. You can thank us when you get that coveted kiss at the end of the night.
Solve puzzles together. Stockton is home to two escape rooms-Limitless Escape Games in Lincoln Center and The Escape Adventure Stockton on East March Lane-and they are perfect for bonding with your S.O. Solve Sherlock Holmes style mysteries or pull off the ultimate bank heist. Choose between five themed rooms between the two locations to add an interactive element to date night. If you don't want to go to an escape room, why not create a DIY escape room instead? Save yourself some money whilst still having a great time.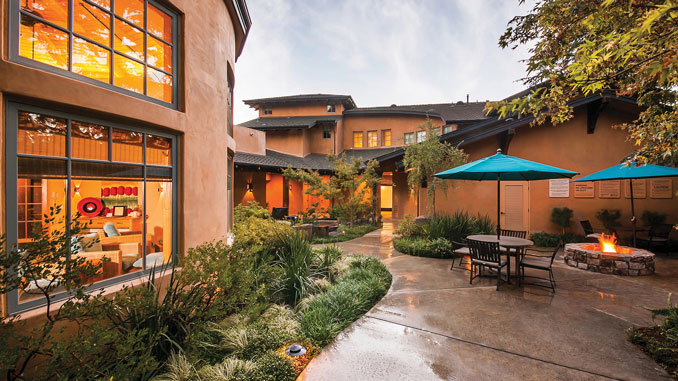 Unwind together. Book a duet experience for you and your honey to enjoy the ultimate in rest and relaxation at the Spa at Wine & Roses. These calming traditions range from wellness massages in the inviting cascade retreat to two-hour experiences made for two. Our Suggestion: Book the couple's interlude-a treatment as romantic as it sounds-to enjoy a candlelit tub soak for two followed by side-by-side massages carried out fireside. Wine & Roses, 2505 W. Turner Rd., Lodi, (209) 334-6988, WineRose.com
Dine together. Prix fixe menus are an easy tradition for those stumped on how to celebrate, but just because it's a go-to doesn't mean it's boring. Elevate the evening with a multi-course meal (complete with dessert) at Midgley's Public House in Stockton or a specialty holiday menu at Rosewood Bar & Grill in Lodi. Expert Tip: Don't show up empty handed. Use local resources to wow your v-day date with Valentine's Day-themed sweets from Kandison's Confections in Stockton and roses from Belle's Lodi Flower Shop in Lodi. Midgley's Public House, 296 Lincoln Center, Stockton, (209) 474-7700, MidgleysPublicHouse.com or Rosewood Bar & Grill, 28 S. School St., Lodi, (209) 369-0470, RosewoodBarAndGrill.com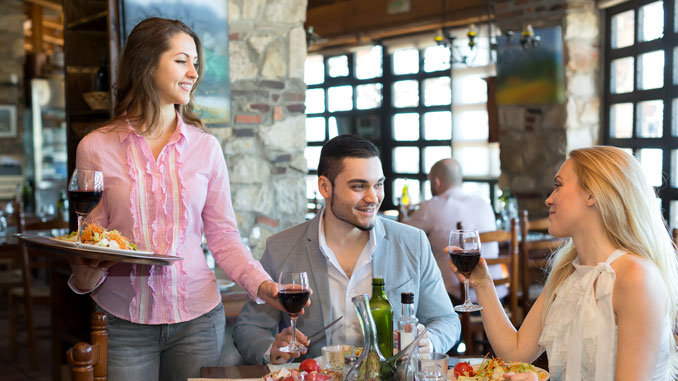 Indulge together. Pair your favorite local sips with delectable chocolates served by Lodi's favorite wineries. This weekend event makes the perfect date night for those who enjoy both good food and good wine. Celebrate February7-9 as more than 50 participating wineries open their doors to lovebirds.
Stay in together. Date night doesn't have to mean going out. Subscription date night boxes offer a new way to break out of that Netflix and chill funk. The trend has really taken off. Choose from services like Date Night In. Or, pick a themed box that caters to your shared interests such as craft cocktails (Shaker & Spoon), arts and crafts (The Adults & Crafts Crate), or baking (Red Velvet NYC). Simply order a subscription and wait for the box to make it to your door. Everything you need to enjoy an evening together will be housed inside.
Hit balls together. For the active couple, Big League Dreams is a dream come true. Hit a homerun with your favorite batting buddy at the Manteca batting cages. Fill your pockets with tokens and get ready for an evening of old-fashion fun. Cages are available in 15-, 30-, and 60-minute increments, plus bats and helmets are free. Big League Dreams, 1077 Milo Candini Dr., Manteca, (209) 824-2400, Manteca.BigLeagueDreams.com
Decorate cookies together. The Sprinkle Room is home to Bee Love Cookie Co., a Lodi local business that pre-sells expertly decorated confections for holidays and more. Arrange a private or group decorating class to make your own themed treats for Valentine's Day at the adorably chic decorating warehouse. Sweeten the deal: Order a dozen of the colorful sugar cookies to gift your sweetheart. Pre-sell and pick-up dates are posted on social media @beelovecookieco The Sprinkle Room, 315 W. Pine St. Ste. 7, Lodi, BeeLoveCookieCo.WixSite.com
Go back in time together. Those who enjoy a well-crafted cocktail will swoon over the drink menu at the Deliberation Room in Stockton. This speakeasy-style bar nods to the prohibition era with both its menu and its décor. Stay for a quick bite (pizza, sandwiches, and salads are served here). Deliberation Room, 19 N. California St., Stockton, (209) 910-9477, Facebook.com/DeliberationRoom
Brunch together. It's practically the official meal of couples. Brunch menus abound at The Black Rabbit in Stockton and Bubbles & Birds and The Dancing Fox in Lodi. Wash your chicken and waffles down with flavorful mimosas at Birds & Bubbles or opt for a creative twist on the favorite meal at The Black Rabbit where double-fried quail is served atop a buttermilk waffle finished with bone marrow butter and tajin maple syrup. The Black Rabbit, 2353 Pacific Ave. Ste. B, Stockton, (209) 323-5141 or 117 W. Elm St., Lodi, (209) 263-7115, BubblesNBirds.com or 203 S. School St., Lodi, (209) 366-2634, DancingFoxLodi.com
Feel the magic together. Whether you're a believer or not, The illusionists are sure to amaze you with their stunning tricks and illusions. The fivesome take the stage February 27 at Bob Hope Theatre. Get your tickets at the box office before they disappear. 242 E. Main St., Stockton, (209) 373-1400, StocktonLive.com
Hit the ice together. You may as well be starring in your own romantic comedy when you hit the ice at Oak Park Ice Rink. Grab a pair of skates and glide hand-in-hand across the ice. Rentals are available and public skating times are posted on the website, with special discounts on Mondays and Tuesdays. Alternate Ending: After you've tested your own skills on the ice, watch the pros in action. The Stockton Heat are hosting a home game on Valentine's Day, as well as Feb. 1, 15, 17, 28, and 29 (Lodi Wine Night). Oak Park Ice Rink, 3545 Alvarado Ave., Stockton, (209) 937-7433, OakParkIceRink.com and Stockton Arena, 248 W. Fremont St., Stockton, StocktonLive.com
Enjoy a sweet treat together. Share a modern milkshake for two at House of Ice Cream. The eatery has locations in both Lodi and Stockton serving up over-the-top flavor combinations. Get into the holiday spirit with a strawberry cheesecake base built into a crazy shake, a milkshake topped with a scoop of ice cream, an old-fashion donut, and topping of your choice smeared across the rim with frosting. Whipped cream and chocolate are optional. House of Ice Cream, 947 N. El Dorado St., Stockton or 401 S. Cherokee Ln., Lodi, (209) 497-1716, HouseofIceCream.net
Watch the sunset together. Those California sunsets are beautiful in the winter, and with warm days in the forecast, it's easy to find a good evening to enjoy one with your love. We recommend sipping wine at Bokisch Vineyards while you enjoy the view over the hills (yes-Lodi has hills) or visiting Buckley Cove Park where you can watch the sun slip over the Marina. Bokisch Vineyards, 18921 Atkins Rd., Lodi, (209) 642-8880, BokischVineyards.com
Stop and smell the roses together. Why not treat the senses with a leisurely walk through a local rose garden? Stockton is home to University Park World Peace Rose Gardens, a free rose garden open to the public year-round. Come by and sniff more than 250 roses and feel the love by reading peace messages left by students. Grab a seat on the lakeside bench and scribble your own message of peace to drop in the colorful rose box on the property. University Park World Peace Rose Gardens, 501 E. Magnolia St., Stockton, UniversityParkStockton.com
Paddle across the pond together. Remember when Kat and Patrick took a paddle boat out on the lake in 10 Things I Hate About You? Recreate their date by renting a boat and having a deep conversation at Oak Grove Regional Park. Rentals run just $6-10 for 30 minutes. Expert Tip: Make a day of it. Bring a picnic lunch to enjoy on the grounds and take the 1.5-mile hike amongst the grove trees. Oak Grove Regional Park, 4520 W. Eight Mile Rd., Stockton, (209) 953-8800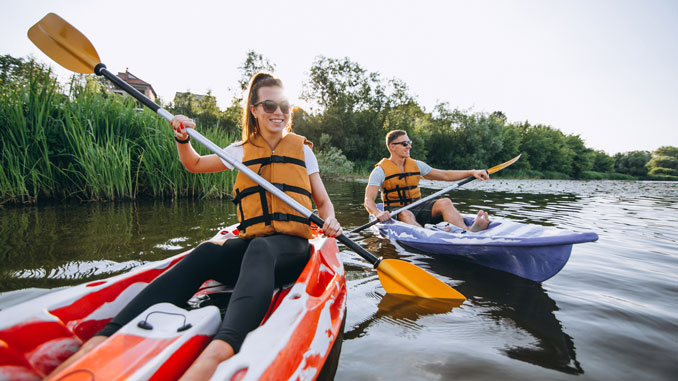 Kayak together. Grab a paddle and row in tow on Lodi Lake. Thanks to mild winters, there is no off season for kayaking, and a trip on the water may actually be more peaceful this time of year when the crowds are shying away. Rent your gear from Headwaters Kayaks and hit Lodi Lake. Expert Tip: keep an eye on the Headwaters' website for guided tour opportunities, many of which are cheap or even free. 847 N. Cluff Ave. Ste. A6, Lodi, (209) 224-8367, HeadwatersKayak.com
Play like kids together. Celebrate your puppy love by acting like a couple of kids at Zap Zone. Track each other down inside the two-story laser tag arena as you go head to head-loser does the dishes-or indulge in one of the arcade's other offerings such as billiards or dart boards. Food and alcohol are also available. Zap Zone, 1578 Hammertown Dr., Stockton, (209) 478-9277, ZapsZone.com
Try something new together. Virtual reality is making a splash in today's technology market, and Stockton VR is the only venue in San Joaquin County. Book your adventure at least one day in advance-the virtual reality arcade is by appointment only-and then discover an exciting new world of video game play inside. Bonus: Trying something new together for the first time helps couples bond. Stockton VR, 1720 Pacific Ave., Stockton, (209) 910-4480, Stockton-XR.Business.Site
Look into the future together. You've likely already discussed what your future together has in store, but wouldn't you like to know how it all turns out? Gina at Spiritual Love Psychic uses her powers to give people expert readings at her Stockton shop so you can ask an expert what your future holds. Spiritual Love Psychic, 2329 Waterloo Rd., Stockton, (209) 640-1644
Dine on charcuterie and fine wine together. Charcuterie is having a moment, and you can have one too over a platter of selected meats, cheeses, and accompaniments at several eateries throughout San Joaquin County. In the Lodi vineyards, tasting rooms like Oak Farm Vineyards and Harney Lane serve decadent displays on occasion while the Mile Wine Company offers its own plate accompanied by live music. Lovers can also drool over this inspirational pairing at restaurants such as Towne House in Lodi and The Kitchen at Stonebrier in Stockton.