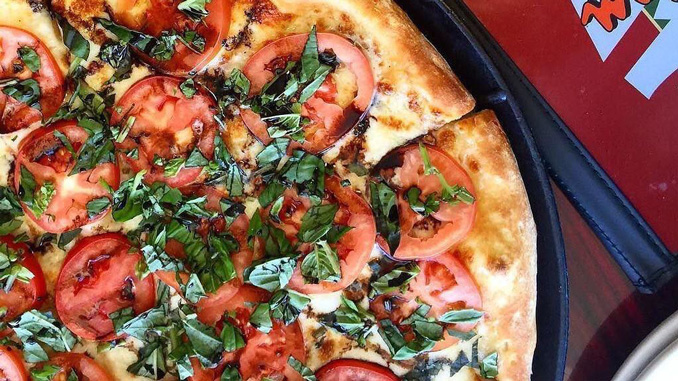 There's no time like pizza time and in October, which proudly holds the title of National Pizza Month, it's always time to indulge in a pie. Check out these local pizza joints to get your fill.
Margherita Pizza
The Margherita Pizza is said to have first been made in the late 1800s for Queen Margherita when she visited Naples. Whether that story is true or not might be debated, but there's no question that the colors of the Italian flag (green basil, white mozzarella, and red sauce) make a pizza worth trying. Stop by David's Pizza to sample this simple pizza done right.
David's Pizza
1744 W. Hammer Ln., Stockton
---
Pesto Combo Pizza
Red sauce isn't the only option when it comes to everyone's favorite Friday night food, and nothing tastes quite like a pizza smothered in pesto. Rick's takes this tasty twist head on with mushrooms, olives, artichoke hearts, and fresh garlic atop a flavorful pesto sauce and crisp crust. Be sure to order a large so there's enough to go around.
Rick's Pizza
1320 Lakewood Mall, Lodi
---
Garlic Veggie Gourmet Pizza
Piled high with feta cheese, sun dried tomatoes, zucchini, spinach, mushrooms, green and red onions, and artichoke hearts, this isn't your run of the mill vegetarian order. With a creamy garlic sauce and homemade, hand-tossed dough, this pizza is sure to be a hit with veggie lovers and meat lovers alike.
David's Pizza
1744 W. Hammer Ln., Stockton
---
Caprese Pizza
It only makes sense that combining a crowd favorite like caprese salad with pizza is going to result in an ooey, gooey, cheesy, and—most importantly—mouthwateringly delicious meal. The Caprese Pizza at Michael's Pizza takes this classic flavor combo to a new level with thick rounds of tomatoes topped with a generous portion of fresh basil and drizzled in balsamic vinegar.
Michael's Pizza
2300 W. Alpine Ave., Stockton
---
Tandoori Barbeque Chicken Pizza
We can almost guarantee you've never had a pizza like this before. Tandoori Pizza specializes in cuisine fusion pizzas and offers options like the Malai Paneer, which gets its name from the use of both malai (a dairy-based ingredient used in Indian cooking) and paneer (a type of fresh cheese), or the Curry Veggie Delight. But the real showstopper is the popular Tandoori Barbeque Chicken. With a spicy barbecue sauce, this pizza is loaded with mozzarella, red onions, and barbeque chicken.
Tandoori Pizza
1920 W. 11th St., Tracy