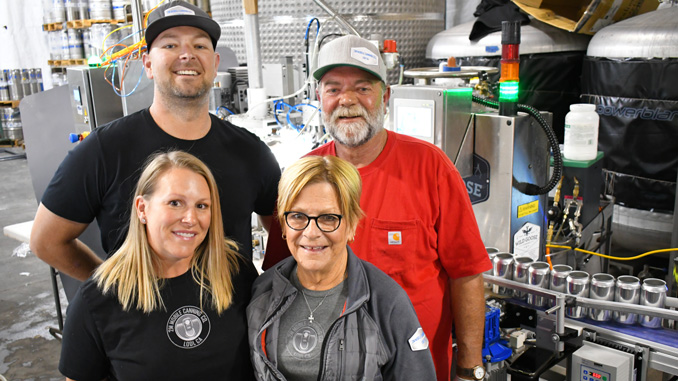 Ever wonder how your favorite beverages end up in cans? Well, when drinks like beer, wine, and coffee are created locally, businesses often reach out to third party companies to package their goods. That's why four Lodi locals who favor local flavors founded 2M Canning, a mobile canning business run out of Lodi Wine Country. With exponential growth in the canned wine and beer market, 2M is getting a lot of business here, and taking on canning projects throughout Northern California.
The company, founded in May of 2018, is a full-service mobile canning unit owned by Coree, Mike, Jan, and Marcel Foucher. The two couples, and family members, decided to launch a mobile canning unit to fill the void of similar services in the region. They are available for clients looking to can their beer, wine, cider, coffee, or water.
In the first year of business, 2M picked up huge clients like Sudwerk Brewing in Davis, Jack Rabbit Brewing in West Sacramento, and Big Sexy Brewing in Sacramento. And locally they have found a niche in the Lodi wine business where both Scotto Cellars and Ironstone Vineyards use 2M to can their products—cider and wine.
 "Canning day is a completely collaborative effort with an all hands-on deck sort of approach," Mike says. "We work non-stop to accomplish our task at hand, and at the end of the day, we might even get to consume some nice 31 degrees freshies [beer] off the line!"
The biggest challenge tends to be scheduling. Multiple companies will have their product ready to go at the same time, but 2M can only be in so many places at once. While 2M runs from joint to joint canning premier beverages, Adam Satrom, 2M's operator, keeps everything running smoothly.
Right now, the foursome's goal is growth. The owners hope to maintain current clientele while also expanding to new businesses throughout Northern California. "Continuous improvement is a mantra we try to live by," says Coree. "We have had so much fun servicing some of our favorite brands and are eager to find more exciting projects!"
Can It!
2M Canning Mobile Co.
2MCanning.com