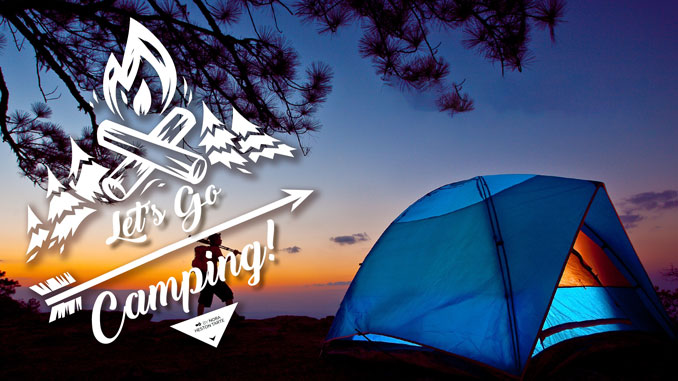 September brings perfect camping weather. Whether it be a trip abroad with a rented campervan to help weather the elements (visit here if you're curious) to looking around beautiful California, there's no better time for adventure. So, put away the phones, take a break from bingeing Netflix, and reconnect with the outdoors. There are thousands of campgrounds throughout the state, and we've picked just a few of our favorites for an easy weekend away. Regardless of where you go, get your weekend off to the easiest start by using something like these wagons to carry all of your camping gear to your chosen spot and location to take the pressure off you and your group. Also, make sure that your campervan is insured before you hit the road as you never know what could happen on the road. Insurance brokers like Staveley Head can help you in this regard. Ensuring that you have all the right equipment with you for camping would be a wise decision so you aren't left in the lurch during the times you need it most, from making sure you have the right tent poles to researching the best axes for camping, be on top of your list and be aware. Get lost in the trees in Sequoia National Park, have a unique experience sleeping in a covered wagon in Kernville, or mix your camping trip with a beach vacay in Russian Gulch, just north of Mendocino. Regardless of where you choose to camp-from luxury-style campsites for the family to off-the-beaten-path gems-the goal is the same: disconnect from the busyness of life and reconnect with the people around you.
---
Sequoia National Park
Three Rivers, California
Traveling from Lodi: Approx. 3 hours
This national park, adjacent to Kings Canyon National Park, spans 404,064 acres. Many are drawn to the area to visit General Sherman, the largest tree in the world reaching over 52,000 cubic feet, and the Giant Sequoia National Monument located next to the national park in Visalia. Campsites here are mostly offered on a first-come, first-serve basis, which means if you haven't booked a site yet, you can still visit this year.
Come for the giant trees that shade campsites and hiking trails, transporting campers to a world far away from the bordering cities. Thick trunks and hanging branches keep the area cool, and offer an ambiance you can't find at other campsites. Rivers run through the two parks, between giant sequoia groves, offering water activities to travelers, as well as hiking trails that wind through meandering wildflower fields and over the tip-tops of mountains and hills. At night, build a fire and cuddle up for a light show put on by nature's stars.
Glamp: Not a fan of roughing it? We say you may be missing out-but for those who prefer four walls and a bed, check out the Wuksachi Lodge complete with restaurants and a cocktail longue.
---
Russian Gulch State Park
Duncan Mills, California
Traveling from Lodi: Approx. 2 ½-3 hours
Looking for a coastal camping trip? Just two miles outside of Mendocino on the rugged Northern Coast, sits Russian Gulch, perhaps the most picturesque campsite on this list and boasting over a mile of oceanfront.
Campers have a lot of options for exploration here. Visit the 36-foot waterfall, take in views of the iconic Frederick W. Panhorst Bridge suspended 100-feet above the gulch, hike into the redwoods, explore a tide pool, or visit the sea cave Devil's Punchbowl. Amenities include stretches to launch kayaks, diving opportunities, horseback rides, and 15 miles of hiking and biking trails, including the popular ¾-mile Headlands Trail.
Overall there are 26 campsites in Russian Gulch, and each one offers its own perks, including equestrian sites.
---
Saddlebag Lake Campground – Inyo National Forest
Saddlebag Lake Rd., Lee Vining, California
Traveling from Lodi: Approx. 4 hours
The campgrounds are aplenty in this camper's paradise east of Yosemite National Park. Saddlebag, however, stands above the rest-literally. It is credited as the highest drive-to campground in California (meaning you don't have to hike into your spot, as is the case with many sites in the mountains) at 10,100 feet.
In addition to its proximity to Yosemite, guests choose Saddlebag for the fishing and trails leading into 20 Lakes Basin.
No reservation, no problem: Saddlebag Lake Campground doesn't allow for advanced reservations. All sites are available on a first-come, first-serve basis.
---
Santa Cruz/Monterey KOA
1186 San Andreas Rd., Watsonville, California
KOA.com/Campgrounds/Santa-Cruz
Traveling from Lodi: Approx. 2 ½ hours
The Santa Cruz/Monterey KOA is located in Watsonville, about 20 minutes from the Santa Cruz Beach Boardwalk and about 45 minutes from the Monterey Bay Aquarium, making it the perfect camping destination for families. On-site, guests can enjoy jumping pillows, a train, a swimming pool and hot tub, climbing trees, rentable bikes and four wheelers, and more. During busy season, every week has a theme for campers to follow and a lineup of crafts, meals, and family movie nights.
When you're not enjoying time at the KOA (Kampgrounds of America), visit the sites. The Boardwalk, Aquarium, Mystery Spot, beach, and redwood forest are all a quick drive away, providing plenty of opportunities to get lost in the outdoors and bond as a family.
Glamp: Ditch the traditional campsite and stay in the KOA's deluxe cabin instead. These cabins offer more bedrooms with bunk beds for the kids, cable television, a porch, a fire pit, shower, and more amenities to make "camping" more comfortable.
---
Frandy Park Campground
Kernville, California
Traveling from Lodi: Approx. 5 hours
When it comes to camping, the formula is often the same-hiking trails, good views, campfires, and plenty of opportunities to connect with nature, preferably with a body of water nearby. At Frandy, you get a little something different. Sure, there are still all of the things mentioned above, bit it's the sleeping arrangements that step things up-or back-a bit.
Sleep in a covered wagon for a high desert, historical adventure adults and kids can get into. The covered wagons include real beds for an elevated camping experience that more closely resembles a yurt. And while where you sleep is half the fun in this Central California oasis, the campground still brings all you'd expect while camping in California. Sit back and relax on a float in the Kern River or explore it by kayak, and relish in the beauty of the surrounding woodlands and steep hillsides while you relax.
Nearby Attractions: Outside of camp, Sequoia National Forest is a draw for visitors as are white water rafting excursions, golf, and the Silver City Ghost Town.
---
Bassi Falls – Eldorado National Forest
Near Pollock Pines, California
Traveling from Lodi: Approx. 2 hours
About one hour outside of South Lake Tahoe, Bassi Falls is one of California's best-kept secrets, located in the Eldorado National Forest. Here, guests can hike the 4+-mile trail to the falls, enjoy the crashing sounds of the 100-foot waterfall onto the rocks, and dip into pools of chilly ice melt that feels refreshing on a hot day.
Surrounding Bassi Falls are several campsites that make it easier to access the secluded falls. Wench Creek, Yellowjacket, and Ice House are three of the closest, and many of the sites are often open for last minute reservations and even first-come, first-serve sites.
Heading to Bassi is more adventurous than the other campsites on this list. Access to the falls is found through a ½-mile trek, of which half can be pretty rocky. It takes about 20 minutes to make it down to the falls, although you'll be able to hear the trickling water the whole way. If you want to enjoy more of a hike, hit the trailhead and walk the 4.3 miles to the falls for added adventure. There are two trails at the falls that take visitors to the top-one straight up for experienced hikers, and an easier one that kids can manage.
---
Lake Almanor
Plumas County
Traveling from Lodi: 3 ½-4 hours
Looking for an alpine lake that isn't Tahoe? Tucked away in Plumas County, close to Susanville and Chester, is a hidden gem many Californians never hear about, which is surprising considering it holds the title of California's third-largest freshwater lake. In summers, waterskiing, boating, fishing, hiking, biking, and kayaking are favorite activities before the waters turn too icy to enjoy.
Bring out your jet-skis or rent a boat nearby to enjoy the water. You can throw a line from your vessel, or pull friends on an inner tube behind you. Flanked by snow-capped mountains and towering pines at 4,500 feet elevation, the 52 miles of coastline provide just the atmosphere you would expect from this region.
For camping, hit up one of the nearby sites-the closer to the lake the better-such as Almanor Campground, Last Chance Creek Campground, North Shore Campground, or Rocky Point Campground.
---
Stampede Reservoir
Sierra County, Northern California
Traveling from Lodi: Approx. 2 ½ hours
At Stampede Reservoir, two national forests meet just 15 miles northeast of Truckee, and the high-Sierra lake draws anglers and water sport enthusiasts. At 6,000-feet, it offers both beachfront and stunning mountain ranges. While the reservoir is a destination of its own, welcoming campers to the surrounding pine-forested chaparral country, those who come often use it as a base camp for exploring nearby lakes such as Boca and Donner.
Perhaps the biggest perk of camping here is the true sense of seclusion it offers. Camping has been linked to stress relief, and away from the hustle and bustle of any small town or even a marina, Stampede is truly set off the beaten path. In fact, aside from small campsites along the lake, there is no development. Come before the sites get soggy in October to enjoy prime boating in the open wilderness. Throw your line in for kokanee salmon and rainbow trout or try your hand at fly-fishing.
Look for campsites at Logger, Emigrant Group, and Davies Creek. The first two camps are lakeside and accept reservations, while Davies has no reservations and requires no camping fees, settled in an area of pine and fir trees.
For Kids: Stampede is a good location for families, couples, and solo travelers. Small inlets of calm water offer safe swimming spots for the youngest campers.