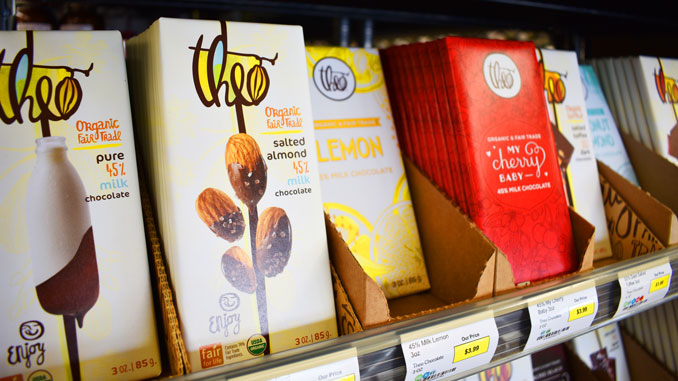 Artesian Natural Foods is committed to community health
Whether you fancy yourself a health nut, are on the lookout for healthy alternatives to your favorite snacks, or want to combat a specific issue like headaches or allergies, Artesian Natural Foods has got the goods. The Lincoln Center health shop (which first opened in the 1970s at a different location) stocks everything from keto ice cream to supplements for your dog.
Owners Mike and Leslie Brennan, who took over the shop in 2008 and moved it to Lincoln Center in 2010, grew up with a passion for health.
"I grew up… with garden fresh food from our home garden. I got used to that healthy lifestyle and how important diet and exercise can be," Leslie shares. "We weren't allowed processed foods and candy was never kept in the house accept on special occasions."
Now she fuels her passion for health by stocking the shelves of the shop with the best and newest items on the health food market, plus vitamins, supplements, and more.
"We specialize in vitamins and supplements, specialty foods, raw dairy, organic wine and kombucha, and grass-fed meats," Mike says.
When shoppers step into the doors at Artesian Natural Foods, they aren't left to fend for themselves. The staff at the shop—including Mike and Leslie—is always there to help shoppers learn about products, and give advice on what to try. Plus, the prices aren't astronomical the way they may be at some health food stores.
"Our store gives people a place to come to get a lot of information and products to help improve the quality of their lives," Leslie says.
It's clear to see that the team behind Artesian is dedicated to promoting health throughout the community. They frequently welcome product vendors into the store to share knowledge with shoppers, and twice each year Leslie and Mike hand out free samples during sidewalk sales.
---
August is Summerfest!
Participating in Lincoln Center's community events gives Mike and Leslie the opportunity to reach more customers, and spread the word about the health products they love. Come out on Thursdays in August to enjoy music, food, and drinks at the Center and stop in to check out the healthy goods while you're there.
Products to Try:
Rebel Creamery keto ice cream in flavors such as peanut butter fudge and butter pecan
Booch Craft high-alcohol kombucha
HempCEUTIX Pure 250 Hemp Oil
Thayer's Witch Hazel facial toner in rose petal
Theo Chocolate Big Daddy bars s'mores alternative
Stop By:
Artesian Natural Foods
145 Lincoln Cntr., Stockton
(209) 952-8787