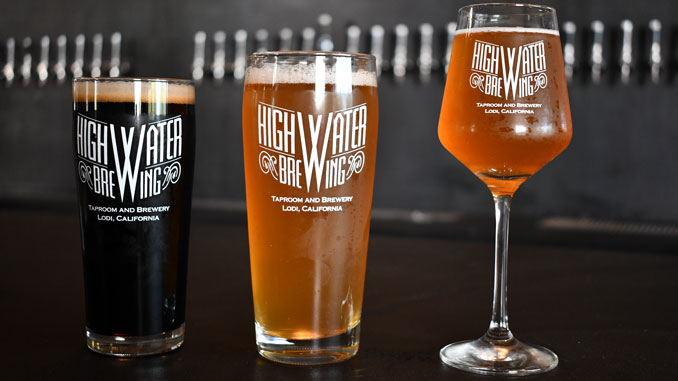 Going for the Gold
Intercoastal Vineyards
One of Lodi Wine Country's youngest brands has been raking in the medals in 2019. Owned by Rachelle and Mitch Spaletta, the winery is collecting accolades faster than the pair can make wine! The Rosé of Pinotage recently received a double gold from the Orange County Wine Society and the 2016 Petite Sirah received a gold from the Sunset International Wine Competition. If you are interested in joining the wine club, or picking up some wines to sip, visit www.intercoastalwine.com or head to the Lodi Wine and Visitor Center for a few of their selections.  
New to the Scene
Drink, eat and hang at San Joaquin County's newest hotspots
High Water Brewing
The makers of the famous Campfire Stout have set up shop in the industrial area of Lodi's Eastside, and you do not want to miss out on what they are offering. A vast space designed with modern, sleek lines and an industrial feel, High Water Brewing is serving up craft beer like a boss. They also have plans for winery production and a distillery, too! But even cooler is the food they are not serving up, like wood-fired naan pizzas, ahi salads, lamb meatballs, and a variety of salads. If you are feeling indulgent, order the hot fudge brownie sundae served in a campfire-style souvenir mug, or settle on the muffuletta sandwich for something filling. High Water Brewing 927 Industrial Way, Lodi, CA. 95240
Brick House Restaurant and Lounge
If you've been to Downtown Lodi recently, you may have noticed that the huge building across from the movie theater has been undergoing some serious renovations. That is because Brickhouse, an established restaurant from Elk Grove, is gutting the building for a second location. The newly painted exterior and neon sign signal that it won't be long before the team will be serving up classic dishes. Follow them on Facebook to stay up to date on the progress.  
Elm Street, Lodi, CA. 95240
 New Partnership: Coffee and Cookies
We love it when talented folks take the leap into entrepreneurship! That's why we are excited that Marisa Guantone recently received her cottage license—a special license granted to people to cook in home or in an industrial kitchen—for Gioia Baking. And the best news? She has partnered with Inspire Coffee to supply the shop with delectable pastries such as coffee cake, pop tarts, and more on the regular. She is best known, however, for her cookies that are chewy, gooey and topped with sea salt for the perfect combination of salty and sweet. Pair it with an iced vanilla latte or cold brew from Inspire. Gioia Baking at Inspire Coffee, 8 W. Pine Street, Lodi, CA. 95240