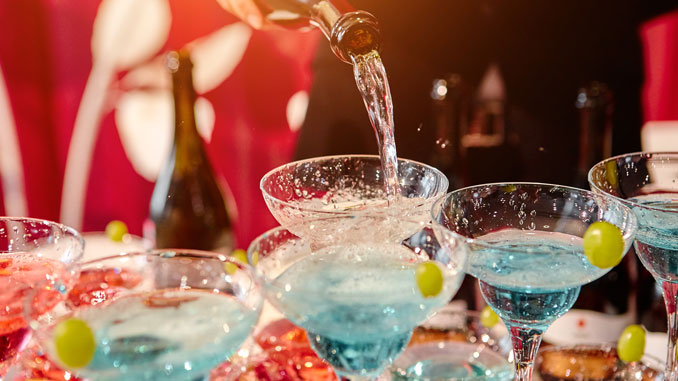 Mobile bars and bartenders offer new options for wedding day imbibing
Finally stumbling into the perfect venue after months of searching can be quickly ruined when the rule list comes pouring out. Some venues have strict regulations regarding bar service due to complications such as staffing and licensing. Have no fear—the mobile bar is here! Offering alternatives to venues without bars—like if you're getting married outdoors—or venues without a hard liquor license, these mobile adventurers are ready to bring the party to your big day!
---
Belle Aventure Mobile Bar Co.
This adorable mobile bar has modeled itself off of European businesses of the same nature, providing an aesthetically appealing bar and seating area for big events such as weddings. The husband-and-wife team works out of a converted horse trailer painted Tiffany blue. In addition to bartending services, the bar also supplies a vintage seating area and lawn games for guests. A second vehicle was recently added to the fleet—a black and copper trailer donning beer taps. If your venue requires their own staff to man the bar, that's allowed—simply rent the trailer without the services. (916) 798-2130
---
Bernie's Mixology
Ever have a venue tell you they couldn't serve cocktails and shots? Or that bartenders aren't on staff? When that happens, Bernie is the solution. Bernie's Mixology caters to brides with venues that cannot accommodate their bar service wish list by offering custom recipes, bartending services, and her own liquor license. The liquor license allows Bernie to serve up drinks at venues that don't have their own licensing, getting around the legal mumble-jumble that can put a hamper on guests' fun. What's great about Bernie is that she does it all—serves drinks, offers conversation, and cares for patrons. Anxious brides can count on Bernie to cut off that uncle who had too much to drink, and then serve him a botanical water blend to help him hydrate. (209) 710-7499
---
Harry's Mobile Bar
Harry's Mobile Bar offers a completely customizable experience, perfect for the bride who likes to be in charge of every little detail. The company carries its own liquor license and is fully insured. If you're getting married in a hall, the staff will use the provided bar, but if there isn't a structure in place, the team creates their own. From lighting to color schemes, the team at Harry's puts together a setup fit for the occasion. And perhaps the most important part is Harry's supplies its own alcohol. While some mobile bar services require brides and grooms to bring the booze, Harry's will pick up the supplies for you. Now that's what we call service! (209) 608-1806