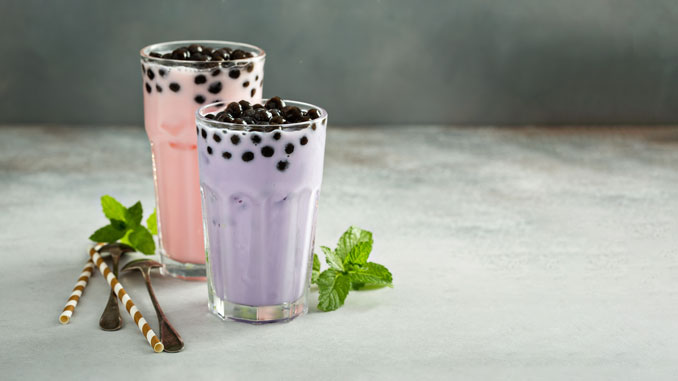 Milk, Tea, & Tapioca
This Taiwanese tea treat is taking over. Invented in Tainan and Taichung in the 1980s, its popularity has swelled in San Joaquin County over the last decade, spawning several tea-centric businesses in the area, including several that opened in the last year.
So, what is it exactly? The drink is classified as a tea made with milk and sugar. It's defining characteristic, however, is the tiny tapioca balls inside. Sip it with an extra-thick straw to suck up the "pearls." It's also commonly called pearl milk tea, boba milk tea, boba tea, tapioca tea, or simply boba. But creative businesses are making their own variations.
Trek through our favorite cities to find your favorite. Look below for a round up of some of the best our region has to offer.
Bambu Combo @ Bambu
Sip this concoction of red, white, mung beans, taro, boba, pandan jelly, combo jelly, and coconut milk for a refreshing treat on a hot day.
1304 E. Hammer Ln., Stockton. (209) 808-5182. DrinkBambu.com
Dirty Milk @ Tea Daze
Down a dirty milk—black sugar, fresh whole milk, and honey boba—but don't forget to take your photo in front of the Tea Dazed wall first. It's insta-famous!
4343 Pacific Ave., Ste. c2, Stockton. (209) 932-9461
Customize-It! @ Bubble Leaf
Start by choosing your tea flavor. Next, choose a sweetness level from 25-100 percent. Then, pick your milk. Lastly, choose the tapioca balls of your choice (mango, strawberry, chili, and peach). Order a spilt cup to get two flavors in one.
526 W. Benjamin Holt Dr., Ste. A, Stockton. (209) 636-4695
Passion Fruit Tea with Mango & Strawberry Boba @ Sweet Lab Boba Tea & Desserts
This passion fruit tea with other fruity bobas offers a good blend of tart and sweet. Finish it with a dessert. Bubble waffles and offbeat ice cream and cone flavors (think lavender and red velvet) make the sleek, modern café unique.
1401 S. Lower Sacramento Rd., Lodi. (209) 426-5683
Lychee Snow with Mango Boba @ Tea Time Boba Café
A cutesy panda character greets all patrons who stop by, but the real draw is the hot-weather drinks. Grab a snow to go, and don't forget to add the boba. We recommend the lychee snow with mango-flavored tapioca balls.
1375 E. Yosemite Ave., Manteca. (209) 639-0944