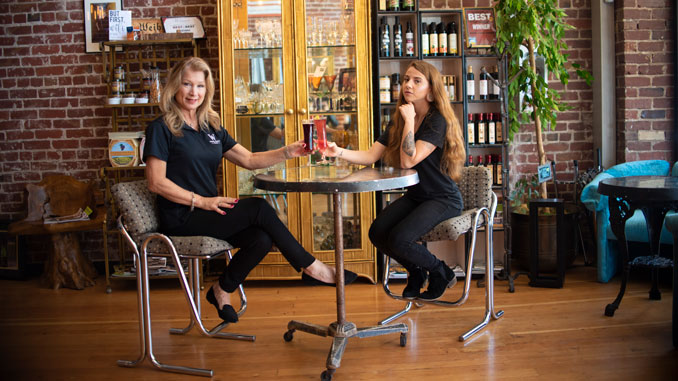 At Weibel Winery
If you thought that the only appropriate time to enjoy a mimosa was during weekend brunch, then you've been misinformed. Not only does Weibel Winery's tasting room offer mimosas all day, every day, but they're also taking this formerly simple cocktail to brand new heights.
"It's been close to a year and a half since we started offering a mimosa of the month," says Brenda Hunter, tasting room manager at Weibel. From holiday inspired themes like their Valentine's Chocolate Strawberry Mimosa, to seasonal flavors like their autumn Apple Cider mimosa, every month's unique mimosa has given them the opportunity to showcase one of their twelve sparkling wines.
The planning of each month's new mimosa is a group effort, combining the minds of the tasting room's talented staff. "We'll experiment and try different things," explains Brenda. "First we decide what's going to be the sparkling flavor of the month, and then we try to decide what goes with it." From there, it's all about experimentation until they find the perfect combination that makes their taste buds sing. "We all love to be mixologists!" she adds.
May's very own mimosa is the Tropical Mimosa, which features Weibel's peach mango sparkling wine, and pineapple orange guava juice. Perfect for ushering in those first truly warm days of the year, this mimosa will have you dreaming of white sands, blue waters, and the sun on your skin as you sip away on this bubbly beverage.
If you missed out on Weibel's past mimosas, you're always welcome to request them, pending ingredient availability. Are you craving a famous Disneyland Dole Whip? Then ask for a pineapple juice mimosa with piña colada sparkling wine (make sure they top it off with a little whipped cream!). Or combine orange juice, strawberry-peach juice, and peach mango sparkling wine for a Strawberry Sweet Peach mimosa! But, if you still want a classic mimosa, Weibel is happy to offer you that, too. However, Brenda may still try and suggest some alternatives to make the drink a little more unique. "Sometimes I'll suggest the peach sparkling wine or the almond sparkling wine with orange juice," she says.
Keep an eye on Weibel's social media to stay apprised of each month's mimosa. Whether you want to stop in for a weekend treat, or a quick pick me up after work, a flavorful and bubbly mimosa might be exactly what you need.
Make Your Day with a Mimosa:
Weibel Family Tasting Room
9 N. School St., Lodi
(209) 370-6013
Weibel.com