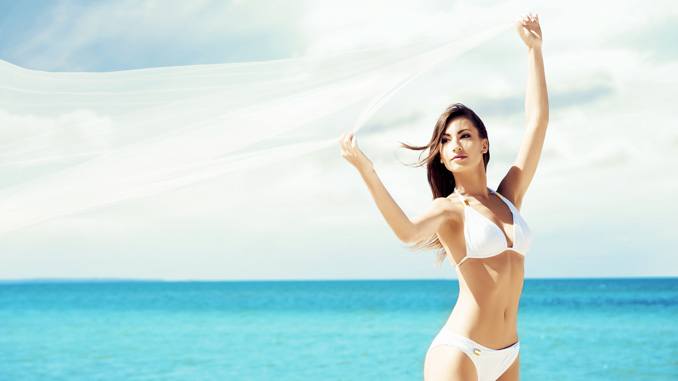 Looking for a pre-summer pick me up? Looking good can have you feeling good! Find that fountain of youth right here in San Joaquin County with treatments focused on smoothing skin and treating other imperfections from nose to toes.
Hair Removal
Don't be afraid to show a little leg.
Bust out those short-shorts and little dresses—summer is almost here! Say good-bye to pesky razor burn and constant stubble. Whether you're looking to take care of a hairy situation in the privacy of your own home, or you want to hand the reins over to a professional, we've got you covered.
Laser Hair Removal
Try this if you:
Want permanent or semi-permanent hair removal
Need to save time
Are susceptible to ingrown hairs
Consult a professional first if you:
Have blonde or gray hair
Have sensitive skin
Those who opt for laser hair removal often do so because it's the most permanent hair removal option out there. It works by picking up on changes in pigment and zapping hair at the root. For this reason, it often works best on those with darker hair than skin. Want to get the most bang for your buck? Professionals suggest staying out of the sun prior to your appointment and not waxing or shaving too close too your appointment.
If daily shaving is getting you down, make the smooth transition to laser hair removal. Perhaps the biggest benefit of this treatment is that skin stays soft and hair-free longer. "The time commitment for shaving and waxing over someone's life is exponentially greater compared to few simple laser hair removal treatments," says Chaman Gill, co-owner of The Gill Aesthetic Institute in Lodi. Be aware that it may take a few sessions to achieve desired results with maintenance sessions along the way.
Get it local:
Check out The Gill Aesthetic Institute for laser hair removal. The Lodi salon offers two types of systems for hair removal. The first uses broadband light delivered by multiple lower-frequency pulses to maximize comfort. Perhaps the biggest benefit? Motion BBL technology allows for extremely even heating of hair follicles which minimizes missed areas traditionally occurring with conventional hair removal devices.
The other device used at Gill is a custom laser created to treat all skin types. During the process hair follicles are heated using laser light energy. This is a good option for treating large areas, as the laser is able to target multiple hairs at once. "The automated treatment utilizes a unique computer-guided scanning system, ensuring your skin is rapidly and evenly treated," Chaman says.
Waxing
Try this if you:
Want to stay smooth longer (2-6 weeks average)
Have coarse, dark hair
Want to target specific areas of the body, mainly your legs, arms, underarms, or bikini area
Consult a professional first if you:
Are prone to ingrown hairs
Cannot allow for re-growth between appointments
Pro Tip: Wax on a schedule. If you wait too long between appointments, every time will feel like your first time—ouch!
Waxing works by ripping hair out by its root, which, we admit, sounds painful. And the truth is, it is a little bit. The good news, however, is that waxing quickly becomes less painful. As your body becomes used to the process, the pain will subside substantially, and as hair thins and growth slows down, the pain can become minimal. Believe us when we say that first appointment is the worst—and it only gets easier from there!
One of the biggest benefits to waxing is that the maintenance gets easier over time. Not only will appointments become shorter (your first Brazilian will likely take an hour while subsequent monthly appointments can cut that time in half), the hair grows back thinner and sparser meaning there is less to remove. Many committed waxers even start delaying appointments to every other month or less as growth slows.
Get it local:
Perfect Balance in Lodi offers a variety of waxing services for all areas of the body. Book an appointment at their Pine Street location to get started!
Hair Removal DIY
Does thinking of at-home hair removal conjure up thoughts of daily shaving, messy creams, and painful hard waxes? The good news is that there is a better way.
Despite all of the new techniques for hair removal on the market, many women still rely on shaving. This process is convenient and less expensive than alternatives. While many buck shaving for longer-lasting solutions there is a right way to do it if you insist.
Never use a dull razor
Use a shave cream or lotion
Moisturize after shaving
A study released by American Laser Centers found that women shave an average of 12 times each month, and 11 percent of women shave every day. Razor burn or razor rash is often a chief complaint for avid razor users. Combat the problem with a thick shave cream made for sensitive skin, not shaving everyday, and using a quality razor (may we recommend the Flamingo, available at ShopFlamingo.com, for the smoothest shave?).
Would you rather wax?  Follow these steps.
Purchase a quality waxing kit
Let the hairs grow to the length of a grain of rice (minimum)
When waxing your bikini area, sprinkle baby powder before applying the wax to remove moisture
Pull wax strips off in the opposite direction of hair growth
Follow after-care instructions including avoiding excessive sweating, moisturizing after, and exfoliating the next day.
Electronic Hair Removal Devices
You've probably seen this Instagram-worthy trend a time or two as D-list celebrities clog your feed with #sponsored devices. But how do you know if the device is legit?
These handheld products all work about the same. Using some sort of electrical stimulation or light therapy, hair is removed (painfully or not). We rounded up some of the best-rated devices on the market to help you in your search.
Tria 4X
Remington iLight Pro
Phillips Lumea
Facials & More
Let's be honest, the market is flooded with facials, non-surgical facelifts, chemical peels, and more. So how do you know which service to schedule? With plenty of spas throughout San Joaquin County, beauty gurus can satisfy any skin-related craving; the struggle is choosing the right one. Well, we just made it easy! Simply pick your complaint and then learn about the local procedure fit to right those wrongs. You're welcome, ladies (and gents)!
Healthier Skin Overall
LED Light Therapy has a lot of uses in modern medicine—many who suffer from arthritis use it for pain management—but it's making a name for itself in the cosmetic world too. Celluma LED Light Therapy can be added to any facial treatment (except chemical peels) to reduce redness and inflammation, minimize signs of aging, treat blemishes, and limit the appearance of fine lines and wrinkles. It also improves cellular health. So how does it work? "In the same way that plants use chlorophyll to convert sunlight into plant tissue, high-intensity light emitting diodes (LEDs) utilizing specific, proven wavelengths of light can trigger a natural biostimulatory effect in human tissue," explains Georgina Garcia at The Healing Rei Spa: Skincare by Georgina.
Get it local: At The Healing Rei Spa: Skincare by Georgina there are additional benefits to LED Light Therapy treatments. Georgina practices reiki and other calming practices in order to help clients fully relax during their treatment. Lie down and listen to the rhythmic sounds of a Tibetan singing bowl to promote a higher state of relaxation during your treatment. "Stress can negatively affect our physical and mental health. Creating a relaxing space while receiving a facial service is crucial to enhance and promote harmony and balance our mind body and spirit," Georgina says.
Rejuvenate & Rehydrate (great for dry skin!)
The HydraFacial MD is a non-laser skin rejuvenation system that works to correct several skin imperfections. Using a handheld device the appearance of fine lines and wrinkles is reduced, as well as acne, hyper pigmentation, congested pores, and uneven skin tones. "A HydraFacial treatment is one of the best all-encompassing treatments you can do to exfoliate, hydrate, and improve your skin's youthful texture and tone," says Dr. Nathan Kludt of the Plastic Surgery Center of Stockton.
The procedure is different than other facials because it uses a water-jet to deep clean, and at the Plastic Surgery Center of Stockton it is also completely customizable to meet your skin's individual needs. Schedule it with a microdermabrasion, chemical peel, or skin infusion.
Get it local: Dr. Nathan Kludt at the Plastic Surgery Center of Stockton performs this procedure.
Find the Fountain of Youth
Vampire Facelift. It's the trendy name for PRP (platelet-rich-plasma therapy) that involves removing blood from your arm through a blood draw and re-injecting it underneath the skin of your face to encourage new growth. This treatment corrects dark spots, fine lines, wrinkles, sunspots, skin discoloration, large pores, and more for overall healthier, more youthful looking skin. The treatment gets its name from the extraction and reinsertion of blood into the body.
Get it local: The Gill Aesthetic Institute offers this treatment.
Call Ahead:
The Healing Rei Spa: Skincare by Georgina
103 West Pine St., Lodi
The-Healing-ReiSpa.SkinCareTherapy.net/The-Healing-ReiSpa
Plastic Surgery Center of Stockton
1805 N California St., Stockton
(209) 870-7100
PSCStockton.com
Gill Aesthetic Institute
999 S Fairmont Ave, #205, Lodi
(209) 762-8118
GillAestheticInstitute.com