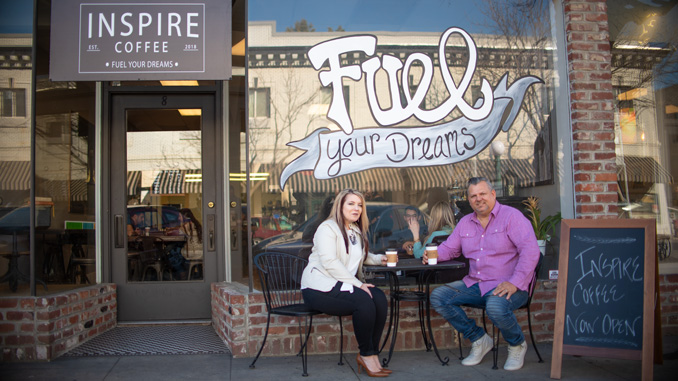 Inspire Coffee owners fight human trafficking one cup at a time 
Meet Laurie and Lance Coffman: Parents of three, local pastors of 15 years, and owners of Inspire Coffee. Just those three titles alone might make it hard to believe that they also have time to maintain a 501©3 nonprofit—but, that's what the coffee's for.
"About five years ago I started hearing about human trafficking. A lot of it is overseas, but then I kept hearing about it locally, in Stockton, Lodi, Sacramento… and realized that it looked a lot different here than it does overseas," says Laurie. With a heart for creating a solution, she founded the Hope Initiative, a nonprofit tasked with the mission of eradicating sex trafficking through awareness and rescue.
Since Hope Initiative's official launch three years ago, Laurie's been working hard organizing classes and workshops to raise awareness, as well as opening Inspire Coffee with her husband last year.
"We love people, we love coffee, and we just wanted a place where people could come and feel inspired and encouraged," Laurie says. If you stop by Inspire and partake in one of their pour overs, 10 percent of your purchase will go to the Hope Initiative, the headquarters of which sit right above Inspire.
 "Our heart is to be a safe space," she says. "With our volunteers, we're training up our advocacy team. They're the ones that go out and do the street outreaches with me."
The outreaches, workshops, and classes are all strive to educating the public on what human trafficking actually looks like. "Since we opened the coffee shop, I've had four young women come in and share their stories with me," states Laurie. "You may not see a brothel here, but you'll see victims in the ER, at the local mall, or even just walking down the street."
The internet and social media are relatively new and ever-omnipresent avenues for predators to find potential victims. "That's why I'm passionate about educating parents," explains Laurie. "When we give our children phones, we're giving them access to the world but we're also giving the world access to them. It's our responsibility to educate ourselves along with our children."
Inspire Coffee hosts monthly Trafficking Awareness & Prevention classes that are free to the public. They also recently launched a 10-week mentoring course based on Rebecca Bender's workbook called "Roadmap to Redemption" that aims to both rehabilitate trauma victims and educate advocates.
"Our heart is to be a safe space," says Laurie.
And, at Inspire, she and her family do more than just provide a safe place for community members to gather—they also support the public servants who work day and night to protect the community, offering firefighters and Police Officers fresh pour overs, free of charge.
"They're the heroes in the community," says Laurie. "It's our way of saying thank you."
Aside from those brave men and women, there are many others in our county fighting to make San Joaquin safe. Laurie Coffman is a part of the San Joaquin Human Trafficking Taskforce which includes over 60 local agencies, including the Children's Home of Stockton, the Stockton Police Department, St. Joseph's Medical Center, the District Attorney's office and Family Justice Center, and the Women's Center-Youth and Family Services. "I'm honored to be a part of that," says Laurie.
Feeling inspired to help? Simply being a patron of Inspire Coffee can assist Hope Initiative's current efforts and future goals. In the coming years, Laurie hopes to open a few Restoration Homes in San Joaquin, in which victims can be rehabilitated and reintegrated into their community.
"It's a huge endeavor, but the restoration homes are where my heart is," says Laurie. "There's just a huge need for housing for victims that can provide a safe community of individuals around them. "
Be sure to stop by Inspire to see when the next class or workshop is taking place. In the meantime, Laurie, her husband Lance, and their three children will continue to serve fresh coffee for the cause and for the community.
Get Inspired:
Inspire Coffee
8 W. Pine St., Lodi
(209) 366-4545
InspireLodi.com