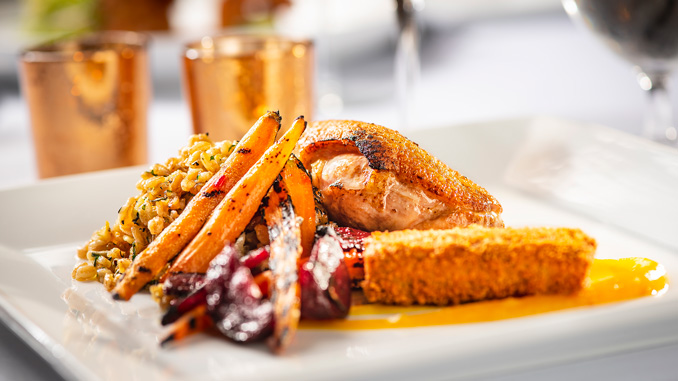 The first time one decides to dine at Ernie's Food & Spirits, know that what you seek is in a place you'd least expect it to be, but when you find it at last, there are treasures to behold.
For those unfamiliar with Ernie's, the exterior is humble. The interior, however, is as full of class as its wine room is with bottles of fine vino. The contrast between the warm tones and the dark wood detail give this restaurant an aura of true fine dining you'd be hard-pressed to find anywhere else in San Joaquin.
Executive Chef John Fisher says that what makes Ernie's such a special place goes deeper than the surface. "I would classify us as upscale fine dining with an attention to service," states Chef John. "We place a lot of value on service, presentation, and attention to detail."
Another aspect paid special attention to? Wine and spirits, of course!
Upon arriving, guests are instantly attracted to the cognac case, which holds a rare and highly valuable selection. "Our wine cellar is definitely one of the focal points when a guest takes a seat in our dining room," says Chef John. "We keep an impressive collection of fine wine in there—we also have one of the best scotch lists in the Valley."
But whether you're sipping on a glass of Napa Cabernet in anticipation of a juicy steak, or toasting with a 40-year-old Dalmore scotch to celebrate closing a deal, the drinks are just the beginning of the Ernie's experience. If you are a first-time guest, Chef John will tell you that the most popular dish is a toss-up between the halibut special and the grilled ribeye, but his favorite dish to serve to guests is the American Wagyu. "Wagyu is a very high-end Kobe style beef full of great flavor," he explains. "It's something that once people try it, they won't soon forget it."
However, Chef John confides that while Ernie's is known and loved for their steaks, there's more to this hidden gem than quality beef. "People want to classify us as a steak house, but we're more than that—we put a modern spin on a lot of the classics. I call our cuisine 'uniquely Californian', because we have a lot of flavors that you wouldn't find anywhere else."
Take their duck entrée for instance. "I'd say our duck is the most underrated dish on our menu—the quality of duck that we use is so much higher than what people are used to, and the flavor profile of the dish itself is excellent," shares Chef John. "It's has a duck confit fritter with it as well, so it's a very rich dish. People get stuck on it to where I have to entice them to try something else," he adds, with a laugh.
And if you find yourself with a sweet tooth after a savory meal, you have to try their house-made bread pudding. "It's not your grandmothers bread pudding," says Chef John. "We use brioche bread, butterscotch morsels, salted crème anglaise, Macadamia nuts and chocolate syrup. It's a warm and fluffy dessert."
The nostalgic taste of butterscotch mixed with the melt-in-your-mouth texture of this treat will wrap up your evening perfectly with a hot cup of coffee or a delicious port like the Ramos Pinto "20 year Tawny".
Despite the undoubtable demands of the service industry, Chef John says it's the happy faces of guests as they leave Ernie's Food & Spirits that makes his career the most rewarding. "It's the satisfaction of seeing people enjoy the food you've made for them," he explains. "To know that you've created the dish that's making those people happy—whether they're going through something and need a good meal, or they're celebrating with family—it's a big part of why I do what I do."
Get in the Spirit:
Ernie's Food & Spirits
1351 N. Main St., Manteca
(209) 239-3351
ErniesFoodAndSpirits.com