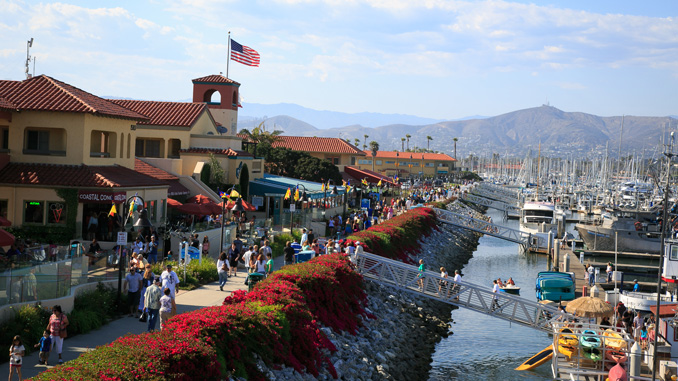 Visit California's Central Coast
The weather is heating up on the Central California Coast and Ventura Harbor Village is calling all San Joaquinians to come warm their toes in the sand. Located in the heart of Ventura, this vibrant, working harbor village and fishing marina offers everything from island excursions to mermaid-themed escape rooms. Here, the vibe is laid back, the attire beach casual, and the nightlife out of this world. Dine on Mediterranean grub as belly dancers trot from table to table before throwing back a bottle of wine at a late night vino stop. Get ready for 48 hours of fun and sun on the coast! Here's your itinerary for exploring all Ventura has to offer in one long weekend.
DAY ONE
3 PM Arrive
Check into your hotel. The Four Points by Sheraton Ventura Harbor is located right next to the Harbor Village where you'll be sunning, dining, and playing for the next two days. The hotel offers private balconies boasting coastal views and a fitness center and restaurant on-site.
Skip the car. Guests are close enough to the Harbor Village to rent a beach cruiser from the hotel to ride to everything on this list. 1050 Schooner Dr.
4 PM Escape Room
For one hour you'll use provided puzzles to escape a locked room in the Village. For an ocean-themed excursion, choose the Mermaid Curse room where a crying mermaid just might be the key to an escape.
Looking for a darker excursion? Opt for The Attic. This room has a seedier back-story for those looking to get a case of the creeps during their adventure. 1591 Spinnaker Dr., UltimateEscapeRooms.com
5:30 PM Dinner
Just down the street—within walking distance like everything else in the village—is Brophy Bros., an ocean-side restaurant and clam bar that feels like it belongs in a harbor somewhere along the east coast.
Here the specialty is on seafood and cocktails. The restaurant has been recognized for both its unbeatable Bloody Mary cocktails and its happy hour. When we visited, we dined on the restaurant's famous clam chowder and fresh sourdough bread. Expert Tip: Sit on the patio to enjoy the best harbor views. 1559 Spinnaker Dr.
7 PM Comedy Show
After dinner, take in a show at the Ventura Harbor Comedy Club. This two-room theatre offers a full bar and multiple shows every night. Comics come from near and far to partake in traditional stand-up performances and improv acts.
Catch a show in the Green Room Lounge (the theatre's smaller venue option) and get involved. Comics often take audience suggestions and even invite members up on stage to participate in the show—telling jokes and all!
When we visited, we caught the Rainbow Comedy special and enjoyed challenging the comics with fun phrases to work into their routines.
Shows are available Tuesdays through Fridays at 8 PM, Saturdays at 7 PM and 9 PM, and Sundays at 7 PM. 559 Spinnaker Dr. Suite 205A, VenturaHarborComedyClub.com
9 PM-10 PM Dessert
Don't end the evening without dessert. Since 1983, Coastal Cone has been filling the stomachs of locals and visitors with waffle cones baked fresh on the beaches of Ventura Harbor. Today, the ice cream parlor now serves up 46 flavors to guests.
The real draw of this Harbor Village gem though is the Taiyaki fish cone—and it's the only spot between San Francisco and Los Angeles to offer this treat. No, it's not a seafood-stuffed cone. This specialty dessert hails from Korea and features a scoop of ice cream dunked into a fish-shaped waffle cone and finished with your choice of toppings.
Go custom and create your own concoction or choose from a menu of favorites. Go for broke with all the toppings—think sugar mermaid tails, cherries, chocolate wafers, and mini-umbrellas capitalizing on the seaside vibe. 1583 Spinnaker Dr. #104
10 PM Retire
Head back to the room to rest up for the next day. Trust us, you'll need the sleep for what we have in store on day two!
DAY TWO
9 AM Breakfast
Boatyard Pub is everything you'd expect from a pub on the water. It manages to maintain small town vibes even when the visitors outnumber the locals. Grab a seat on the patio if you can and fuel up with a traditional breakfast or bacon and eggs, or pair a hearty helping of chicken fried steak with cocktails from the full bar inside. 1583 Spinnaker Dr.
12 PM Island Packers
It's time to leave the mainland. At Island Packers, guests choose from all-day or half-day excursions to the Channel Islands off the Central Coast.
On our trip we booked a half-day trip to Channel Islands National Park and National Marine Sanctuary Santa Cruz Island, the largest of all the Channel Islands. These locations are undeveloped and the focus is on nature. You'll come by campers on the island that are staying there for the night (or longer) but aside from a small campsite, the islands don't boast much in the way of civilization.
While on Santa Cruz Island enjoy kayaking and snorkeling with borrowed equipment. Or just go for a swim. Want to stay dry? Opt for a hike instead. Tour guides offer shorter guided hikes where they explain the history, flora, and fauna for visitors. Or, trek it on your own. This is the best way to knock out one of those 6 to 15 mile trips.
Get back on the boat and enjoy that post-hike beer as you cruise back to Ventura Harbor. There are no shortage of dolphins and whales flipping their fins in the ocean. Catch glimpses and take videos of several sea creatures as you ride to and from the islands. This time of year the dolphins should be easy to spot and there are typically Pacific Gray Whales out, too.
Others animals are on the island, too, including a couple that are endemic to the area, meaning they exist nowhere else in the world. Keep your eyes peeled to catch a glimpse of the Santa Cruz Island Scrub Jay and the Island Fox. 1691 Spinnaker Dr., IslandPackers.com
[Call Out] Santa Cruz Island in Spring
Through April guests enjoy lush green hills filled with native wildflowers on the island. To see some of the best wildflowers the island has to offer, look at Scorpion Canyon and the Potato Harbor trail or the trail from Prisoner's Harbor to Pelican Bay. A large map at the base of the island shows visitors where the trails are located.
6:30 PM Dinner
After returning to the island, you'll want to get refreshed before heading to dinner; it's time to escape Ventura and head to the Isle of Santorini instead. The Greek Mediterranean Steak & Seafood is like nowhere else in the village. While dining on Greek favorites—order the Saganaki flaming cheese as an appetizer—a belly dancer will come table to table to give you a show, or entice you to join her on the dance floor. Greek folk musicians and other dancers swing by to entertain the crowd, as well.
Inside, the waterfront bar is the best place to grab a drink while you wait for a table. Then dive into a menu of fresh seafood and Greek cuisine. 1583 Spinnaker Dr. #101
8 PM Post-Dinner Refreshments
It's too early to call it quits! You can hear the music spilling out of the 805 Bar & Grilled Cheese from a mile away. Local musicians take the stage as bartenders pour generous glasses of wine—and other spirits—until 9 PM (on weekends).
Come for the cocktails but stay for the atmosphere. Many musicians let you make song requests from your seat at the bar. And if you get hungry (which we doubt after The Greek) you can order a gourmet grilled cheese from the kitchen. 1575 Spinnaker Dr.
DAY THREE
10 AM Breakfast
Prepare for your last day in the Village. One last breakfast spot is on the schedule, and we may have saved the best for last. Harbor Cove Café is an unsuspecting gem located on the far end of the harbor where patrons can watch boats drift in and out from a seat on the patio.
The menu is packed with homemade favorites like breakfast burritos paired with house made salsa, and croissant breakfast sandwiches served with potatoes. 1867 Spinnaker Dr.
11 AM Hit the Beach
Have you spent all of this time in Ventura without dipping your toes in the water? Take a morning stroll along the beach across from the Harbor Village. The entire Ventura coastline, including rolling hills, sand dunes, and lapping waves, is visible from Harbor Cove Beach. The protected coastline makes it a safer spot to kayak, swim, fly kites, and play volleyball.
12 PM Get on the Water
We're not done with the water just yet. Pick up a rental from Ventura Boat Rentals. You'll get to pick your poison between kayaking or SUP. Want to make it romantic? Get a two-seater kayak and ride out of the harbor together.
On your way you'll see your share of harbor seals. On our visit we witnessed some fairly intense play-fights over sunny spots on the dock. Venture out as far as you like and enjoy the breeze before heading back in for your last adventures of the day. 1575 Spinnaker Dr. # 105B #395, Dock D 7, VenturaBoatRentals.com
1 PM Lunch
You can't leave Ventura without one more chance to enjoy fresh seafood on the water. Andria's Seafood Restaurant & Market is a casual, counter-serve establishment with food that rivals the fancier eateries on the coast.
Made from scratch daily. Andria's favorites include fish and chips and clam chowder. Eat your fish (shrimp, salmon, scallops, calamari, halibut, and more) grilled, fried, baked, or broiled. 1449 Spinnaker Dr. A
2 PM Before You Leave
Enjoy the rest of the village before you head out. The Village Carousel & Arcade offers an indoor experience for couples, families, and friends. Take a ride on the carousel before playing games in the vintage arcade. Need a sweet treat? The snack bar sells homemade fudge, caramel apples, and candy.
Sixteen boutique shops are located within Ventura Harbor Village. Choose souvenirs from coastal clothing shops, art stores, boutiques, and more. Anja's Boutique offers jewelry and clothing with European flair while the laidback Beach Break Surf Shop sells surf gear. VenturaHarborVillage.com