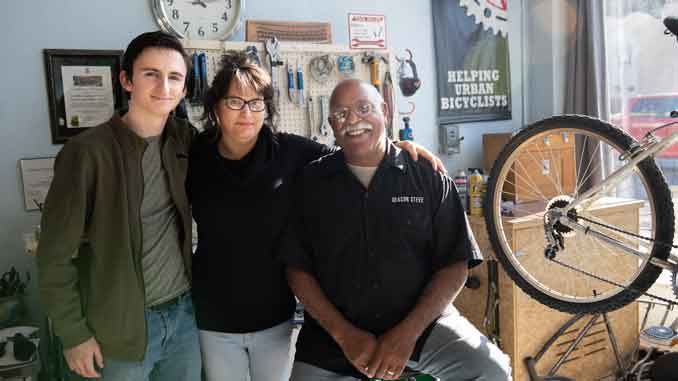 Bicycle Repair Org "HUB" Repairs Bikes and Lives of Locals
In California, we're all about helping people who've fallen to get back on their feet: numerous welfare programs provide people with the food, shelter, and funds they need to re-integrate themselves into society.
But Deacon Stephen Bentley doesn't just help locals stand on their own two feet—he helps them ride on their own two wheels.
A member of the church for 40 years and ordained for five, it was 2016 when Deacon Stephen felt the call to open The HUB. An acronym for "Helping Urban Bicyclists", The HUB is a resource for the under-employed and homeless of downtown Stockton, giving them free bicycles and assisting them with their daily needs.
"One day, I was on my bike in southside Stockton and I saw a lot of bikes in disrepair—bikes of people who were trying to improve themselves," remembers Deacon Stephen. "Whether they were in school, on probation, or just out of jail, they all needed reliable transport. And, since I have a background in bicycle repair, I thought that this would be a good way to offer service to those who needed it."
As it turns out, many people do. These days, Deacon Stephen and his team of volunteers see anywhere between 30 to 60 people a day, all of whom either need their bikes repaired, need transportation, or just need comfort and snacks.
"Each person that walks in our door, once they come in they're treated with dignity and respect," states Deacon Stephen.
And the respect is mutual. One of the best things to happen at The HUB is when bicyclists are finally able to purchase a car. "This week, a lady came in whom we had given a bicycle, but she didn't have it with her," recalls Deacon Stephen. "She told us that she had finally bought a car and sold the bike to someone who needed it. Then, she donated the money she made to us."
Along with financial donations, The HUB also takes bike and bike-part donations. Mostly, they need inner tubes and cables. "And, if you have used wheels that spin true, we're happy to receive those," adds Deacon Stephen.
"This is what I feel that I'm called to do: to be here and be in the lives of people in this downtown community," concludes Deacon Stephen. "Come in here for just 20 minutes, and you'll get a true feel for downtown and understand the mission."
Cycle In:
The HUB
316 N. El Dorado St., Stockton
(209) 663-9955