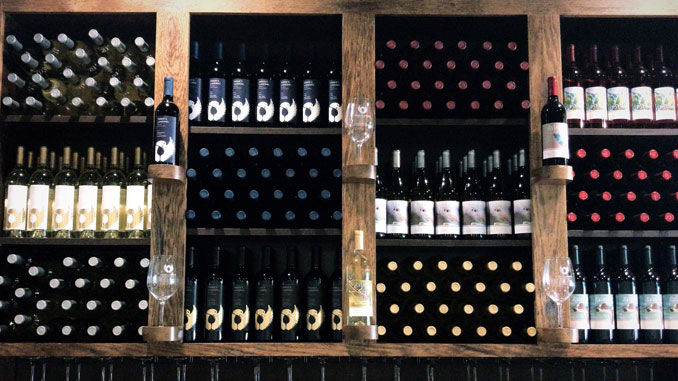 A Taste of the Golden State at Downtown Lodi's Newest Tasting Room
When Dave and Trish Pechan bought 40 acres of fertile land in Linden, California, it was in the spirit of a century-long tradition of agricultural excellence: Mathias Pechan, who immigrated to the US in the 1840s, took to the fields and farmed in the heartland of America, igniting a family tradition of working the land that has inspired generations.
Since purchasing their 40 acres, Dave and Trish Pechan have opened Hawk's Landing Wine Cellars to share the fruits of their labor with the community. Reflecting on the past two decades, Dave says, "We have seen so many changes over the years—particularly the past three years—that it still feels new and exciting, almost like a new start-up business."
Michael Webster, winemaker and general manager of Hawk's Landing, married into the family almost 10 years ago and is passionate about highlighting California's various regions through the flavors and subtleties of their award-winning wines.
"We source our wines from Napa, Central Coast, Lodi, the foothills, etc.," says Michael. "I enjoy letting people taste different varieties from all different parts of the state to highlight which varietals do better in certain regions."
One of Hawk's Landing's crowd favorites is wine from right here in the Lodi Appellation: the 2016 Lodi Symphony, winner of the Double Gold in the 2017 San Francisco Wine Competition.
"The Symphony is its own varietal: a cross between a Muscat Alexandria and Grenache Gris. It's got a hint of sweetness, off dry, and has nice honeysuckle notes to it, with a good balance between sweetness and acidity," explains Michael. "It also has a fragrant floral nose—on bottling days, the aroma fills the whole winery."
Be sure to stop by their tasting room, Hawk's Landing Wine Cellars, in Downtown Lodi. Opened just a few months ago, it's already Michael's favorite part of the job.
"We're very excited to have the chance to share our family experience, history, and our way of making wine with other people on a familiar level," says Michael.
If you ask Michael what his favorite wine is, he'll suggest the 2016 Napa Valley Mount Veeder Cabernet. "It's a fuller bodied wine, and it has some great blackberry leather tobacco and cocoa notes. The tannins are soft, and there's layers upon layers of complexity."
Be sure to keep an eye out for what Michael and the team at Hawk's Landing has in store for the future. "My job is amazing because winemaking is a great blend of science and artistry."
Stop in for a Sip:
Hawk's Landing Wine Cellars
13 N. School St., Lodi
(209) 351-1064
HawksLandingWines.com