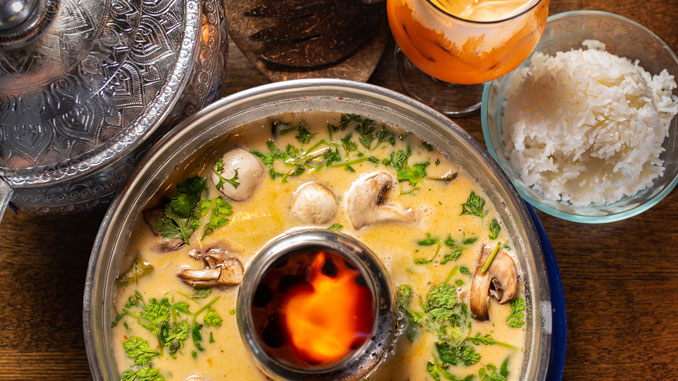 Over 500 million years ago, when life on earth was restricted to water-borne creatures seeking out non-poisonous sustenance, the first taste buds began to develop.
Initially a protection mechanism, our palate has evolved from being a base instrument of survival distinguishing poison from nutrients to a conduit of near transcendent pleasure and happiness—now, combine that taste with various textures and the contrasting sensations of hot and cold, and you've got yourself a recipe for Nirvana.
Just picture it: a piping hot bowl of soup on a chilly November evening, steam spiraling off the surface—a spiritual experience, indeed. To help you satisfy your spirit this winter, we rounded up a list of some of the best soups in San Joaquin to quench your every craving. From cold-weather classics, to cultural staples, these soups will melt the hearts of even the most selective palates.
---
Umami
/o͞oˈmämē/
The fifth basic taste in food (besides sweet, sour, salt, and bitter), corresponding to the flavor meaty or savory. Translated from Japanese, literally 'deliciousness.'
Ramen from Komachi Sushi
It comes as no surprise that the most unique flavor on the palate comes from Japan, a country known for its out-of-this-world cuisine. Thus, it's only fitting that the dish representing such a flavor should also be a Japanese staple.
Enter ramen, the dish so good you can't help but slurp. Lucky for you, in Japanese culture, slurping is customary: air bubbles help enhance flavor and cool down the temperature. And, it lets the chef know you're a fan.
First introduced to Japan by Chinese immigrants anywhere between the 17th and 20th centuries (the true origin story is still up for debate), ramen consists of four major parts: tare (a seasoning base), broth, noodles, and toppings—after that, all delicious hell breaks loose. Ramen varieties are truly endless, and if you're hankering for a taste, try any one of the five delicious options offered at Komachi Sushi in Lodi.
"We have our ramen evaluated by the ramen professionals from Japan. They said ours was on point and were very impressed with our broth," says Tim Chang, Owner and Chef at Komachi. "Tonkotsu Ramen is our most popular." A savory pork bone-based soup, Komachi's Tonkotsu Ramen is simmering with pork, seaweed, fish cake, and green onion.
Initially a blue-collar favorite, ramen eventually took on a nostalgic glow of a time when Japan was on the economic rise just before the nation settled into its prosperity. To this day, 80 percent of ramen shops in Japan are small businesses, keeping this comforting dish even closer to home.
A Pair For Your Palate:
For a savory crunch, order a plate of Gyoza, or Japanese pot stickers. Pair your meal with Japanese craft beer Koshihikari Echigo for a crisp temperature contrast that will leave you totally satisfied.
---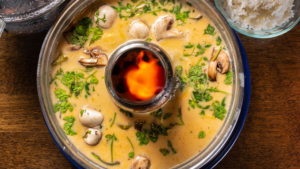 Creamy
/ˈkrēmē/
Resembling cream (as in color, texture, or taste)
Tom Ka Gai from Tracy Thai
Modern day Thai cuisine is the result of integration of various cultural influences over hundreds of years, including those of China, Europe, India, and even Japan. Such mixing of foods and styles have led the Thai people to develop a sort of resourcefulness with their cooking, for example, to replace the ghee used in traditional Indian cooking, Thai chefs began using coconut oil and coconut milk, two popular Thai ingredients to this day.
Tom Ka Gai, or coconut chicken soup, is the ultimate winter comfort food you didn't know you needed. Like most Thai cuisine, this soup is all but bursting with spice, adding a nice kick to this cozy dish. Ingredients include lemongrass, coconut milk, chicken breast, kafir leaves, chili oil sauce, sliced mushrooms, and the most surprising addition, galangal root, which packs a sharp punch of citrus and earthy flavors. All of this is of course draped in coconut milk and simmered to perfection.
"Our Tom Ka Gai is a very popular soup, especially during winter," says Gesa Ranee of Tracy Thai. "Coconut milk is a well-known ingredient in Thai food, and it's got a nice creamy, sweet and sour taste that customers love." With the addition of galangal root (and it's several health benefits, including anti-inflammatory properties) this soup is also a certified cold-buster! 
A Pair For Your Palate:
Enhance the earthy flavors of this soup with a bowl of fluffy jasmine rice and cool down with a glass of Thai Iced Tea, a brew of black tea spiced with star anise, crushed tamarind, cardamom, and sweetened with condensed milk. Looking for something more bittersweet? A glass of white wine pairs perfectly, too!
---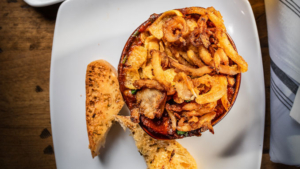 Robust
/rōˈbəst/
Strong and healthy; vigorous.
Filet Mingon & Bacon Chili from Midgley's Public House
The origin story of Chili is as opaque as its texture, muddled in myth of spirits, out-of-body-experiences, and 18th century Islanders. However, most historians will tell you that the earliest written description of chili came from a man named J. C. Clopper who lived near Houston, Texas. This tale holds the most weight, as chili stands began popping up in San Antonio as early as 1880. By the roaring 20's, chili was a Texas staple, and a literal life-saver for Texans during the Great Depression.
Thus, it's only fitting that Midgley's Public House's award-winning Chili is made Texas-style.
"Texas style means no beans," says Lacie Midgley, co-owner of Midgley's Public House. And don't think for a second that "no beans" means you won't feel full—this chili stars filet mignon and bacon, and is packed with red chilis, Fritos, fried onions, cheddar cheese, cilantro, and green onions.
Having won several years at the Santa Cruz Beach boardwalk chili cookoff, the chili at Midgley's an experience unlike any other in the county. As to why customers should give it a try this winter, Lacie puts it best when she asks, with a laugh, "Who doesn't love filet mignon and bacon?"
A Pair For Your Pallet:
While this dish is a meal unto itself, you can't go wrong when you pair it with a house salad (got to get your greens in!) and a light, refreshing beer. If you're looking for a drink with more pizazz, give Midgley's Public Punch a try—it's a crowd favorite!
---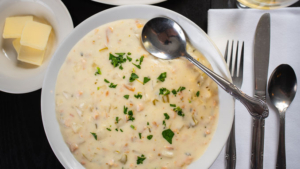 Briny
/ˈbrīnē/
Of salty water or the sea.
New England Clam Chowder from Bud's Seafood Grille
Of all the clam chowder styles, in San Joaquin, there's no question that New England Clam Chowder rules the soup-scape. The creamy chowder is chock-full of potatoes, onions, and other chopped vegetables—and, as Ishmael in Herman Melville's Moby Dick lovingly describes, "small juicy clams, scarcely bigger than hazel nuts."
And yes, clam chowder has been around since the publication of Melville's famous novel in 1851. In fact, it's believed to have been a common dish in Europe since the early 1700s, gaining traction in America by 1836, when it began to grace the menu of Ye Olde Union Oyster House in Boston, the oldest continuously operating restaurant in the country.
But, if you're looking for the good stuff, you don't have to travel to the East Coast. You'll be pleased to know that the best clam chowder resides right here in San Joaquin, at Bud's Seafood.
"Many people have told us that they use our clam chowder as the 'gold standard'," says Bud Milsaps, Owner of Bud's Seafood in Stockton. "A boss of mine went up east coast years ago and said they had chowder everywhere, but few of them could compare to ours. We make our chowder from scratch, full of clams and all the good stuff. On a cold day you can't beat it."
A Pair For Your Pallet:
The tart bite of sourdough bread pairs perfectly with the warm, creamy texture of the chowder. Order the Salmon Entrée with your soup if you need a little extra ocean in your life, as well as a nice chardonnay to make your meal both classic and classy.
---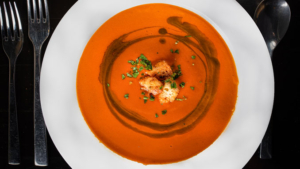 Sweet
/swēt/
Having the pleasant taste characteristic of sugar or honey; not salty, sour, or bitter.
Tomato Basil Bisque from Mezzo
One of the top comfort foods in the US, it's hard to believe that there could have ever existed a world without tomato soup. But, history tells us that the seemingly simple recipe didn't break ground until its first published mention in an 1857 cook book. However, what really made tomato skins fly was Joseph A. Campbell's recipe for condensed tomato soup 40 years later in 1897.
Today, recipes and variations of tomato soup abound, from bisques, to the Spanish Gazpachos, to cream of tomato soup—all starring everyone's favorite vegetable impersonator. (Juicy and sweet? We should have known this thing was a fruit from the get go!)
At Mezzo Restaurant in Stockton, you'll find yet another variation of tomato soup, Tomato Basil. "It has that spicy flavor of garlic, basil to brighten it, and of course the sweetness of the tomato," says Melissa Goodman, General Manager at Mezzo. "It uses locally grown preserved tomatoes, picked at the height of the season. They're amazing."
The fact that the first recorded tomato soup recipe is over a century old just proves that this soup is a cold-weather classic that is truly timeless. "It's a total comfort food," concludes Melissa. "It's a great start to any meal."
A Pair For Your Pallet:
Juxtapose textures and flavors by dipping a slice of Mezzo's fluffy focaccia Bread in your bowl of sweet Tomato Basil. Pair that with a chilled glass of Sauvignon Blanc or Albariño, and you've got yourself a starter-pack for satisfaction.
---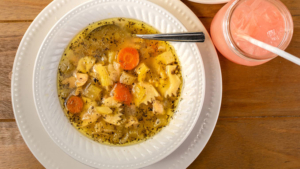 Salty
/ˈsôltē/
Tasting of, seasoned with, or containing salt.
Chicken Noodle Soup from Corner Scone Bakery
Both chicken soup and noodle soup have been around for ages—the former, a medicinal dish concocted by the ancient Greeks, who believed chicken soup cured various maladies, including bed wetting and leprosy—the latter, a staple of Asia, breaking ground as early as the 13th century. The first people to bring the combination to the masses was, unsurprisingly, Campbell's.  
However, if you're looking to avoid the sodium bomb in canned soups (and most of us are), homemade chicken soup is where it's at! This is something that Terrie Green, Owner of Corner Scone Bakery in Lodi, knows to be true. "Soups made from scratch become individual, unique batches with their own characteristics that stem from the cook's creativity!" Terrie says.
More than that, Chicken Noodle Soup is comforting, especially on a cold winter day. "Worries go down better with soup," adds Terrie.
But this dish is far more than just any comfort food. Both our grandmothers and modern scientists assert that this soup has medicinal qualities, especially if it's packed with vegetables such as garlic, ginger, carrots, and onions. It can boost the immune system, soothe the stomach, calm inflammation, and much more.
A Pair for Your Pallet:
Try Cornerscone Bakery's Hand Pies for the perfect crunch or a satisfying BLT wrap! Pair it with a coke for the perfect carbonated companion to your hot soup, and for dessert, a melt-in-your-mouth peanut butter cookie.
---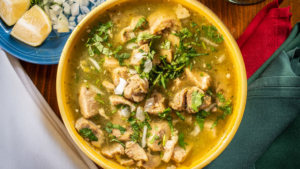 Spicy
/ˈspīsē/
Flavored with spices that are hot to the taste.
Pozole from La Palma
If you've yet to try this dish, you're seriously missing out on a knock-out comfort food with a ton of history behind it. Mexican Pozole goes all the way back to the days of the Aztecs, featuring the main ingredients of hominy, pork, and garlic, and can be served with a variety of garnishes including chiles, onions, and avocado.
Because the Aztec and Mesoamerican peoples believed that humans were created by the corn gods, the corn-based hominy ingredient warranted that this dish only be enjoyed on very special occasions. This tradition continues today, as pozole is most often served at weddings, Mexican Independence Day, or Christmas.
At La Palma restaurant in Stockton, they make sure their Pozole stands out from the crowd. "In Mexico, they make both green and red pozole, but in Stockton, you can only find the red," says Rafael Duarte, owner of La Palma. "We make our pozole with green sauce instead, like the authentic pozole from Mexico. It's the best in town!"
This historic dish has been craved and consumed for centuries, so be sure to add it to your list of winter warm-ups this holiday season—maybe even add it to the menu your Holiday dinners!
 A Pair For Your Palate:
Fresh, warm tortillas make for great dipping into the hot pozole broth. For a sweet contrast to your savory soup, order a cold glass of Horchata, a rice-based drink made with cinnamon and condensed milk. And, as with most Mexican cuisine, you can't go wrong with a cold beer!