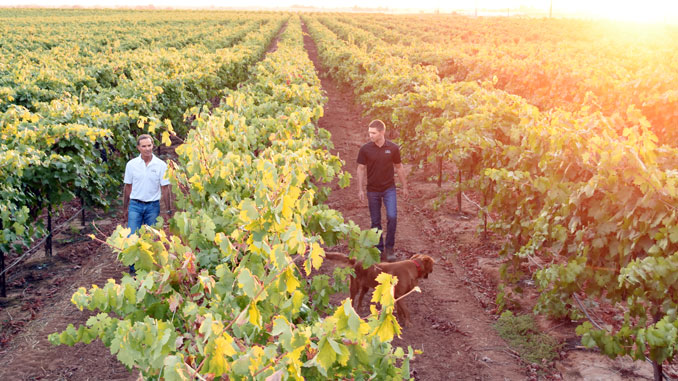 With R-N-R Vineyard's
Growing up in the wine business had a serious impact on Matthew, 27, and Colton, 24, Machado. Their parents, Russell and Rhonda, are best known for providing local wineries with 16 varietals of grapes grown over 1600 acres throughout the Lodi AVA. The experience of growing up in the industry—riding tractors and picking grapes—set the men on a trajectory to expand the family brand with a wine label to call their own.
While the patriarch and matriarch (and the namesakes) of the business never ventured into wine making, their two sons took on the challenge in 2016, starting a R-N-R Vineyard label with vintage releases of Teroldego, Zinfandel and Riesling. Equipped with a life full of memories working as farmers and grape growers and educations in economics from top California schools, the two brothers bring a fresh face to the Lodi wine scene.
"We decided we needed to showcase the quality of wine grapes we grow here in Lodi in a tangible way," Matthew says of the adventure.
Summer sippers showed a fast appreciation for the label's 2017 Riesling, a crisp, acidic wine with the notes of pear, and apple on the nose. Heading into fall, however, vino-lovers should sample the recently released 2016 Teroldego, a single-vineyard varietal that hails from the Clements Hill sub-appellation of the Lodi AVA—no blending required.
There's no tasting room to visit yet, but local Lodi businesses pour several of R-N-R Vineyard's creations (see sidebar).
Despite the Machado brothers' deep roots in Lodi—the pair is third generation local farmers—they pride themselves on adopting modern farming practices that favor sustainability.
Perhaps what sets them apart most, however, is their age. Matthew and Colton think differently than many of the region's other wine makers.
"Our goal with our brand is to not be tied down to common varietals or blends and think outside the box to bring consumers something they weren't exactly expecting from wines out of Lodi," Matthew says. "Our youth can hopefully further convey this outlook."
---
Get a Glass
R-N-R Vineyard's wines are served and sold at the following Lodi locations:
Lodi Wine and Visitors Center
Brix and Hops
Komachi Sushi
Fiori's Butcher Shop
Estate Crush Tasting Room
They can also be found at Payless Market in Lockeford.