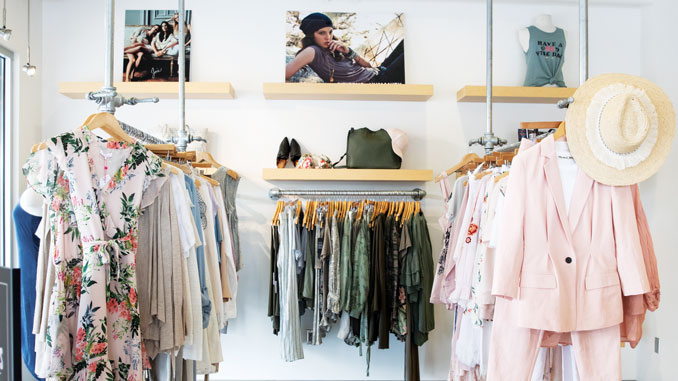 There's something soothing about FINA.
The boutique in Stockton's Lincoln Center welcomes you in with hanging racks of color-coordinated clothing, eye-catching jewelry and shoe displays, and a full jean bar on the back wall. It's a store designed for a stress-free shopping experience (which is really the only kind of shopping there should be). But, if you're still a little overwhelmed by the stunning style options, FINA's founding sisters, Lisa Dixon and Deanne Garibaldi, are ready to help.
  Their father owns downtown Stockton's Mariani's Clothing, and the ladies worked in retail themselves, so it was almost inevitable that they'd open their own shop one day. And in 1986, when a spot in Lincoln Center became available, they knew it was finally time to take action and start bringing "fine" (the English translation of their Italian store name) fashion to Stockton.
Catering to adult women of all ages, the sisters are always keeping an eye on trends, as well the desires of their customers, to keep their store well stocked. The current floral trend promises to last into autumn, and Deanne is predicting faux fur, athleisure, and the Western look to be popular this year, too. But as trends change, so will the designers you'll find at the boutique. And they have a knack for buying from lines that are right on the cusp of popularity. "It's the only way to do it in a small store," Deanne adds. "We have to find it before it gets popular. We did that with Juicy, and we did that with Kate Spade. We don't just relax when we're going to market! We have to try and set the trend before anyone else."
Lisa and Deanne are happy to let you wander around the store at your leisure, but at some point, Deanne says, "We'll dress you." They're experts at finding things that will look good on each individual customer and the occasion they're shopping for.
Once you've found the perfect outfit, it's time for shoes and jewelry, too. "You get specialized service," Deanne promises. "We're big on that."
And that's a huge reason why Lisa and Deanne love running FINA so much—the relationships they've formed with their customers have begun to span generations. "We're now dressing the adult children of some of our long-standing customers! And we're all good friends." And doesn't everyone know that the best people to get fashion advice from is your friends?
Brands to Look For: Vince, Joie, Line, Misa, Pam & Gela
Shop on:
FINA
240 Lincoln Center, Stockton
(209) 478-5670
Instagram.com/finafashion