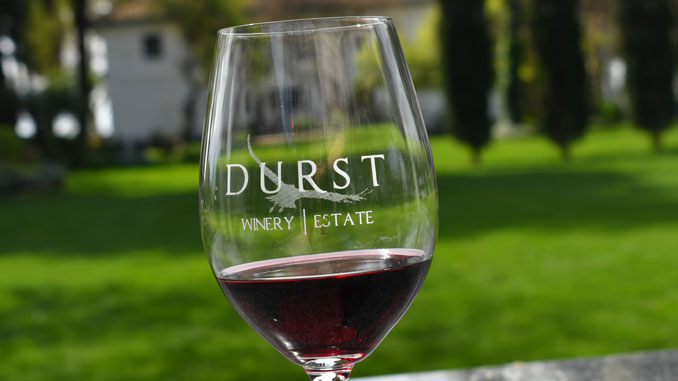 Welcome home. That is the motto behind Durst Winery, a charming stop along the Lodi wine trail.

Co-owned by the husband and wife team of Cassandra and Dan Durst, the winery welcomes guests to relax and sip in Acampo. "We have something so special here that needs to be shared," says Cassandra Durst. And she is absolutely right! The breathtaking Spanish Colonial revival serves as the picturesque backdrop for an afternoon of wine tasting on a sunny spring day.
As home wine makers and active members of LAVA (Lodi Amateur Vintner's Association), Cassandra and Dan say the decision to make wine commercially was an organic evolution in their pursuit of happiness! Durst Winery debuted in December of 2014 and has been sharing the gift of great wine with locals and tourists alike ever since.
At Durst, wine remains the focus. They are a boutique winery, specializing in small lot production. The Lodi appellation offers wine makers the opportunity to try over 100 different varietals, which makes the region a perfect match for Cassandra's personality. As a natural creative, her desire to learn new things lends itself to experimenting with new varietals. 
And at Durst, there is a little something for everyone. From Chardonnay and Rose to Tempranillo and Barbera, guests will find something to please their palates. They also have two sparkling wines for those special occasions; The first sparkling is an off-dry, demi-sec. And ready for its debut is a Brut of Chardonnay Cassandra can't wait for folks to try. But Durst's most popular wines are their two Amada Mia blends. The Amada Mia White and Amada Mia Red are off-dry wines meant to please the palate.
Guests can enjoy Durst Winery on Friday, Saturday, and Sunday from noon to 6 PM. The vast grounds boast picnic tables, Adirondacks chairs, and dining tables. Durst encourages people to stroll the property with a glass of their Grenache Rose and explore the orchards.   
The tasting room, designed by Cassandra, a passionate commercial designer for forty years, features hand-stained scraps of wood. They adorn the welcoming wall in the tasting room, the ceiling, and the farm-style picnic tables outside the winery. With stainless steel counters and great natural lighting, the transition from indoors to outdoors is flawless.
Don't forget that during the summer months, Durst showcases local musicians that bring people outdoors to enjoy a glass of Lodi wine. The goal, to showcase what Lodi Wine Country living is all about. And if you really like the wine, and you will, join their wine club. With three bottles delivered four times a year, it's the perfect commitment to trying new wines.
The next time you are looking for a place to sip on Lodi wine that feels like home, head to Durst. A winery that brings people together with warm hospitality and award-winning wine!
Stop and Sip:
Durst Winery
10173 E. Acampo Rd., Acampo
(209) 601-1413
DurstWinery.com