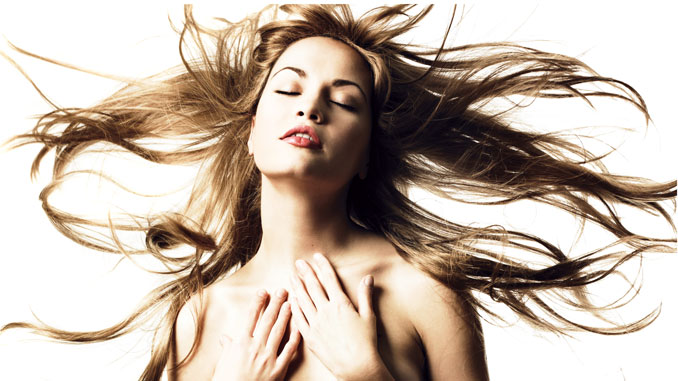 Female empowerment is in these days. From women supporting other women, the Harvey Weinstein accusations that launched a million other celeb-centric callouts, to the #timesup movement, the female future is undeniable.
For years some have turned their noses at cosmetic procedures, insisting they go against the love your body mantra the 2010s have become about. Perhaps, however, that isn't true. In a society where doing what makes you happy is becoming the norm, why shouldn't we turn to cosmetic procedures to empower us? Physical beauty isn't the be all end all of a women's worth, but the way outer appearance affects inner thoughts and confidence is a connection we can't deny. You're not changing you, you're enhancing you—hopefully without guilt.
Research into search trends only solidifies the evidence that more people are considering cosmetic procedures, including surgery, as they become both less invasive and more readily available.
We live in a society where if you've never loved your nose you can change it, if you want bigger or smaller breasts you can have them, and if wrinkles are creeping in before you're ready, a little nip and tuck can make them disappear. Instead of shaming others for changing their appearance, making plastic surgery a dirty word, we're embracing a no-judgment zone where women and men, businesswomen and moms, young and old, truly anybody can do what they want with a little less repercussion (as long as you are not a Kardashian on social media).
Perhaps that's why as female empowerment becomes prominent in society, the popularity of cosmetic procedures also gain steam. According to the American Society of Plastic surgeons, nose reshaping, eyelid rejuvenation, facelifts, fat transfers, and fat freezing are among the fastest growing procedures completed. Since 2002, the number of all plastic surgery procedures has risen 132 percent. In addition to these trends, lasers, injections, and hair transplants are opening the doors to new ideas, offering less-invasive alternatives for those who want to give Mother Nature a helping hand.
Bye, Bye Wrinkles
Botox has long been a go-to for San Joaquinians looking to eliminate fine lines. At Vu Plastic & Cosmetic Surgery, Dr. Hugh Vu offers injections to smooth crinkled faces. Studio Q in Manteca does the same with injections and fillers. Botox isn't going anywhere; it's still amongst the most popular cosmetic trends in the nation. But lasers offer new options for those looking to rejuvenate skin, and San Joaquin County medi-spas are jumping on the bandwagon.
One option is the Pelleve Radiofrequency laser, which tightens skin and reduces the appearance of fine lines without needles. How? The laser heats the deep layers of your skin using advanced radiofrequency energy and without damaging the epidermis, or top layer. The heat causes existing collagen to contract and tighten as well as stimulates the production of new collagen.
For optimal results, most patients receive four treatments upfront. Then, yearly or biannual treatments are recommended to maintain appearances. Unlike many cosmetic therapies, the results of Pelleve are immediate encouraging many clients to come in for a quickie before an event, giving their skin extra oomph for a big day.
Just about any part of the face can be targeted with a Pelleve laser. At Studio Q, the full face is most popular but many clients choose to target only the eyes or mouth.
 "The general principle is that with almost all these devices they produce a controlled injury to the skin and as the skin heals it becomes more normal," explains Dr. Gerald Bock at California Skin & Laser with offices in Stockton and Lodi. The newer technologies reduce discomfort and allow for less downtime following a treatment. Dr. Bock uses a Erbium YAG laser to reverse wrinkly and crepe-y skin.
For people with more severe wrinkling and discoloration, Dr. Bock recommends the croton oil peel. The croton oil peel tightens skin while also reducing the appearance of age spots and pigmentation problems. It's ideal for skin that has experienced sun damage or is suffering from the natural effects of aging. The peel works by penetrating the deeper layers of the skin and addressing textural abnormalities. By improving the skin's deep structures, sun-damaged and wrinkled skin is dramatically improved and the patient walks out with radiant, smoother, and healthier-looking skin.
Another option is the picosecond laser, a laser with a very short and powerful pulse that operates with several different wavelengths. The first use of the laser was for tattoo removal where it reduced the number of tattoo treatments by about half. It also can remove more colors than the older laser and the treatments are less painful. Dr. Bock uses the laser for skin rejuvenation and pore reduction that is almost painless, often targeting skin pigmentation issues. "The older lasers destroy pigment through heat," Dr. Bock explains. "This laser, because of its very short pulse, removes pigment by creating a shock wave. The lack of heat means there is less risk of the treatment causing secondary, but temporary, hyperpigmentation."
If you need a deeper fix, eye rejuvenation can be achieved through surgery. Kimberly Cockerham, MD, who works out of offices in Stockton, Lodi, and Modesto, recommends surgery for redundant skin, wrinkles, and fat. All three of these nuisances can be improved by going under the knife when Botox and laser therapy won't cut it. So why opt for surgery when other non-invasive applications permeate the market? "Bags under the eyes are due to the fat behind your eyes moving forward due to aging, eye rubbing, and other causes," Dr. Cockerham explains. "The only effective option is surgery. Fillers in this area have a high complication rate."
Sculpting Your Summer Body
Skip the needles and scalpels. With body sculpting, women and men are able to reduce stubborn fat cells in problem areas. Beverly Nesmith, spokesperson for Manteca's Studio Q medi-spa, says the procedure is best for those who exercise and eat healthy but still have imperfections they'd like to right, most commonly in the midsection, back, and thighs. With as little as two Sculpsure sessions, patients see results. Up to 24 percent of fat cells in any area can be eliminated with the device, an update to the similar CoolScuplting technology some spas offer.
"We're heading to the time of year when people are thinking about bathing suits," Beverly says. That means the office is getting busy as many clients book their first session for spring. The important component of this treatment is time. It takes approximately 12 weeks after the second treatment for full results to become visible. "When you're looking better, you're feeling better," Beverly says. "Reducing fat permanently is definitely something that is going to make you feel better."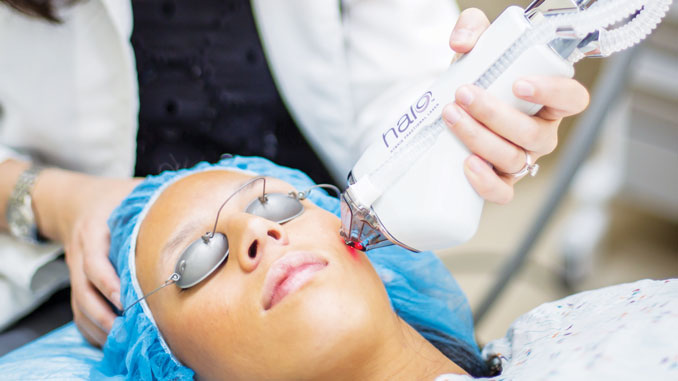 The Halo Laser
When it comes to treating wrinkles and skin discoloration, there is no shortage of lasers on the market. While there are similarities between all of these lasers, the Halo Laser offers something different. Combining two lasers, a deeper penetrating laser and a more superficial laser, that fire simultaneously, the Halo Laser produces results with less peeling and discomfort than the previously developed lasers.
COMING SOON
Contour Your Face Without Makeup
Ditch the makeup. There's a more permanent way to enjoy facial contours. The Y Lift is a minimally invasive procedure that uses large amounts of filler to replace lost facial volume. The result is a youthful facial contour and a tighter neck with zero to minimal downtime, no discomfort, and no anesthesia. Research suggests the results of one Y Lift should last anywhere from one to three years. California Skin & Laser will begin offering the treatment in May.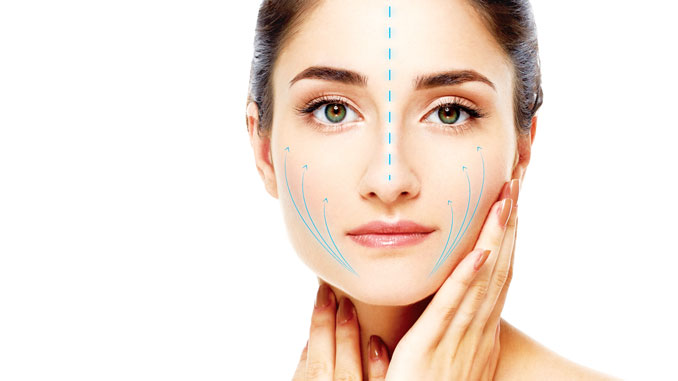 Eliminate Scars
Scars form when the dermis is damaged. As a result, the body creates new collagen fibers to mend the damage, which results in a scar. Scar tissue has a different texture and quality than the surrounding tissue and can therefore cause unattractive marks.
Dr. Bock hails the Lutronic Infini, a radiofrequency microneedling device that works on all types of scarring, as the single best device for treating acne scarring. It's the device he uses professionally.
Ditch cellulite
The cousin of Pelleve Radiofrequency is PelleFirm. It works much like Pelleve, targeting problem areas and tightening skin. Many clients use PelleFirm to rid themselves of pesky cellulite, most commonly on the legs. The system tricks skin into tightening on its own as a response to high temperatures (about 113 degrees Fahrenheit). It also triggers new collagen production, which we all know is the magic elixir of youthful skin. Although the final effects occur over a series of treatments,  clients see tighter skin right away and firmness increases over time.
Studio Q Open House
April 18, 5-7 PM at Studio Q
Curious about a Studio Q procedure but not ready to commit? Sample new discounted treatments and cutting-edge technology during the salon's open house. A representative from Sculpsure will be on site to explain treatments and answer questions while attendees sip champagne, indulge in snacks, win prizes and enjoy price breaks on skincare products and other procedures. A doctor or nurse administers all medi-spa procedures at Studio Q.
The Newest Facelift Alternative
First, there was the mini-facelift. Now, technology is promising similar results without surgery at all. J-Plasma is trending, but what is this alternative facelift?
Using ionized gas instead of light, J Plasma tightens skin in a way marketers claim is like no other non-surgical facial rejuvenation procedure. It's fairly new so that claim can't be asserted yet, however, Dr. Bock has one on hand if you'd like to see for yourself. Essentially J Plasma is a wand that produces a helium plasma under the skin of the face, neck, body, and extremities. It produces heat, but doesn't get as hot as a laser. "It is the only minimally invasive procedure that produces immediate and noticeable and long-lasting skin tightening," Dr. Bock says.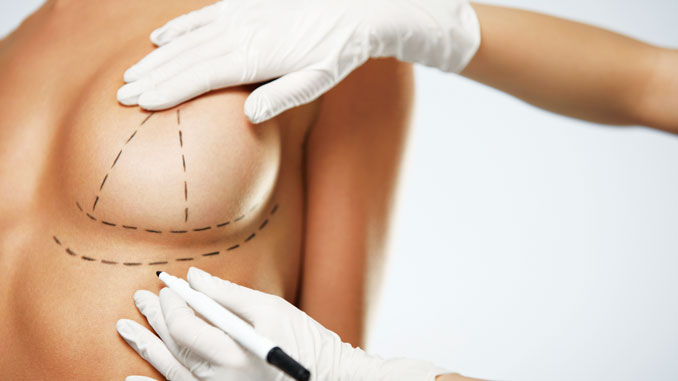 Pamper the Girls
Society has moved beyond the oversized silicone implants that defined the 1990s while the altered perception of ideal breast size and new technologies are driving the industry. Today, many women who undergo breast augmentation surgery are doing so to regain confidence after having kids, to reduce back pain caused by large breasts, or to finally get breasts that will make them feel womanly. Regardless of the reason, the options have certainly expanded in the way of breast implants, and the most common plastic surgery since 2006 is still holding on to its top spot.
Dr. Thomas B. McNemar in Tracy has added a couple new products to his Tracy office for patients seeking breast augmentation. A new type of implant called moderate plus extra uses a more gel-cohesive material to reduce sag and offer a firmer look. The product is ideal for patients with less breast tissue, a common occurrence for those with smaller natural breasts and those who have had children.
For those prepping for reconstructive surgery, a new type of tissue expander makes the process more convenient and less painful. Before patients had to make several trips to their doctor's office for saline injections to expand tissue before surgery. Today, Dr. McNemar uses a control that expands with air inside. It's less painful and can easily be done by the patient at home. The result is a more streamlined process with less hassle and discomfort to the patient.
Under the Knife
If you dream it, you can probably do it in the plastic surgery world. From brow lifts to facelifts, lip enhancements to nose reshaping, women and men are able to change their physical features to create a healthier inner self. Dr. McNemar files these procedures under facial sculpting, a cosmetic term that refers to refining facial features for aesthetic appeal.
Top 9 Non-Surgical Cosmetic Procedures
RealSelf, a community-driven website centered on cosmetic procedures, uncovers 2017's biggest industry trends.
Non-surgical fat reduction (i.e. CoolSculpting and Sculpsure)
Fillers such as Juvederm and Restylane
Hair restoration
Toxins (Botox and Dysport)
Facial lasers
Scar treatment
Acne treatment
Hair removal
Chemical peel
Top 10 Plastic Surgery Treatments
Presented by RealSelf
Breast augmentation/lift
Rhinoplasty (i.e. nose job)
Tummy tuck
Liposuction
Vaginal rejuvenation
Butt enhancement
Face lift
Eyelid Surgery
Breast reduction
"The Mommy Makeover"
Better Brows
You've heard of a hair transplant, but what about an eyebrow transplant? Dr. Kimberly Cockerham offers the procedure to San Joaquin clientele in Stockton, Lodi, and Modesto. "There are a lot of women who have over-plucked their eyebrows or had them permanently tattooed, which destroyed their follicles," she explains. Using your own hair, Dr. Cockerham transplants it onto space where your eyebrow used to be, achieving the same consistency as your original brows. And the eyebrows aren't the only part of the face that can benefit, Dr. Cockerham also offers eyelash transplants. Because hair transplantation is now a minimally invasive process with essentially no downtime, recovery is quick. "The technology has advanced the procedure dramatically in the last decade," she says.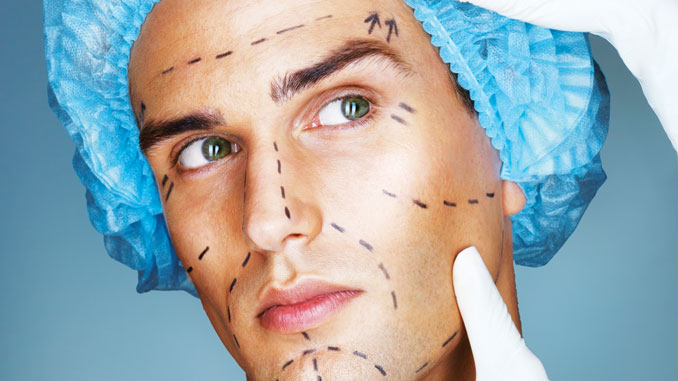 Men Do It, Too
Women aren't the only ones going under the knife, or laser, to achieve a better self-image. As of recent years, the number of men undergoing cosmetic surgery and procedures has skyrocketed. According to the American Academy of Facial and Reconstructive Surgery, one-third of men surveyed said they are "extremely likely" to consider a cosmetic procedure. Age played a role in the results with 58 percent of those responses coming from men between 25 and 34 years of age, and 34 percent between 18 and 24 years. It hints to a trend in men becoming more conscious of their physical appearance as society inches closer to balance in gender quality issues. The procedures men are clamoring to get are essentially the same women endure, however, they can be given new names to appeal to the audience, including Brotox.
Locally, Dr. McNemar is embracing the higher percentage of men clientele. He cites businessmen with a desire to fit in by looking younger as one type of client coming in for procedures. He says plastic surgery for men is a way to shift the stigma that an older man is not trendy and therefore not as effective as a younger man in the very same job.
One of the most popular procedures Dr. McNemar offers men is essentially a breast reduction (one of RealSelf's top ten listed plastic surgeries in 2017). Men undergo breast augmentation to remove fat and tissue that causes the appearance of larger breasts. The condition, called gynecomastia, affects approximately 40 to 60 percent of men and can be linked to obesity, drug use, and some medical conditions.
Some men are after a more masculine look and undergo facial procedures to achieve a more prominent chin or more appealing cheekbones. Dr. McNemar notes liposuction and body contouring are also popular male procedures. As men age, they can lose the ideal male body shape—trim and athletic-looking, with broad shoulders and chest, a flat abdomen, and a narrow hip-thigh area. Not only are these procedures common for women clientele a good approach for men, in many cases liposuction produces better results for males (I know, not fair right?) because men maintain their skin elasticity longer.
Lunch Break Nose Jobs
Injectable rhinoplasty got its cheeky nickname because of the low-time commitment involved. Those who want to change the shape of their nose can do so in just one appointment, non-surgically. The procedure is exactly what it sounds like. Using injectable fillers, the shape or size of a nose can be altered. As a bonus, there are no expensive regrets. If you decide your new nose isn't as good as the old one, just wait for the injection to metabolize and you'll be back to normal. For a quick fix, a dissolving injection can be given to reverse the effects of the first procedure.
Looking for a place to get it done? Call your closest medi-spa and ask if they offer the service.
Va-Va-Voom Vagina
Vaginaplasty skyrocketed to popularity as celebrities starting singing its praises. Essentially the procedure reconstructs a women's vagina returning it to a more youthful version of itself. The downside was a lot of women reported painful recoveries—honestly, what do you expect?
Now there is a way to get the tight kitty of yester year without opting for surgical repair. ThermiVa treatments use radiofrequency energy to gently heat tissue, without discomfort or downtime. The day you have the procedure, you walk right back out. No anesthesia, no knife, no hospital stay.
Many women who choose ThermiVa do so after children to reclaim their pre-baby bodies. Vagina procedures are a mainstay of the mommy makeover, after all. In addition to restored satisfaction and a reinvigorated relationship with your partner, ThermiVa offers other practical upsides—like maybe next time you laugh you won't tinkle a little, too.
Call Dr. Bock. He offers the procedure in both Lodi and Stockton.
Book an Appointment:
Dr. Gerald Bock at California Skin & Laser
Offices in Stockton, & Lodi
(209) 751-4292/ (209) 333-1382/ (209) 956-4260
CaliforniaSkinLaser.com
Dr. Kimberly Cockerham
Offices in Lodi, Stockton, & Modesto
(209) 577-5707
Dr. Thomas McNemar
2160 W. Grant Line Rd. #250, Tracy
(209) 834-0626
McNemarCosmeticSurgery.com
Studio Q
207 W. Center St., Manteca
(209) 823-0707
StudioQMedSpa.com
Vu Plastic & Cosmetic Surgery
1617 Saint Marks Plaza, Ste. E & F, Stockton
(209) 476-7074
VuPlasticSurgery.com