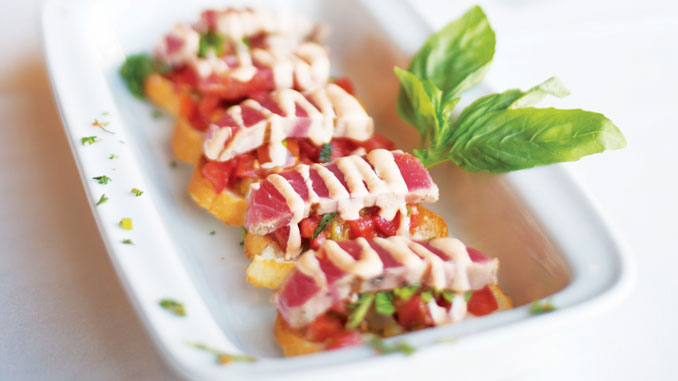 Take a trip into the soul of Stockton and uncover Italy along the curving business of Stone Creek Village.
Here, food and family go hand in hand, complementing laughter with fresh bites of Bruschetta, and smiles with plates of Chicken Scaloppini, Eggplant Parmigiana, and Cioppino. Ready for your trip to Tuscany? It all begins at De Vega Brothers.
Going on nearly 20 years of experience in the De Vega kitchen, owners Alberto and Rafael Vega know what it means to build something guests will enjoy from the ground up. De Vega Brothers didn't spring to life in Stockton, after all, but was first planted in Manteca. Even as a hole-in-the-wall near downtown, De Vega was filling seats faster than they could accommodate their growing stream of guests. Specials such as the Deep-Fried Ravioli and the Filet Mignon, charbroiled and topped with a wild mushroom merlot demi glaze wrangled in return-guests.
That bump in the road prompted a move just a short drive away to a larger location. And, as demand blossomed, the brothers had little choice, but to open shop in Stockton with a venue that could match the quality of their food and expected service.
Today, De Vega Brothers is synonymous with fine dining, offering a taste of the Mediterranean in both their food and décor. After all, plates of Pasta Del Mare, ripe with sautéed salmon, prawns, and scallops tangled in bell peppers, tomato, and red or white sauce sit perfectly alongside floor to ceiling windows, and a baby-grand piano. And who can resist ordering another glass of locally crafted wine or imported varieties from Italy itself when a full bar is ready to enhance your evening on the town?
Personally, we can't get enough of the many available pasta dishes, each with its own unique blend of sauces and textures, herbs and garden-fresh vegetables. It's a difficult night when one must choose between Pasta Salsiccia, which features Italian sausage that's sautéed in mushrooms and bell pepper, onion, tomatoes, and herbs, and settle into a bed of penne, or Pasta Primavera, carefully tossed in alfredo sauce, and rich in eggplant and onions, carrots, zucchini, and bell peppers. Did we mention the mushrooms and tomatoes?
Before you pick up that phone and dial in your reservation for the night, don't neglect the opportunity to dine along De Vega's veranda, where heaters tango with the chill in the air to provide you comfort on those cool nights. You'll not find a more perfect position to enjoy the ambiance of Stone Creek Village, right alongside the sublime rhapsodies of their concert series hosted every year.
De Vega Brothers
5757 Pacific Ave., A140, Stockton
(209) 323-4339
DeVegaBrothers.com