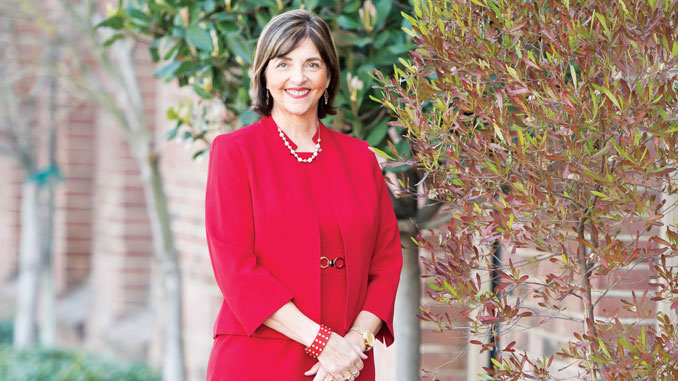 Six women who combat community challenges
Rebecca Deal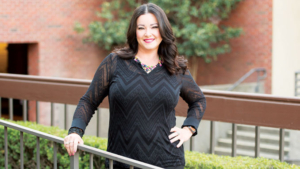 Five generations and a community built on friendship ties Rebecca Deal to San Joaquin, and with such a strong connection to the Central Valley, she can't picture herself anywhere else. "All of my family is here, born and raised," Rebecca grins. Being Bank of Stockton's Cash Management Officer, Rebecca takes every chance she can to promote positive change in the region her family calls home. It's no wonder, then, that she became involved with Haven of Peace.
As any volunteer can attest, going above and beyond for a non-profit you truly believe in can be a full-time job. "Because it's a 24-hour facility, we have to make sure we handle staffing, any HR issues, acquire permits to do remodels, and pound the pavement for funds," says Rebecca. But ensuring word gets out there to women is of the utmost importance. "I want people to know that we're out there and we're here to help. We'll help in any way we can."
Assisting women and children is personal for Rebecca, who raised her son as a single mom. "We support women and children of our community, whether you're a single woman that needs shelter, or in a battered living situation. My passion is there for our non-profit."
Rebecca also serves on the board of directors for the Stockton Greater Chamber of Commerce, and has been involved going on ten years. "I went to an event, and started attending as many as possible. I try to do as much as I can for the Chamber."
Rebecca doesn't feel like she's unusual. She's "just a normal person that wants to make a difference, whether that difference is big or small." But she does have some solid advice. "Find something that you're passional about and get involved!"
"Be patient, be kind, and as my mom always said, count to ten."
"I want to look back and know that I made a difference in everything that I dd, whether it's my work or my personal life or volunteering in the community."
"Find something that you are passionate about and get involved. You don't have to be on a board of directors to get involved. It can just be volunteering your hours at your facility, at events, collecting."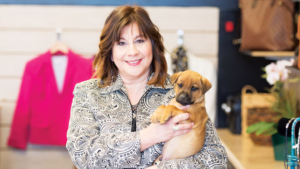 Debbie Freitas
At the age of 5, Debbie Freitas knew exactly what she'd do when she grew up. "I wanted to become a deputy. I wanted to do whatever I could to give back to the community I live in." What she hadn't counted on, however, was the skills the job would provide to her, and how they would help her to succeed as she reached out to lend her hand to the community after her career in law enforcement.
Now, as Owner and Operator of Pawtastic Thrift Boutique—fully benefiting Delta Humane Society, a no-kill animal shelter—and Chair of the Miracle Mile Merchant Committee, Debbie works diligently to improve the lives of every single soul that walks through her door, whether they're walking on two legs, or four. "Pawtastic is a vehicle to bring more awareness to the Delta Humane Society. It is an everyday, consistent fundraiser," says Debbie.
As a drop-off destination for shelter donations such as pet food, bedding, and financial gifts, Debbie's efforts are tireless in prepping and selling donated items, pet adoptions, and outreach.
And that is a far cry from the many other hats adorning her brow. "You always hope you're doing enough. You always want to do more. And you always want to reach out to more people." But Debbie's outreach isn't just for the sake of the animals. Her store has a second, lesser-known purpose that's just as inspiring as her first.
"I have created a program where veterans with a voucher can shop." Whether it's kitchenware, a lamp, or the suit that they need to step forward and into their interview, Debbie wants to make the lives of veterans just a little bit easier. "I've seen what my brothers and sisters in uniform have to face. I know the barriers that they have to cross. One beautiful piece of clothing can make a difference. One act of giving can make a difference in a person's life.
"You always hope you're doing enough. You always want to do more, and you always want to reach more people"
"People don't realize the value of volunteering. The reward is that much bigger. It's a place to feel wanted, feel a part of something. They are contributing."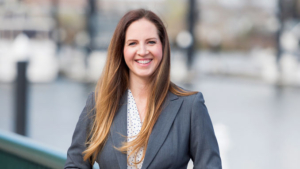 Kristen Dyke
It may have been University of the Pacific that first drew Kristen Dyke from San Jose, but the allure of the Delta, a strong sense of community, and a young love that would blossom into a marriage gave Kristen little choice, but to lay down her roots. And, truth be told, Kristen would have it no other way. "Stockton is the perfect place for us. It's outdoorsy and we love spending time on the water," says Kristen. "And we have such a tight-knit community. Everybody knows everybody. I like that."
As Owner and Director of Marketing at Port City Marketing Solutions, Inc., Kristen is perfectly folded into the many businesses and non-profits around our region, applying her talents to create great change for those who need it most. "I grew up in a family that always gave back," says Kristen. "I feel very strongly about helping our youth and at-risk families. I want to give children all the resources they need to thrive."
This stance is what led Kristen to become a part of the Executive Board of the Child Abuse Prevention Council (CAPC). "It's such an amazing organization. I'm really proud to be a part of it," she says. From marketing assistance, to event founding, Kristen works hard to help CAPC succeed. But her work doesn't end there. Kristen is also a part of the San Joaquin Children's Alliance, where she helps to overcome obstacles for the children in our community. "Helping our children succeed is my passion and priority."
The Eleanor Project is another non-profit near and dear to her heart. "I'm on the Advisory Committee and our goal is to promote, encourage, and support fellow women in San Joaquin County." From logos and websites, to marketing and more, Kristen is a whirlwind of inspiration that continues to bring out the best in her community.
"You have to work hard, nothing is going to be handed to you."
"Be honest and be open with people."
"Everybody has their own path, and if you work hard and stay true to yourself, you can be successful."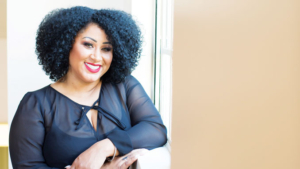 Denise Manning
Denise Manning is a game changer in all definitions of the word, leveling the playing field for some of the most at-risk youth in our communities, and applying her talents in various organizations across the region and beyond.
"I've served on the executive board for the Black Chamber, NAACP, Black Leadership Council, and SJ Community Action Board," says Denise. In addition, she's been the keynote speaker for Stockton's annual Power of One event and has been one of the first speakers for The Eleanor Project's Tep Talks. But being a part of boards and sharing her story was never enough for the retired combat veteran and author.
In January 2016, Denise joined the Office of Violence Prevention as their first Community Engagement Coordinator. Simultaneously, she also opened her business, Pretty Lady Boutique. And as she learned more and more about the current state of the city, she realized, "there was a lot of emphasis on mentoring young males of color, but what about the girls?"
That wouldn't do. And so, Denise took to local schools to create Pretty Lady Sisterhood. "For the last two years, I've had a group of girls that were referred from their principals for bad behavior." Denise ripped the basement of her store apart and created a space she could use to meet and mentor for her program. "I taught them different ways to combat stress and anger, such as Yoga, Reiki, and Meditation."
While Denise has since left her position at the City of Stockton, she has been dedicated to her business and nonprofit, and continues her work as a motivational speaker and active humanitarian, serving in countries such as Africa, China, Japan, India, and Honduras assisting women in need.
"Service is my passion. It's what I live for."
"I'm motivated by the things people told me I couldn't do."
"Listen to yourself, your inner voice. Listen to positive people, and find a mentor. No one can take that."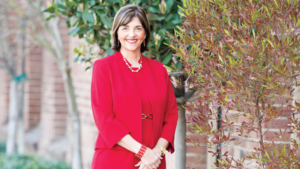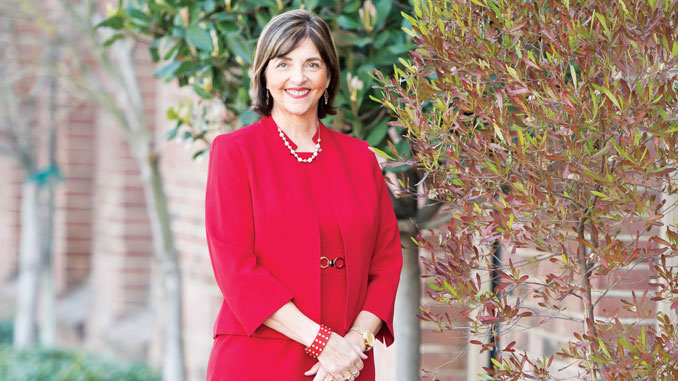 Diane Vigil
When Diane looks back on the countless programs and non-profits, boards and events she's taken part in, one sentence she utters truly encapsulates her persona: "Have I done enough?" It's difficult to imagine a woman who's served on the boards, in part, for Hospice of San Joaquin, Children's Home of Stockton, Community Foundation of San Joaquin Philanthropy Summit Committee, and Association for Fundraising Professionals, feeling anything less than absolute certainty in her efforts to serve her community. Especially looking back on the many roles she's filled. Even now, Diane holds the chair as President of the Greater Stockton Chamber of Commerce; right alongside her role as Dameron's Foundation Director.
 "It is humbling and an honor," Diane smiles. "One of the biggest challenges is being present both mentally and physically. When accepting the opportunity to serve the GSCC, I made a commitment to give it my very best, learn about their programs and services, attend meetings and events [and write] my monthly column!"
Yet, this is only a piece of what the philanthropist wishes to do for her community. "When my time with the Chamber is finished, I'm looking forward to becoming part of a board. There's still so much I want to be a part of, to volunteer for, and to make a difference with."
Diane's time may be tied at present, but its bliss being able to perform outreach for the community she calls home. Her 30 years at the Dameron Foundation has supported a healthier community and advanced healthcare close to home.  Showcasing Dameron's services is a rewarding task she thrives on and developing new ways to fund raise is a constant learning experience.
But the balance of life is a challenge that Diane looks forward to each day. As a community liaison, both in her career and charitable endeavors, Diane strives to respect and represent the many moving pieces she so carefully puts into place.
"Serving, giving back to your community, is the thing that sticks with you your whole life."
"Learn to listen. Really listen, and you may uncover lessons from those around you that you never thought you needed to learn."
"You cannot grow, understand different behavioral types or be your very best without suffering through change."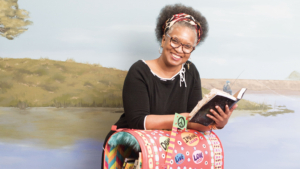 Tama Brisbane
Stockton's Poet Laureate, Tama Brisbane, lives and breathes the arts. As our city's literary ambassador, she creates poems for our civic events, and thrives on bringing a new level of immersion in words to audiences of all ages. "Especially youth and young adults," grins Tama. "And I'm doing more and more speaking engagements with my Poet Laureate hat on."
As Co-Founder and Executive Director of With Our Words Inc., a program which empowers youth to find their own voice and to develop themselves through the literary and performing arts, Tama performs outreach and recruitment, and program facilitation. "I'm currently helping to restructure the organization in preparation for our next decade of local, statewide, and national service." And as the Area Coordinator and Teaching Artist for California Poets in Schools, Tama conducts poetry residencies at K-12 school sites throughout San Joaquin County. If that wasn't quite enough on her plate, Tama adds: "Did I mention that I have a small eco-business?"
Spare time is a work of fiction for the Poet Laureate, but that doesn't stop her from engaging in her community every chance she gets. "I'm looking forward to being part of the uphill fight for the soul of this country," Tama admits. "I'm not sure I've ever seen a moment when so many different segments of society were simultaneously empowered and committed to forward movement, despite forces equally as committed to backward movement and repression."
And in a long list of local nonprofits such as Third City Coalition, The Black Employees Association of Stockton, Tuleburg Press, Stockton Arts Commission, and so many more, Tama is always looking for more ways to help the city that she proudly calls home. "I love creating platforms for artistic and multicultural voices in San Joaquin County to be involved with, particularly those of our region's youth and young adults. And I like to think that I bring a creative, thoughtful, and passionate energy to the opportunities people have given me."
"Discover and make friends with your unique voice and gifts and then use them."
"Don't be afraid of conflict or adversity you can't win unless you've been in a fight."
"I want our community to really and truly embrace its ethnic makeup, so that it can finally forge the unity and identity it will need going into this most important and profound phase of its growth."
"I feel so strongly that Stockton and San Joaquin County are poised to achieve a much higher civic profile in California."