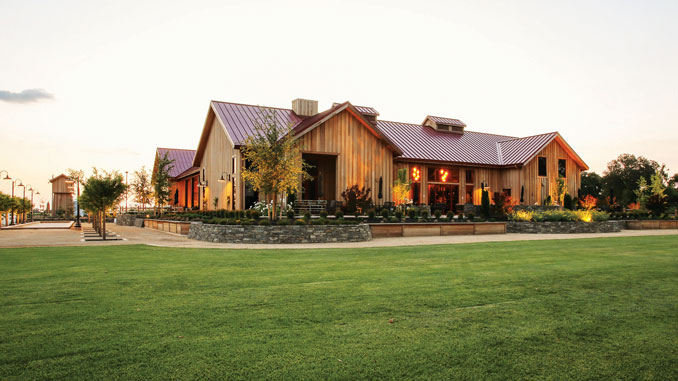 It's hard to recall you're only a short drive from downtown Lodi when paradise rests in the palm of your hand.

Gazing over the deep crimson Cabernet swirling in your glass, worries tend to roll away with the breeze, carried off and through the patio. But that's life when you're on a tour of Oak Farm Vineyards, one of our appellation's quintessential stops while roaming the vines in San Joaquin.
The historic site first began its accession to fame in 1860, when it was purchased by William DeVries. As an avid aficionado of ancient oak trees, William never allowed one to be removed from his home unless it posed a hazard. It was that patient level of care that helped promote the estate as one of the most gorgeous properties in the valley. Today, Oak Farm Vineyards is cared for by its latest stewards, Dan, Dorothy, and Heather Panella. "When our family purchased this property, because of its beauty, we couldn't help but want to share it with others," says the Panella family.
Varietals of various vines call over 60 acres of the estate home, including Sauvignon Blanc, Chardonnay and Fiano, Malbec and Cabernet Sauvignon, Zinfandel and Primitivo, Petite Sirah and Petite Verdot, and lastly, but not at all least, Sangiovese and Barbera. "If you manage the vineyard correctly and harvest at the right time, then it's extremely difficult to not create a great product," says Sierra Zeiter, Assistant Winemaker.
But a taste of what Oak Farm Vineyards offers is never complete until you've visited the grounds themselves. History melds with modern accents along the estate and unfolds throughout such places as the Redwood Barn, where the warm glow of string lights complement the rich, worn wood panels first built in the 1860s. The tasting room and flourishing patios throughout are a restful reprieve from the world when paired with a glass, entwining rustic charm with all the luxuries of today. It's a wistful reminder that sharing a bottle at Oak Farm Vineyards is never just a tasting.
Complete your experience with an official Estate Tour, providing guests with the remarkable history of the property that started with William DeVries. Quell your curiosity for Lodi's incredible past, and learn more about the Panella family and their labor with the land, all while enjoying a full flight tasting.
For More Information:
Oak Farm Vineyards
23627 DeVries Rd., Lodi
(209) 365-6565
OakFarmVineyards.com