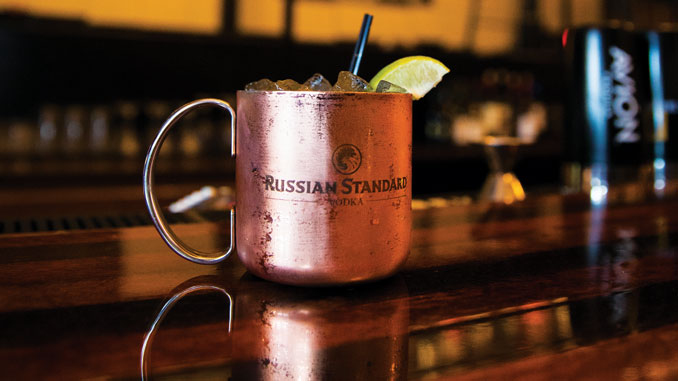 Crafting cocktails is an art and even the simplest recipes can be transformed by a skilled bartender.
The Moscow Mule has three basic ingredients—vodka, ginger beer, and lime. But as these four local takes will prove, the only real requirements for a good mule is a spicy ginger beer, a good boozy kick, and a well frosted copper mug.
The Judgement Proof @ The Deliberation Room
Ingredients: Whiskey, ginger beer, fresh squeezed lime juice
With your choice of whiskey as the backbone of this drink, The Judgement Proof brings classic ginger and lime flavors to the forefront and has quickly become a fan favorite at this new establishment.
Pairs well with: The Judgement Proof creates a smoky and savory flavor profile when paired with the pulled pork sandwich. The sandwich's pineapple and slaw make for an added sweet and sour flare.
19 N. California St., Stockton
(209) 910-9477
Whiskey Mule @ Fenix
Ingredients: Pickled Hennessey, ginger beer, fresh lemons, honey
With familiar ginger and citrus notes, this one-of-a-kind take on the Moscow Mule will satisfy your sweet tooth and have you puckering.
Pairs well with: Anything with bacon! Grab a frosty mug to go along with your bacon loaded BBTL sandwich or the Badass Bacon Mac & Cheese.
Here's the buzz: "The honey really accentuates the whiskey and with the lemon… it really warms your stomach!" says Fenix Bartender Rachel Trevino.
117 W. Elm St., Lodi
(209) 400-3950
Moscow Mule @ Ernie's Food & Spirits
Ingredients: Absolut vodka, Regatta ginger beer, fresh lime juice
Staying true to the 1940s speakeasy recipe, Ernie's Food & Spirits took special care selecting their ingredients, finally deciding on Regatta Ginger Beer. General Manager Kim Stone considers it to be the star of the show.
Pairs well with: Complementing the menu's savory dishes best, Kim recommends the Moscow Mule alongside the Grilled Octopus with piquillo pepper sauce.
1351 N. Main St., Manteca
(209)239-3351
Irish Mule @ Midgley's Public House
Ingredients: Jameson whiskey, Regatta ginger beer, muddled lime
A nod to the Irish roots of this upscale bar and eatery, the Irish Mule capitalizes on the popularity of Jameson whiskey, and the citrus undertones of Regatta ginger beer, to create a smooth and spicy drink.
Pairs well with: The ginger flavor brings out the fresh fish and avocado in the Ahi Nachos and offers a refreshing pop that compliments the smooth textures.
Make your rounds: The Irish Mule is one of six Midgley Mules. Get your taste buds tingling with the Mexican Mule, Kentucky Mule, Italian Mule, Mad Dog Mule, and classic Moscow Mule.
296 Lincoln Cntr., Stockton
(209) 474-7700