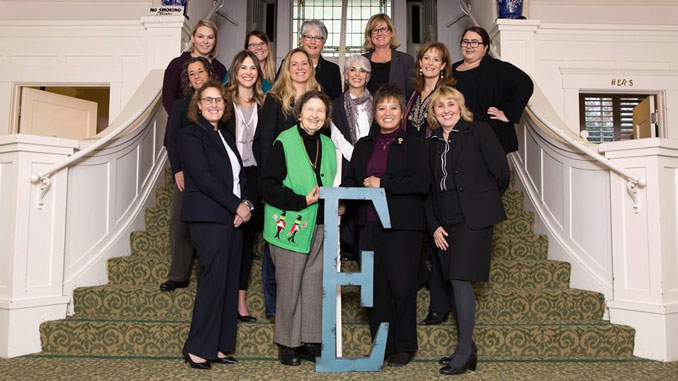 Kristen Spracher-Birtwhistle humbly describes herself as "an experienced woman" and a feminist.

Others would likely describe the fourth generation Stocktonian as an innovator and a mentor.
In 2015 Kristen founded the Eleanor Project, to help connect women across generations and careers, establish personal and professional relationships, and encourage them to share their stories.  
After earning her undergraduate and graduate degrees from University of the Pacific, Kristen went on to a career in healthcare administration with Kaiser Permanente Physician Group. Her job there revolves largely around coordinating services to benefit the community. Among her arsenal of projects is a recent program that allows doctors the resources necessary to be more responsive to suspected child abuse cases by connecting them with local law enforcement and Child Protective Services. 
"The beauty of working for an organization like this is that it really does have a true mission and allows me to do things that really impact the community," Kristen says. "The Eleanor Project is a personal offshoot of that."
Inspired by her desire to encourage women's health and wellness in the community, The Eleanor Project is supported by four main pillars that help women build relationships beyond their immediate circles: Dinner and Discussion, TEP Talks, Oxygen Mask Events, and recognition of Women-Owned and Operated Businesses (WOO).
Kristen wanted to break away from the typical approach seen in conferences where the meetings revolve around a guest speaker and leave little room for members to interact and connect. This was the inspiration behind the Dinner and Discussions program, where a small group of friends-of-friends follows a scripted discussion that leads them to share about their professional, philanthropic, and personal interests.
Dinner and Discussions led to TEP Talks, which brought together a larger group to listen to a panel of local women tell their life stories. Speakers for these events are chosen for the impact they have had on the local community, but Kristen always receives the same response when recruiting speakers: "Why are you choosing me?"
"Here are seven women, sitting on the stage, who have done upwards of 80 years of great work for the community," Kristen says, reflecting on the latest TEP talk panel of speakers, "and they just see it as the backbone of what they do. They don't see it as anything special-which means that it's special."
Oxygen Mask Events are a nod to Kristen's career in the healthcare industry and stress the need for self-care before you can extend a helping hand to others. WOO, meanwhile, is an initiative that recognizes local businesses owned and operated by women.
"I think women are stronger as a collective… and we have such a rich history in Stockton and San Joaquin County of women who have done some amazing things that have advanced Stockton economically, environmentally, socially, civically. We need to have those stories told," Kristen says.
But it seems that Kristen is so busy telling others' stories that she sometimes forgets to tell her own. As an afterthought, once the interview had already wrapped up, she added that she was the recipient of the Athena Award and the Susan B. Anthony Award for her work at the Kaiser Permanente Physician Group. Why she didn't bring it up sooner was both astounding and perfectly understandable after spending the last hour listening to her talk up accomplishments of others: Kristen wants to have an impact but is far less concerned about getting the credit.
"I think any woman could have started the Eleanor Project, to be honest. I was just at the right place at the right time," Kristen says, inadvertently echoing the sentiment of the TEP Talk speakers she so admires.
For More Information:
TheEleanorProject.com