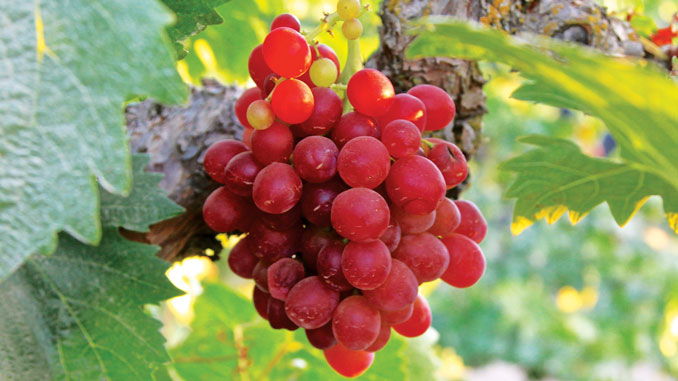 Imagine, for a moment, Lodi's vast appellation. What do you see tucked along the vines?
Are the crisp, green jewels of Chardonnay peeking out between the leaves? Or maybe you're visited by images of rich, deep shades of Cabernet Sauvignon and Merlot? Then again, as the Zinfandel Capital of the World, it's easy to see those black-skinned berries breaching the tangles of branches. But have you considered the royal crimson hue of the Flame Tokay?
Before entire vineyards were torn asunder in pursuit of wine-based varietals, the Flame Tokay Grape reigned supreme as the queen of Lodi. Her revered name is still synonymous with our city, bearing the title in our high schools and streets, and showcased along murals in Lodi. Our beloved Lodi Grape Festival is predated only by the Tokay Carnival. And while the carnival only took place one year, it was a huge success that showcased Lodi's bounty in Tokay Grapes.
But what made Flame Tokay grapes so intrinsically special? As they say: Location, location, location! The breathtaking pink-kissed skin of the berry can only be found close to the Mokelumne River, where it ripens into something perfectly sweet. Planted and harvested in any other region, and the grape loses the qualities it is best known for. And yet, these superb traits weren't enough to prevent the Tokay from being ripped from its roots.
As it had been with its watermelon predecessor, the fruit was not as profitable as the wine grapes now enveloping the appellation. And ancient acres were pulled up and set aflame to make room for the vintages Lodi is known for today. No more the Tokay Capital of the World, Zinfandel has assumed the throne.
But don't feel too bad for the ruby berries. Die-hard fans of the grape still linger along the backroads and vineyards. Jessie's Grove Winery, for instance, still hosts in its estate vineyards 40 vines adjacent to the original home and another 30 vines in their Royal Tee zinfandel vineyard of which both locations are 130 years old. "With the heritage and history that the Tokay grapes have engraved on Lodi, I wanted to preserve a high value for them," says Greg Burns, General Manager and Wine Maker at Jessie's Grove. "I believed that they were complex enough to produce their own varietal wine. I came up with the idea to turn them into a sweet port style."
With this goal in mind, Greg has crafted multiple vintages from 2009 forward that preserve a living history, and has revitalized the Tokay grape to become anew again. As Greg states it, "Picking the grapes at their highest sugar level and whole cluster pressing them, we were able to produce a very rich juice which we fermented down to 10% residual sugar and added high proof grape spirits. This created a beautiful balance, after which we aged this wine in neutral oak barrels for three years."
The result? A golden-hued beauty, whose flavors transition from simple peach, to an intense, caramelized richness. Find a bottle, known as Ancient Vine Tokay, on your next visit to the esteemed estate, and enjoy a sip of Lodi's history.