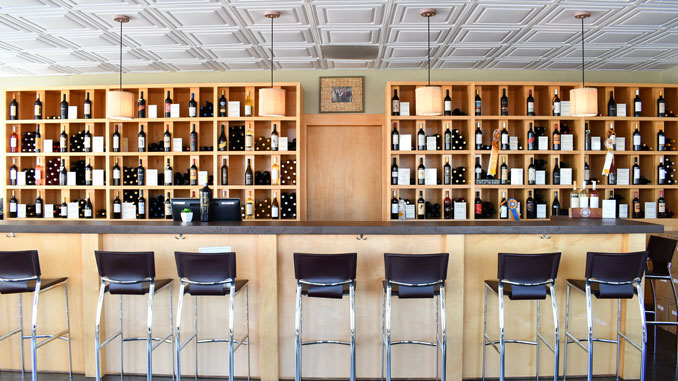 Husband and wife team, Bob and Ali Colarossi, are a serious power couple
They both had lucrative jobs working in big cities when, in 2009, they decided to take the plunge and open Lodi's first dedicated custom crush facility for premium wine production—Estate Crush!
Strategically located on the outskirts of downtown Lodi, Estate Crush produces some decisively delicious wines. From crisp white wines like Albariño and Sauvignon Blanc, to the soft and elegant 2016 Cinsaut Rose, the wines have finesse. The opulent 2013 Sangiovese is a perfect match for a bowl of Bolognese, and the 2013 Petite Sirah is rich with currants, coffee beans, and dark chocolate.  But their flagship wine is the Stellina Old Vine Zinfandel, a personal passion and favorite of owners, Bob and Ali. The vineyard is dry-farmed and located just a stone's throw from their back patio.
But, have you ever dreamed of making your own wine? Bob and Ali make dreams come true for those who don't have the resources to build or invest in a full blown wine making facility. Estate Crush offers a Crush to Bottle program that provides all winemaking services from receiving the grapes to providing finished wine in the bottle. Talk about a simple and sophisticated operation. With just one ton of grapes, anyone can make the high-end wine of their dreams. Estate Crush offers the program for a per-case fee and can hook you up with the planning, labels, logos, fermentation, lab analysis, aging, and so much more.
Bob breaks it down like this, "Wine is fairly easy to make but hard to sell. By offering the Crush to Bottle program, Estate Crush allows clients to focus on the hard part—selling the wine."
They also offer one of the coolest ways to make your own wine, known as the Estate Private Barrel program. This is perfect for the family or business looking to brand its own wine. Clients choose a specific varietal, Estate Crush handles the production, and at the end of it all, clients receive a boutique wine with a customized label. One barrel equals 24 cases of wine—that's enough wine to make everybody happy!
So, next time you are looking for the perfect place to taste a multitude of Lodi wines, look no further that Estate Crush's tasting room. The space is modern, comfortable, and basks in natural light. It features more than 35 brands and 88 wines.
Since its opening in 2011, throngs of gleeful wine lovers have sipped and swirled from over 100 award-winning wines. Estate Crush serves up 16—yes 16—wines on the tasting and by-the-glass menu. And just like any fine dining establishment, the menu changes monthly!
 Stop by Estate Crush at:
2 W. Lockeford Street, Lodi, CA
(209) 368-7595
EstateCrush.com