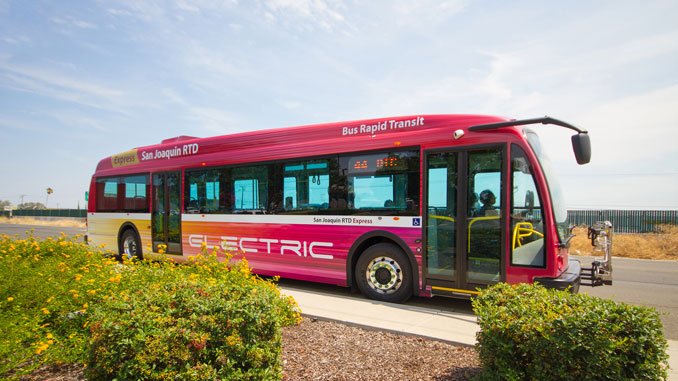 RTD launches the nation's first electric-fueled, zero-emission bus rapid transit route
In 2018, there isn't a single day that a hybrid doesn't pass someone along the freeway. Tesla has made itself a comfy little office in our Lathrop community, and charge stations are popping up across San Joaquin. As technology shifts toward green efficiency, so too has the region's largest mass transport provider—San Joaquin Regional Transit District (RTD)—creating our nation's first all-electric Bus Rapid Transit route.
RTD first donned this esteemed title in 2017, but the company has been striving toward green efficiency for some time. "In 2013, RTD launched the first 100% all-electric bus service in Northern California with two buses from Proterra," explains Terry Williams, Public Information Officer of RTD.
Funded by a California Energy Commission grant, these buses performed well. "So well, in fact, that RTD was awarded additional grant funding to obtain 10 additional new electric buses this year—four of which have been deployed on Route 44," Terry adds. As of today, RTD has grown to include 47 Hybrids and 12 Electric Buses.
In August 2017, RTD became the first in the nation to run an all-electric Bus Rapid Transit (BRT) route. "BRT routes are known for efficiency—closer to the speed of a light rail—but at a fraction of the cost," explains Terry. "Passengers reach destinations much faster than with traditional bus routes because BRT routes have fewer stops and turns, and receive stop light preference at intersections if the bus is running late."
Due to its outstanding success, the RTD Board of Directors has passed a resolution to convert 100% of RTD's Stockton-serving bus lines to all-electric, zero-emission buses by 2025. It's an ambitious goal, but with so much community support, and benefits, the future of Stockton's mass transit is looking green!
The Facts
How long does it take the bus to charge?
Roughly 10 minutes.
How long can a bus hold a charge?
Approximately 40 miles, or two hours.
How much pollution have these buses prevented?
Every year, each electric bus reduces greenhouse gases by 312,840 pounds, CO2 emissions by 208,560 pounds, and carbon monoxide by 793 pounds.
Do the new buses cost more to ride than the old buses?
No, RTD's low fares remain the same no matter what type of bus you ride.
Are there capacity differences between the old & new buses?
RTD's electric buses typically hold a higher capacity than their predecessors.