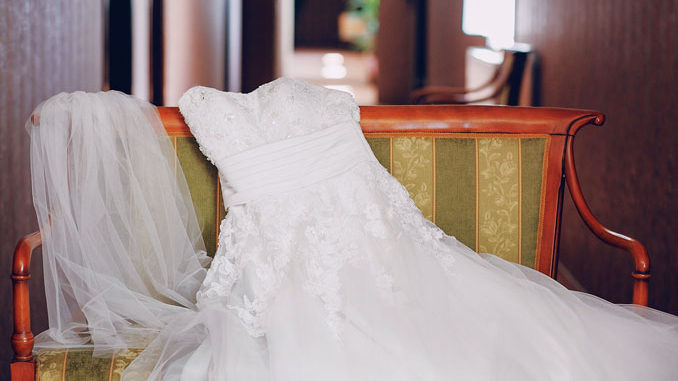 Have you ever heard brides complaining of spending a fortune on a dress they'll wear once?
Well, what if you could get some extra mileage out of your wedding gown? Check out these creative ideas for what to do with the dress after the big day.
Save it for your daughter
Styles may change over the years but fashion always recycles. Set aside your wedding gown for your offspring. Even if she doesn't wear the dress as is, she'll appreciate the sentiment, and could even repurpose pieces of the dress to create a new look. Have it professionally cleaned and preserved to help it last.
Trash it
Trash the dress photo shoots are gaining popularity with millennial brides. In these shoots, brides don their dress in a new setting for the purpose of getting one-of-a-kind photos. Popular ideas include underwater shoots and brides out in nature. The dress is often ripped, torn, and dirtied during the process but with the idea that it won't be worn again.
Wear it Annually
It may sound silly to wear your dress again, but many brides get together with friends to do just that. On an annual basis, pull out your gown and slip it on for a party with other former brides. Add a little elegance with a tea party theme and enjoy extra laughs when your pregnant friend tries to slip back into her wedding dress.
Donate it
There is a strong possibility that dress will never be worn again. Instead of stashing it in the back of the closet, donate it to someone in need. National organizations offer special ways to gift your gown—from creating angel gowns for deceased infants (Angel Gowns Project of California offers a semi-local solution) to be buried in to providing a dream dress for a military bride. Wish Upon a Wedding gives the dresses to terminally ill brides, and the organization accepts other wedding attire, too.
Repurpose it
Are you handy with a needle and thread? Repurpose your gown into a keepsake you can get more use out of. From lace handkerchiefs to decorative pillows to detailed headbands for more casual wear, there are so many ways to turn your dress into an everyday work of art.