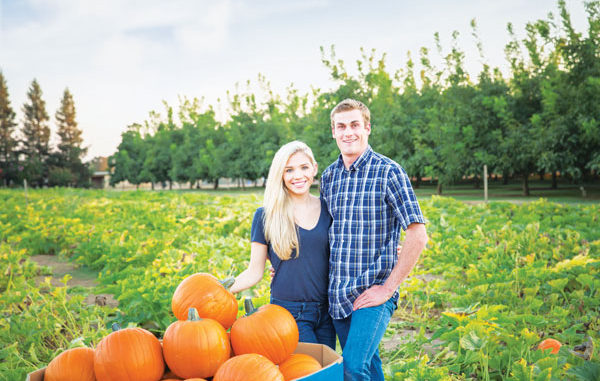 The face of farming is changing. And at 26 years old, Drew Rotner of R and G Family Farms, is one of those new faces. His company is a new player in the produce world, delivering quality pomegranates, cherries, pumpkins, walnuts, and so much more to restaurants and grocers in San Joaquin County.
          Drew was drawn to the land at a young age, planting and cultivating produce in his parent's backyard. But it wasn't until he graduated from Sacramento State and was bartending at Rosewood that he was bit by the entrepreneurial bug. Drew often had more vegetables than he knew what to do with, so he offered up extras to the chef at Rosewood. The veggies were a huge hit in the kitchen, inspiring him to launch a specialty produce company. In 2015 R and G Family Farms was born, and has been planting seeds—both literally and figuratively—into the local food scene ever since.
          "The way I try to differentiate myself in a competitive market, is by being accessible when restaurants or grocers need more of a product," Drew says. "I've delivered fruit to kitchens in the middle of dinner service because they ran out, or simply needed more."
          Through relationship building and customer service, R and G Farms has since formed a healthy partnership with a barrage of local restaurants including Rosewood Bar and Grill, Towne House Restaurant, Fenix, Pietro's, Market Tavern, and Prime Table. Those restaurants have transformed Drew's produce into cocktails, salads. and sauces…but his favorite was a cherry barbeque sauce made by Market Tavern.
          Drew's favorite part of farming is working with the land, being outdoors, and the unexpected challenges of each day. He currently has 4,000 pumpkins planted, and he tends to them with meticulous detail. The field should yield 5-6,000 pumpkins in a multitude of varieties including Cinderellas, White Luminas, Sugar Pie, and three carving varietals. Most will be sold to MarVal Food Stores and local restaurants.
          Drew admits that farming has its own unique set of challenges…the greatest of which is Mother Nature. He also reflected on the hardship as a young farmer to break into an often times saturated industry of seasoned farmers. He credits his face to face networking and effort to build strong relationships as the foundation for his farm.
          R and G Family Farms has already grown beyond what he ever imagined and Drew is excited for what the future holds.
Find the Featured Produce:
Instagram: @rg_family_farms