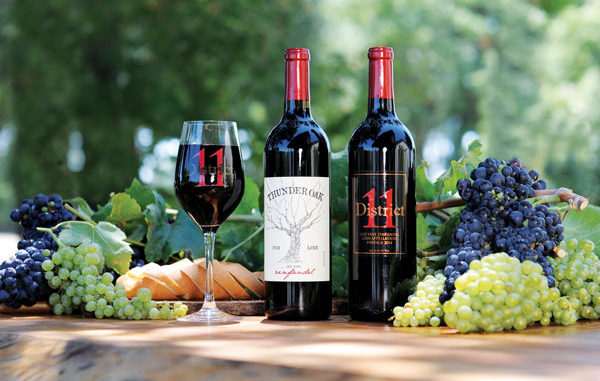 If quaint and cozy is your cup of tea, (or should we say, glass of merlot?) look no further than Consumnes River Farm for a charming and memorable wine-tasting experience. Striking a balance between seclusion and convenience, Consumnes River Farm is located just a quick drive up Interstate 5 from Lodi and is owned and operated by fourth generation farmers, Jackie and Ken. Those who make the short trip to the farm are rewarded with a combination of grape and olive offerings.
          Starting with flavored balsamic vinegars in 2006, the menu of delectable enticements has since grown to include two wine labels: District 11 and Thunder Oak. The Farm falls in District 11 of California's 17 wine districts, for which the first label is named. The other is named for its thunderous oaky flavor. Both labels are award-winning vintages, recently claiming Bronze and Silver at the California State Fair this year.
         
          The oil and vinegar offerings are equally well recognized. The Bellindora Champagne Pear Balsamic Vinegar recently won Best in Class & Gold medals, as did the Fig Balsamic, Delta Barrel Balsamic, Delta Barrel Arbosana, and Delta Barrel Garlic. More vinegar flavors are currently in the works but the current selection includes Meyer lemon, garlic, habanero, and blood orange, to name a few.
Surely Consumnes is a pleasant and unique destination when the mood strikes to sample these fine and unique flavors, but special occasions also exist that might tempt oil, vinegar, and wine connoisseurs. Those intrigued can join Consumnes River Farm for their Dinner in the Vineyards and their Create & Taste events.
          Dinner in the Vineyards is occurring for the first time on August 26th and entails a catered menu by ABC Grill. The Create & Taste event is a monthly painting event hosted by Kelsey Cardoni in the tasting room. Guests are provided all they need to create a work of art while sipping wine, mimosas, and more, which are available to purchase from the tasting room.
          With a warm, inviting atmosphere, Consumnes River Farm boasts a country chic vibe that's described as not so much as Grandma might be knitting at the porch but warm enough to make visitors feel entirely right at home while experiencing a breadth of oil, vinegar, and wine offerings to impress even the most refined palette, all while being a stones throw from the heart of Lodi.
Stop By:
Consumnes River Farm
28305 Thornton Rd., Thornton
(209) 334-5544