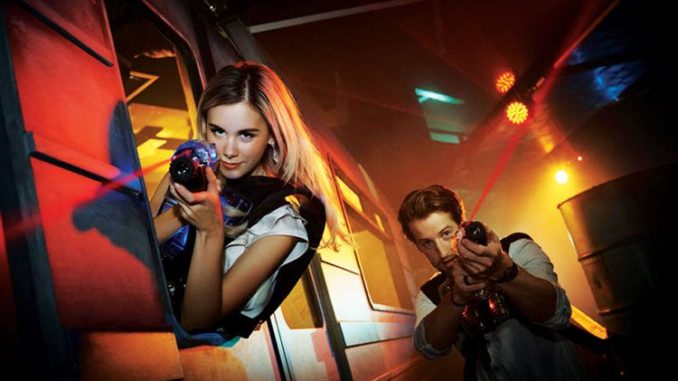 Big League Dreams, Manteca
Big things begin when the first steps to greatness are taken, and that's exactly what Big League Dreams brings to each and every young baseball enthusiast that steps up to the plate. With mock scoreboards, walls painted with cheering crowds and stadiums built to mimic ones from the major leagues, your son and daughter will definitely find the spark of the game as they draw back their bat. Manteca.bigleaguedreams.com
Carnegie SVRA, Tracy
With the roar of the engine and 1300 acres worth of ground to cover, Carnegie SVRA is the destination for all your high speed, off-roading needs. An array of tracks and twisting trails come well equipped for anyone ready for a rough ride, be you a bold beginner or a polished professional. Located in the rugged foothills looming beyond Tracy, a short trip down Corral Hollow road will land you in steep slopes, rocky roadsides and crippling canyons. Ohv.Parks.ca.gov
California Central Valley Archery Academy, Stockton
Take aim with the best at California Central Valley Archery Academy! The CCVAA offers Junior Olympic Archery Development, and adult programs that hone your skill behind the bow. An excellent pastime that teaches accuracy and patience! CentralValleyArcheryAcademy.com
CQB City, Stockton
Push your luck and test your limits when you plow through one of the world's largest indoor airsoft arenas at CQB City. Take aim from behind a variety of obstacles and stay low as pellets pummel just overhead. Located in Stockton off of 8 Mile Road, CQB City is ready to take your tactical experience to the next level with their weekend public tournaments and Friday zombie runs. Don't have your gear or looking for upgrades? Stop into their on-site store and stock up on supplies! Reserve your next birthday party or host your private function in their facility for unforgettable fun. CqbCity.com
Curt Pernice Skate Park, Ripon
Rated as number one among many skaters in California and designed by Team Pain, Curt Pernice Skate Park features a dropped bowl setup that runs into several pyramids with access to hips, flats and rails. Open to skateboarding and in-line skaters, this park won't want to kiss and make up if you fall flat. So get your gear on and give it your best when you take your first plunge. cityofripon.org
Dive High Hang Gliding, Tracy
Ready yourself for high flying! Dive High Hang Gliding is perfect for those looking for training before taking to the skyline all on their lonesome! But don't be fooled, you'll be flying on your very first day! From learning how to pilot an HG Wing, to Hillside Certification, you'll be on your way to mastering the air currents in no time! DiveHighHangGliding.com
Dell'Osso Farms, Lathrop
Acres of adventure await your family when you step through the gates of Dell'Osso Farms! October opens up an array of marvelous attractions that last throughout the month. Make a pit-stop at the petting zoo, ponies and send some pumpkins packing at the pumpkin blaster! Take a trip on the tractor, scarecrow and hay rides or test your strength against a very bullish, bucking pumpkin! If you're looking for a little more adventure try the rope course on for size, but don't look down! Tour the carefully crafted corn maze without getting turned around, arranged into a new and impressive pattern each year! DellOssoFarm.com
Enjoy the Mountain ATV Rides, Carnegie
Take to the unique slopes of Carnegie SVRA on a private tour of the terrain! This adventure allows up to four single-saddled ATVs, with a ride catered to your level of experience. The fun is only a short trip away into the hills near Tracy! EnjoyTheMountain.com
Japanese Gardens, Stockton
Slip into a realm of utter tranquility when you enter into the lush Japanese Gardens located on the Micke Grove park grounds. Fashioned by Nagao Sakurai, a landscape architect of the Imperial Palace, it has thrived as a central piece of historical culture for the residence and guests of the Central Valley. Two varieties of Japanese cherry trees dot the landscape, accented by ponds filled with koi. Bridges cascade over these lovely waters, encircling the teahouse that sits near the center of the garden. Prepare to pop out your camera and set the scene for some amazing family photos! SJParks.com
Lodi Skate Park, Lodi
This skate park is loaded with ramps, grinding opportunities and rails as you gain speed and technique under the hot summer sun. Explore new tricks on their half pipe and spend a few hours more after the sun goes down when the automated street lamps kick on, providing much needed fluorescent to ensure you nail every drop back onto your board. Lodi.gov
LTF Adventures, Stockton
Learn the curves and contours of some classy cars when you spend a few rounds behind the wheel at LTF Adventures. Whether you want to experience the rush of a Lamborghini, Ferrari or Porsche provided by these professionals, you'll have six laps to traverse with the help of an instructor at your side. Each track is customized to meet your skill level and to optimize your enjoyment. Reserve the ride of your life today! LtfAdventures.com
Micke Grove Zoo, Stockton
Step into a wildlife world like no other when you wander into Micke Grove Zoo. Various reptiles, mammals and birds paint an educational scene for you and your family to experience. Roam the paved roads in search of your favorite animal ambassadors or sign up to create an animal treat for your best furry, feathered or scaly friend to enjoy! If you're looking for something after the heat of the day rolls away try signing up for the "Zoo After Dark" program! Trek the pathways you know and love with flashlight in hand, campfire confections and a guide to lead you into the darkened depths! Mgzoo.com
Oak Grove Regional Park, Stockton
Explore the 180 acres of Oak Grove Regional Park and have some fun. Play 18-hole disc golf, lay out under the sun, fish for seasonally stocked Catfish and Trout, rent a paddleboat, and pack a picnic. Make a day of it. SJParks.com
Oak Park Ice Arena, Stockton
Slip on a pair of skates and hit the rounded corners of Oak Park Ice Skate arena! Open year-round, this indoor rink hosts an incredible birthday party venue with rental opportunities for those who don't yet have blades of their own. Drop in for hockey, figure skating or some practice alongside fellow skaters at your skill level. Oakparkicearena.com
Parachute Center, Acampo
Fancy a fall from new heights? Then drop on in to Parachute Center! Having celebrated their 50th anniversary, these professionals will teach you the proper way to plunge straight out of an airplane from a spectacular 13,000 feet! For a little extra, you can request a photo or video taken during your daring descent. Not yet ready for a solo expedition? Dive into the deep blue skies of the Central Valley with an instructor on Parachute Center's Tandem Jump! ParachuteCenter.com
Pixie Woods, Stockton
Embrace a time when picture books paved the path to fantasy and childhood stories seemed as real as your own two eyes. Pixie Woods calls you back with your own little ones in tow to explore its tranquil waters on the Pixie Queen paddle boat, to roll along the intrepid rails of the Express Train or to ride around and again on their classic carousel. With their many playgrounds, slides and the small water park your kids can rush through to cool down, you'll find nothing, but big grins and good times. Stocktongov.com
Rusty Wallace Racing Experience, Stockton
Do you have a need for speed? Then get behind the wheel and tango with the 99 Speedway! This driving opportunity offers laps or ride-alongs, allowing you to enjoy both unique experiences! RaceWithRusty.com
San Joaquin County Fair Grounds, Stockton
It's never a dull day for the kids when there's an event staged at the San Joaquin County Fair Grounds! From small activities taking place throughout the week, to much larger events such as the Asparagus and Tamale Festival, and now the return of the San Joaquin County Fair, it's pretty simple to understand why this corner of Stockton can be so fun! sanjoaquinfairgrounds.com
Sierra Railroad's Tourism Railways
Choose from four unique experiences with Sierra Railroads. Opt for a special date night on the Sierra Dinner Train that boasts a historic ride, delicious meal, beautiful scenery, and ample entertainment. Experience one of North America's Top Ten scenic train rides, on the Skunk Train, that crisscrosses over the Noyo River and cuts through the coastal mountains to the Redwood forests. Choose from a variety of annual trips on the Sacramento River Train that fuse food, fun, and scenery on their 3-hour excursions. SierraRailroad.com
Skydive California, Tracy
The sky's the limit! Or is it? Whether you're taking a trip down tandem, or plunging from the plane all on your lonesome, the spectacular views and jumps from Skydive California will leave you craving another drop! Learn the ropes or enjoy experienced events! SkyDiveCal.com
Sky Zone, Stockton
Take your adventure to new heights at the indoor trampoline park that makes fitness fun. Thrill seekers will love the fun-fueled workouts while recreational users will go nuts over the chance to party at this high-flying hotspot. Choose from low-altitude (for sensitive jumpers) or high-altitude (for adrenaline junkies) activities to get your blood pumping. Skyzone.com/Stockton
Spreckels Park BMX, Manteca
Grab your bike, your gear and get ready to hit this USA/BMX sanctioned track with other bicycle motocross enthusiasts at Spreckels Park BMX! Prepare yourself for major air and hard turns as you and several others compete for the finish line. While this park is open to the public for all ages and levels of experience, Sundays are reserved for members alone. Care to compete that day? Spreckels BMX offers a one time, one-day membership pass to test your skills against their best. Signups are held between 11 and 1, so make sure you arrive early! SpreckelsParkBmx.com
Stockton 99 Speedway, Stockton
Experience the roar of the engines and the screams of joy from fellow high speed thrill-chasers as you and the kids watch the races at the Stockton 99 Speedway. Each action packed lap is another throw of dirt on the quarter mile track, providing plenty of drifts, swerves and epic stunts during your visit! stockton99.com
Stockton Indoor Sports Complex, Stockton
From roller skating parties, to roller hockey and public skates in between, Stockton Indoor Sports Complex is the perfect getaway from wet weather or the sweltering sun! Enjoy rolling across the rink at your leisure and fret not about bringing your own pair of skates, the Complex offers rentals! SISCSports.com
Stonehenge Indoor Climbing Gym, Modesto
Watch your grip when heading to Stonehenge! This rock climbing paradise is an indoor gym that focuses on propelling you higher as you hone your strength, flexibility and balance. Folks of all ages are welcome to test their skill as they put one foot over the other in an effort to continue up and toward their goal at the very top of the wall. Be prepared for a fun-filled day without the hazardous plunge. Don't be afraid to bring the party to you with Stonehenge's portable rock climbing wall, for all of your special event needs! ClimbStonehenge.com
Yogi Bear's Jellystone Park Camp & Resort at Tower Park, Lodi
Round up the family and plan a camping trip along the Delta at Tower Park. Whether you set up camp or opt for a super cute cabin, you are granted access to all activities and amenities—like a brand new playground, Gaga ball pits, basketball and volleyball courts, pools, a jumping pillow, gem mining, and more! The camp-resort has recently undergone many improvements and staff is excited to begin hosting their themed weeks and weekends throughout the summer! TowerParkResort.com
Tracy Skate Park, Tracy
Tracy sets the stage when its boarders prep for a drop off the angled rails, the curved pyramid and the kickers located across this park. A perfect setup for those stepping fresh into the game and looking to get their feet wet, both skate boarders and skaters alike are welcome to work their way around the bowl, hips and other ramps. northwestskater.com/tracy.html
YMCA of San Joaquin, Stockton
Providing our children a safe place for both learning and fun, YMCA of San Joaquin has programs galore in everything under the sun. From aquatics and day camps, to youth sports and after school programs, each visit is not just another few hours dropped in the bucket, but an educational journey! YmcaSjc.org
Zaps Zone, Stockton
Check your corners and stay close to the walls when you're at Zaps Zone, a two-story laser tag complex located in Stockton near Hammer Lane. Ready your weapon and choose your point of entry while fog fills your field of vision. Race up the ramps with your teammates in tow in the short span of time you have to prepare for the oncoming attack. When your time is up take ten for some light refreshments and enjoy the arcade in their lobby. ZapsZone.com
GOLF: There's little excuse to be a "hack" here in San Joaquin, with beautifully constructed courses sprinkled throughout our county. Tee off among big oak trees, winding grapevines, and picture perfect lakes.
Brookside Country Club, Stockton
Brookside boats the premier country club lifestyle, where attention to every detail is elegantly executed. Their 18-hole championship golf course, designed by Robert Trent Jones Jr., transformed level land into a contoured course, home to 14 lakes, that tests strategy and skill. BrooksideGolf.net, (209) 956-6200
Dry Creek Ranch Golf Club, Galt
Become an annual member or pay a green fee to join in on tee time at this championship, 18-hole course designed by Jack Flemming. Challenge yourself amongst tall oaks, pine, and eucalyptus, and small to mid-sized elevated greens. Avid golfers can join the Dry Creek Men or Women's club for a host of benefits and tournaments, stop by the practice range during lunch to blow off some steam, or take lessons from the pros. Dcrgc.com, (209) 745-2330
Elkhorn Golf Club, Stockton
Calling all avid golfers! This golf club sits on 97 acres, and its relatively level course of newly planted bent grass greens is meticulously maintained, and home to three lakes, well bunkered surrounds, and mature trees. Opt for the "Golf Revolution", a membership package that allows for custom options that fit your lifestyle. ElkHornGC.com, (209) 474-3900
Lockeford Springs Golf Course, Lodi
Members enjoy an 18-hole course, great for any skill level, which offers both challenge and relaxation within a picturesque backdrop. Sand traps, fairways, and water hazards test accuracy and provide a quality experience. This Lodi course welcomes kids with their junior program that teaches the importance of integrity, etiquette, and a love for the game! LockefordSprings.com, (209) 333-6275
Micke Grove Golf Links, Lodi
This links style golf course in Lodi boasts eight lakes, spacious bent grass greens, and 42 sand bunkers just calling your name. Tucked amongst the vineyards, Micke Grove's layout, designed by Garrett Gill, is best known for its 5th hole—a 179-yard, par 3 carry over water. Micke Grove is open to the public, has different membership options, like monthly or family plans, and offers lessons. MickeGrove.com, (209) 369-4410
Oakmoore Golf Course, Stockton
For over 50 years, Oakmoore has offered a personalized golfing experience like no other. All facilities are available to rent, for your private group, with you in control. Schedule your day your way, with tee times, food, and celebration. The 9-hole course can be played twice from different tee locations, is home to three lakes, century old oaks, mature redwoods, and fruit trees that create quite the backdrop. OakMooreGolfCourse.com (209) 943-1983
Stockton Golf & Country Club, Stockton
One of the first 15 golf courses in California established by locals, Stockton Golf & Country Club members enjoy an 18-hole park style championship golf course designed by Sam Whiting, a split-level club house, a sparkling swimming pool, and more. The Pro Shop located on site is stocked with the latest golf apparel, equipment, and accessories. StocktonGolfCc.com, (209) 466-4313
Swenson Park Golf Course, Stockton
Sprinkled with 200-year-old oak trees are both an 18-hole par-72 championship golf course and an executive 9-hole par-3 course that welcomes all skill sets. The popular Northern California golf course architect Jack Fleming designed the traditional parkland-style course, owned by City of Stockton and founded in 1952. Pay only a green fee to play these beautiful courses, or opt for a monthly membership, tournament, event or golf instruction. StocktonGolfCourses.com, (209) 937-7360
The Reserve at Spanos Park, Stockton
With Mt. Diablo as its backdrop, this renowned links-style golf course, designed by Andy Raugust, is open to the public and members alike. Guests can enjoy a picturesque California sunrise or sunset while honing their skills and enjoying a high quality, challenging course layout alongside first-rate service, a Pro Shop, an elegant banquet facility, and more. Try the fully lighted practice facility on for size and experience the state of the art teaching center, putting, chipping, and short game areas. ReserveatSpanosPark.com, (209) 477-4653
Van Buskirk Park, Stockton
This classic, traditional 18-hole championship golf course, designed by Larry Norstrom, is situated on 214 beautiful acres in Stockton and is known for it's easy walkability factor that offers a par-72 layout that plays 6,502 yards from the white tees. StocktonGolfCourses.com, (209) 937-7357
Woodbridge Golf & Country Club, Stockton
Nestled among the vineyards and orchards is the picturesque Woodbridge Golf & Country Club—boasting the only 27-hole champion golf course in the area. If you're an avid golfer but feel a club membership is out of reach, Woodbridge has you in mind. Their golf memberships start at just $300 a month and wave green and range fees—which can save you money if you golf 10 times a month at a public course!
Woodbridge's story began with golf, and has since evolved to offer members casual and formal dining, pristine tennis courts, swim facilities and programs, fitness classes (yoga classes are no charge to members) and social opportunities. The private, family-oriented club works to provide membership opportunities that fit every schedule and budget. WoodbridgeGcc.net, (209) 263-0115
SPORTS: Sports enthusiasts unite! Catch a game, duck at a flying puck, and sport your orange and black in support of the home team.
Stockton Ports
Stockton's minor league baseball team was one of the founding members of the California League, and currently holds most titles won by any active team. Enjoy the waterfront and open air with a hotdog in hand at the Port's home field, Banner Island Ballpark. Milb.com
Stockton Heat
Local hockey fans kicked it up a notch in 2015 when they welcomed their new American Hockey League team, Stockton Heat. Head to Stockton Arena for some fast-paced plays, flying pucks, and maybe a punch or two. StocktonHeat.com
Pacific Tigers' Men's Basketball
Catch a quality college basketball game at the Alex G. Spanos Center in support of University of the Pacific's Men's Basketball. As an NCAA Division I member and part of the west coast conference, these boys know how to ball. Support Pacific Tigers in full force and attend their many athletic games, including baseball, golf, beach volleyball, field hockey, tennis, swimming, water polo, and more. PacificTigers.com
Port City Roller Girls
Don't mess with a derby girl! Check out a 'bout' at Stockton Indoor Sports Complex and you'll soon know why. Cheer for our team as they circle the flat track and take no prisoners. Better yet? This local team welcomes any dedicated women looking to amp up their bad-assery, no prior experience required! PortCityRollerGirls.com
Delta College Mustangs
Watch student athletes pursue their dreams at any Delta College Mustangs' game. The San Joaquin Delta College Athletics program includes baseball, basketball, football, golf, soccer, swimming, water polo, and more. DeltaCollege.edu