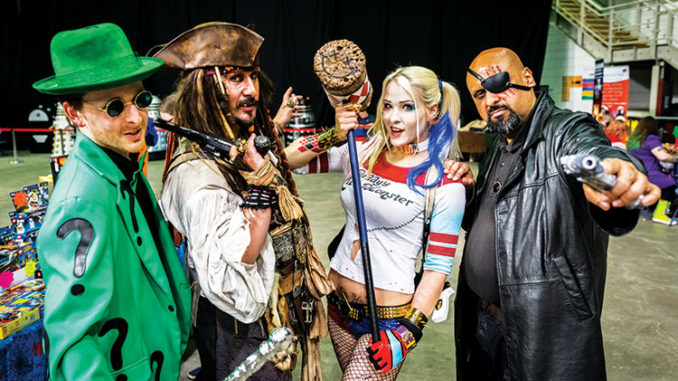 Our favorite Central Valley convention is well on its way this August 19th – 20th! Check out everything you need to know about this spectacular event held at the Stockton Arena and, as a bonus, visit our website for a special interview with the man behind StocktonCon's success- Mike Millerick!
How would you explain StocktonCon to someone who has never been?
It's a pop culture event that that features artists, vendors who have toys and comic books from all eras, celebrity autograph opportunities, some great cosplayers that participate in our costume contests and a very fun Geek Fashion Show.
Is StocktonCon family friendly for all ages?
Yes! From tiny tykes to the young at heart, everyone can enjoy StocktonCon!
What are the ticket costs for attending?
Pre-sale tickets for one-day pass is $13, two-day is $18. Purchase one-day pass for $15 or two-day pass for $22.
What sort of gaming tournaments will be available?
StocktonCon is bringing back their Pokemon Go Tournament for its second year running, allowing trainers to catch a Pokemon with the highest CP in their level bracket to win! Enjoy Minecraft Battle Mode Tournaments on the Xbox 360, as well as Super Smash Bros. Wii U Tournaments!
Who are some of the lead guests attending this year's event?
Oblongs creator Angus Oblong, Voice Actor Billy West (Fry) of Futurama, and Cosplay Master Jacqueline Goehner are just a few celebrities among dozens attending this year's con!
What are this year's contests?
Chase Chevrolet's Costume Contest is back, featuring fans ages 13 and up on Saturday! But don't worry! 12 and under can enjoy the Kids Contest on Sunday.
How can con-goers really get involved in the convention?
If you want the whole experience, you've got to don your favorite character costume for photo ops galore! Get in line to grab signatures from your most enamored special guests, and don't forget to check out the cool, one of a kind pieces in the Artist Alley!