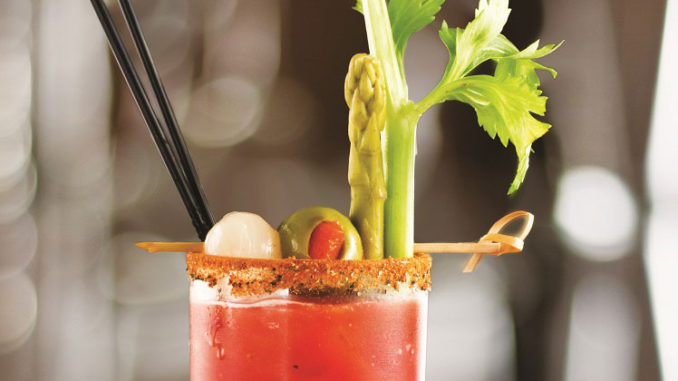 Just like the legend of the Scottish Queen Mary, the Bloody Mary cocktail's history is shrouded in mystery. As it was in English history, there are many who claim the throne. Some Legends say the Bloody Mary was invented in Paris in the 20s, and that Hemmingway may have been involved. The famous Comedian, George Jessel, also claimed that he invented it at the famous 21 Club in New York. It does seem like the name may have been the result of a joke!
Since its invention as a hangover "cure", the Bloody Mary has been transformed into a modern classic, by appearing in ads for everything from Tabasco Sauce and Smirnoff Vodka, to Life magazine. After nights spent sampling the best wine that the San Joaquin Valley has to offer, you might just need a morning pick-me-up. Make sure that your 'hair of the dog' is the best in town.
Whiskey Barrel Saloon, Stockton
The Whiskey Barrel Saloon's whiskey cocktails may already have a cult-like following, but now they are branching outside of bourbons, with 'To Die For' Bloody Marys. Don't expect anything traditional here; the Bloody Marys are served in a huge mason jar with all the trimmings, for some hipster styling. Those ready to experiment with this classic of the gilded era can try unique twists, like their bacon jalapeno Bloody Mary.
Cabana Del Sol, Manteca
At the Cabana Del Sol, they leave the Bloody Mary's roots in Paris and New York far behind, and serve a distinctly West Coast take on Spanish and Mediterranean fusion. The Bloody Mary at the Cabana Del Sol comes with an asparagus spear stirrer, and the bartender adds a unique mixture of spices to the classic cayenne pepper. It's the perfect accompaniment to the smooth Latin Jazz playing in the background.
The Establishment Saloon, Stockton
Coronated the best, The Establishment Saloon creates the most delicious Bloody Marys in town. The weekday bartender, Kayla, has perfected her Bloody Mary recipe, which includes lining the rim with salt and Tajín—a Mexican seasoning made of chile peppers and lime. She finishes her tomato concoction with a skewer of asparagus spears, green peppers, and green beans, with a pickled cocktail onion and a green olive to top it off.
Runner-ups for the top three spots were Fenix in Lodi, with their well-balanced Bloody Mary served with a retro but super fresh celery stirrer, and Centrale Kitchen Bar for the best value Bloody Mary in town at only $3 a pop!