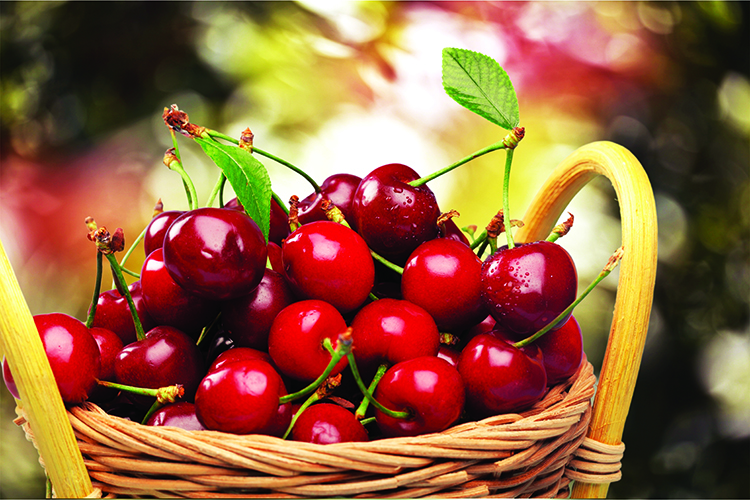 Ah, the cherry. Such a sublime little bauble, dazzling in its many rouge and amber hues. Available in over 1,000 varieties, the cherry is nature's reminder that eating great can be tasty and tasteful. After all, what fruit packs such a punch in so tiny a form?
The cherry has the tenacity to take on cancer, brimming with not only vitamin C, but beta carotene, quercetin, and anthocyanins. And speaking of anthocyanins, this flavonoid helps to cut away excess weight by helping to cancel out body fat. Don't forget that the darker the cherry, the richer it is in antioxidants, too! These little jewels provide a powerful punch of potassium to help conquer high blood pressure, and ample fiber to keep things moving along in your system!
But how did such a magnificent fruit manage to make its way to the West Coast? You can thank the many monks that established missions across California! Successful tree plantings helped to pave the way for the cherry to make its home in the ocean-side states. Today, California is the second largest state to produce cherries in the U.S., and our beautiful San Joaquin County soil is the primary source for growing them! Harvest often begins mid-April, but mid-May through June is when the true cherry season begins. Ready to get your hands on this year's beauteous bounty before they're long gone? Then head out to our many local farmers markets, or street-side vendors for a sweet experience like no other!
Local Flavor
U-Pick Cherries at Harris Orchards
Why purchase a bundle of cherries at the store, when you can bring the whole family out for an afternoon of fun? Harris Orchards is back on May 10th and ready to toss a basket your way so you can gather only the sweetest, ripest cherries with your little ones!
Harris Orchards
18600 N. Ripon Rd., Ripon
(209) 599-3991