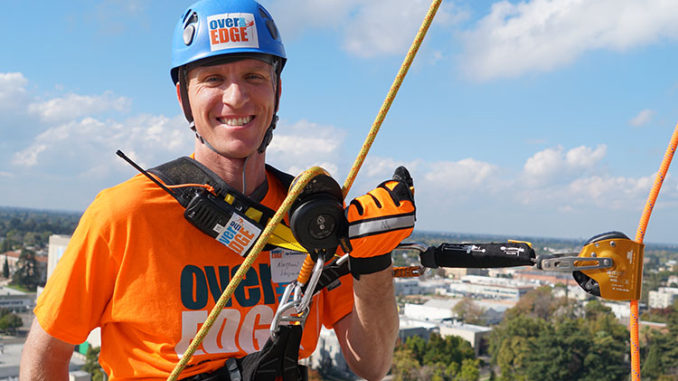 San Joaquin is brimming with kind-hearted, community driven individuals always on the lookout for a cause worthy of donating their time and efforts to. But sometimes the annual crab feed or raffle drawing can get a bit redundant. That's why we've prepared a special list of locally driven fundraisers that's sure to put the spark back in your charity-driven soul!
Over the Edge for Community Hospice
Give.HospiceHeart.org
Downtown Stockton
October 20 – 21, 2017
Benefiting Community Hospice
Breathe in deep, lean back, and go over the edge. Raise $1,000 or more for Community Hospice and earn the honor of rappelling down a piece of Port City's history—the historic Medico-Dental Tower! Honor a special loved one and give back to your community at the same time.
Great American Hero 5K 10K Obstacle Run 2017
EagalLakes.com
Eagal Lakes
September 10, 2017
Benefiting Semper Fi Fund, Ride 2 Recovery
Challenge your endurance, agility, and skill in a course that's built for all levels of fitness! Eagal Lakes provides its competitors with a 5K or 10K run, filled with obstacles along nature trails, a swim across the lake, and an opening ceremony honoring our heroes with a 21 gun salute, taps by the VFW, and the Star Spangled Banner.
In the Doghouse
(209) 479-9983
Whirlows on the Miracle Mile
April 2017
Benefiting various, local, nonprofit animal rescues
Channel your inner architect and build a custom doghouse or cat tree, complete with all the bells and whistles you can imagine! Your creation will be showcased along the Miracle Mile and then raffled off on the day of the event. Join the rest of your fellow crafters and enjoy a day with vendors, live music, and more!
A Vegas Evening Under the Stars
LFITFoundation.org
Joseph Faso Estate on the Delta
May 6, 2017
Benefiting North Stockton Rotary and Let's Face It Together Foundation to help enhance community literacy and rebuild lives – face first for the underinsured.
Forget the flight to Las Vegas. Try your luck at blackjack, craps, roulette, and more during this spectacular one-day event! Enjoy wine, whiskey, and premium beer tasting teamed with a delicious buffet. Rolling the dice not your thing? Mingle, bid, and shop for fun travel, unique wearables, spa and beauty offerings, and sports opportunities.