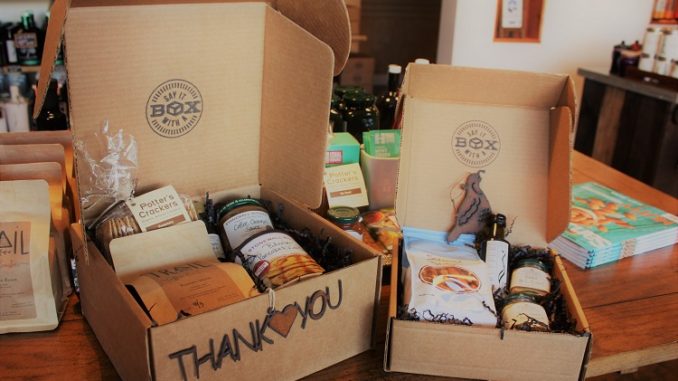 Sage and mint, rustic wood paneling, and wall to wall rows of artisan goods from across San Joaquin, is a taste of what we discovered on our trip to the gourmet goods shop located on the corner of Alpine and Delaware in Stockton. Unrivaled in originality, Say It With A Box is the trending locale for delectable locally crafted bites and California-made products. Foodie tested and wallet-approved, it's become the go-to gift shop for those looking to show their special someone they care with customizable flair.
Say It With A Box began with one foodie in particular: Luciana Sokotowski. As a fan of our Golden State, Luciana couldn't get enough of what California has to offer. Traveling across its many ocean-side cities and rural communities prepped this entrepreneur with the taste buds she'd need to capture the hearts of San Joaquinians. The result? A corner-store that Luciana has taste-tested from the bottom up, much to the delight of her clientele! "Anything that I have, I like to share. And I like the idea of sharing something that you like," Luciana beams. "If I don't love it, I can't sell it."
Luciana lives her motto, providing customers with outstanding, high-quality merchandise from facilities she's often visited before promoting. Along the doorway are racks of locally made soaps and spritzers. Near the window sits bags of Trail Coffee Roasters beans and a wide variety of Bozzano's flavored olive oils. All local, all delicious. "Ninety eight percent of my vendors are from here," Luciana notes as she picks up an extra virgin Frantoio bottle from the Lodi Olive Oil Company. "I want to support the community I live in."
One of the key ingredients to Luciana's success is the namesake of her business. Hanging on the wall near the door are three differently sized boxes. These cute cardboard cubes are the grocery carts for customers who come in to create gift boxes for friends, family, and their own clientele. "I want people to come in and create something they know the recipient is going to like," she explains, filling a box as an example. "If you know that your boyfriend likes this special soap and chocolate you can come here and put it together especially for him."
With seasonal switches, the stock is always fresh for whatever holiday is right around the corner. Stop in and show your loved ones you really care and Say It With A Box!
Find Your Favorites At:
Say It With A Box
2301 Alpine Ave., Ste. B, Stockton
(916) 730-7624
SayItWithABox.com