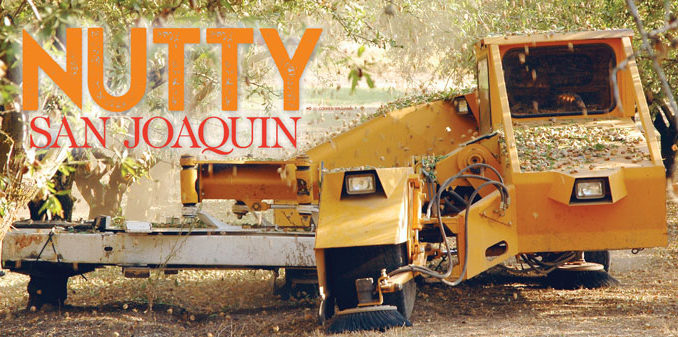 Food for thought! According to the San Joaquin County Agricultural Commissioner's Office, two of our highest valued crops are almonds and walnuts. These incredible trees take up over 121,700 acres of our cut of the valley alone, not including saplings still preparing for their first official crop!
With San Joaquin Valley acting as the central hub for over 95 percent of the nation's walnut production—alongside the Sacramento region—and almonds being California's top agricultural export, the facts continue to point toward how abundant we are in these crunchy little morsels! Obviously, we're a little nutty for them!
And who can blame us? After all, we have them to thank for the prosperity of many of our towns, some of which were built up and alongside the orchards that are still replanted on today! So let's take a little journey, shall we? And find out how much of a connection we have with the nut industry!
Almonds were first introduced to California in the late 1800s, with many trees planted along the high grounds of coastal valleys. Over the years, development of more acclimated species allowed for the growth of the almond industry. When irrigation took off in San Joaquin Valley, farmers flocked to the Mediterranean climate that San Joaquin provides, yielding much better results in the sandy loam soils.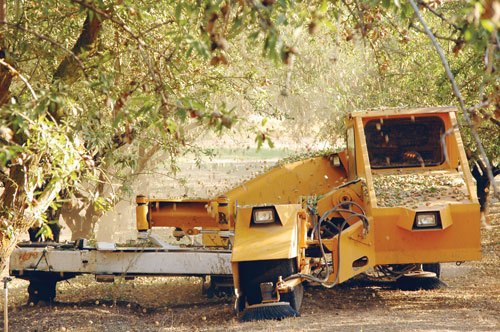 Walnuts found their way into our state in the late 1700s in the southern parts of California. Much like the almond, it slowly settled toward the north and into the fertile soils of San Joaquin and moved higher still into the Sacramento Valley. The walnuts were adapted into better varieties, bringing its farmers larger harvests and better profits. Because of the climate and the land, walnuts have remained centrally in San Joaquin Valley since.
With the arrival of these deciduous trees in our region—alongside rampant development of irrigation lines—almonds and walnuts have naturally become a key component for farmers, their families, and the hundreds of thousands of people living in our region. They've presented jobs for thousands, some seasonal and many year-round. It's become a generational industry, passed down from one line to the next, and continues to thrive for many in San Joaquin.
Kathy Lagorio Janssen, owner and CEO of Lagorio Family of Companies, can trace her own family's San Joaquin farming roots back and into the early 1900s with her grandfather, Giuseppe Lagorio. "My grandparents chose this area because it was so similar to the fertile soils and moderate weather of their hometown in Italy," Kathy comments. "We grow walnuts in the Farmington area and east Stockton. We have almonds in east Stockton and the Manteca area. Our crops go to local producers such as Sambado, OG Packing, and Diamond Walnut."
Sambado & Son, a family who has farmed San Joaquin for over 55 years, has seen its own fair share of growth in walnut production. Rich Sambado, also part of Primavera Marketing and Primma Fruitta, knows that when it comes to overhead costs, walnuts are doing much better than their fruit predecessors, many of whom appeared before the nut industry. "California has gravitated toward planting walnuts because they require much less labor than tree fruits," he explains. "Tree fruits, such as apples and cherries, require much more work to thin and maintain crops. It's costly."
The almond industry has proven just as bountiful in their production rates. Dave Phippen, a founder and fellow partner in Travaille and Phippen, Inc. has seen an expansion in his preferred commodity during his time as Chairmen of the Almond Board in Modesto, and across the years as a grower, huller, and shelling company for brown skin almond processing. "In the early 2000s, the almond industry hit the one-billion-pound mark," he explains. "It's doubled in size since then. Now we've challenged ourselves for the 2.5 and 2.6-pound mark that's coming in the next three to five years."
Dave describes his company as being only a small part of the global market, pushing an average of 30-million pounds of almonds through his own business in a 200-billion-pound industry. And although it may encompass a small portion of the almonds that are exported out, it is a definitive showcasing of how much the industry has affected our neck of the woods.
"Almonds are the life-blood of Ripon," says Don Schaapman, a fellow almond grower and volunteer at the Ripon Historical Society. "Almonds put Ripon on the map." With their entire city surrounded by the large, abundant trees, it's a statement that couldn't ring truer. And these almonds, alongside walnuts, push out further still, spilling into the borders of Manteca, Escalon, Stockton and even portions of Lodi. Driving through Tracy on your way to the Altamont? You need only look out your window to find new orchards sprouting up where fields once stood.
These beautiful, bountiful trees lay claim to much of our county's fame and for taking such good care of its citizens in the ag industry. And as both almonds and walnuts continue to find their way into more and more acres of our fertile soil, the more we'll enjoy the prosperity they bring to San Joaquin.