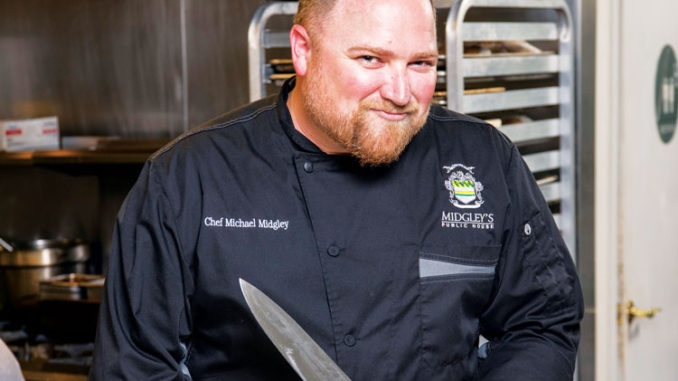 Our very own local star Chef Michael Midgley sits in the throne at Midgley's Public House, a local eatery producing flavorful combinations of American cuisine showcased not only on his menu, but also as specials throughout the seasons. Here, the chef serves up the grub that made him famous on Food Network's Cutthroat Kitchen, enticing both locals and out-of-towner's to come and indulge. Midgley won Gold for Best Chef in the 2016 Best of San Joaquin voting.
Midgley's Public House also holds the crown for Best Happy Hour – and for good reason: the atmosphere is perfect for unwinding with a group of people you know well, or not at all. And with ample chance to let loose (happy hour runs 3-6 PM everyday at the bar and on the bar patio) you have no excuse not to join the party. While you're there, sample appetizers, draft beers, and house wines at a half-off discount—now that's something to be happy about!
Chef Midgley will be cooking up some select favorites at the 2016 Best of San Joaquin party, happening on July 14th. Come taste what all the buzz is about!
Stockton, MidgleysPublicHouse.com