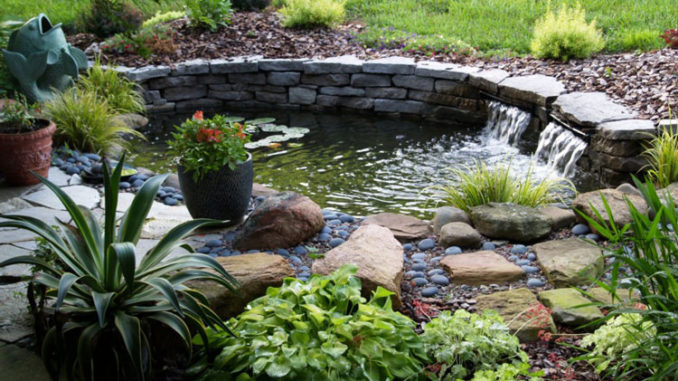 Amp up your outdoor entertainment, enjoyment, and aesthetics with the sweet, bubbling serenade of a water feature! Excite the kids, relax the wife, and entertain guests while simultaneously building on your already well-renowned landscaping capabilities. In addition to your water feature, why not install a concrete paving garden path leading up to it? Your backyard will definitely have a stylish aesthetic with a path and will break up lots of lawn. If you're interested in the addition of a path to your backyard, reading these tips on maintaining your garden path will come in useful. The tips include things like regularly weeding the path, sealing it to protect it against the weather, and washing it with a pressure washer to keep it clean. You may want to find similar services to that of RPS pressure washing services if you don't have your own pressure washer. Now that you understand how to look after a garden path, you might want to consider getting one in your backyard. To get a concrete paving path, it's important to source the concrete from some commercial concrete contractors denver, for example. That will ensure that the concrete is of better quality than other concrete that can be found in popular stores. That should then allow you to create a lovely garden path near your water feature, increasing the appearance of your backyard. Anyway, jump on this summer project now, and enjoy it throughout the year.
Improve property value. It's no secret that one of the first things a property valuer will look at is the outside of your property. Enhancing your outdoor scenery adds curb appeal, and water features help your home stand out in all the right ways. A small fixture in the front yard is an excellent way to greet guests, while a backyard installment serves as a tranquil gathering area. The unique options available allow you to build a serene refuge from the hustle and bustle of everyday life that compliments your existing features, color schemes, and overall style. Though installing a water fixture is a small investment, it requires no major remodeling, yet changes the dynamic of your area. To truly get a bang for your buck, grab your handy hubby and embark on this venture together. Green Man Materials in Stockton carries liners, concrete, stone, sand, and other materials you will need for a good ol' DIY project.
Relaxation station. Close your eyes and recline. You are in your back yard, on your favorite chair and you've had a long day. As the sun sets, the birds chirping overhead, you slip into a state of inner peace, enjoying the trickling cascade of your water feature. There is a good reason why you so easily fall asleep on the beach, and crashing waves and trickling streams are often sounds found on relaxation and meditation CDs-it just works! Many studies support this, as they suggest a water feature provides therapeutic benefits that can be enjoyed year-round.
Mother Earth will thank you. Whether you opt for a small fountain or a pond, water features both small and large welcome wildlife inhabitants like butterflies, hummingbirds, salamanders, and frogs. When you enhance your home, you are also enhancing the lives of many local creatures. The kids will love their new backyard buddies, and recognize old friends that return in the spring. Step it up one further and utilize an ecosystem pond that is self-sustaining. Though it takes many gallons of water for its first fill, over time it requires less water than the area of grass it replaced.
Koi! The list of benefits go on and on… your kids learn kindness and responsibility as they feed their fish every day, visitors oo and ahh at your backyard oasis, and once you team the above perks with beautiful koi fish, you can't go wrong. If you're building specifically to house koi, or have thoughts of introducing them in the future, make sure your water feature is at least five feet deep and has a bottom drain as well as a water pump strong enough to cycle all of the water in the pond.
For More Information:
Paradise Designs of California
ParadiseDesignsofCalifornia.com
Green Man Materials