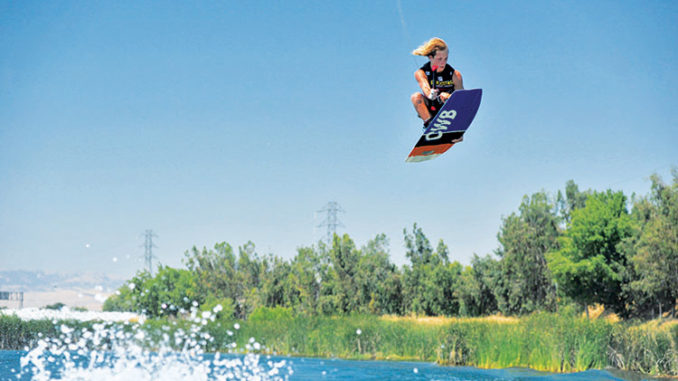 Realize what life's all about when you slide into the Delta waters this season! Whether you're making waves down the main channel or hitting each swell on your jet ski you'll be enjoying those hearty summer rays and the restaurants at some of San Joaquin's best resort rest-stops! Unwrap the joys of the Central Valley waterways this summer with San Joaquin Magazine!
Windmill Cove Resort & Marina
Have yourself a wild weekend when you wade into the waters at Windmill Cove! Whether you arrive by boat along Stockton's shipping channel or the backroads off of Highway 4, you'll be welcomed to step along the resort's sandy beaches, play a few rounds of volleyball or to slip a ring around their horseshoe pits. Pull up a chair and enjoy Windmill Cove's wide selection of sandwiches, salads and specialties up at the restaurant. Reserve one of their cozy cabins, pitch up a tent or park the camper to catch up on some sleep and to continue on your adventures tomorrow. WindMillCove.com
River Point Landing Marina & Resort
Boasting as "the premier recreation site on the California Delta", River Point Landing holds true to its slogan when it comes to planning a picturesque visit to our water channels. Slide your boat straight into one of their many slips and rest well knowing that round-the-clock security is within reach during your stay. Their facility is located in a gated community that connects to March Lane, running directly into I-5 in Stockton. Looking for a storage solution to keep your vessel at the water's edge? Ask about their dry-storage options! RiverPointLanding.com
 Paradise Point Marina
Your troubles are a thing of the past when you point the bow of your boat toward Paradise Point. Privy to some of the best fishing inlets on the Delta, this marina off of 8 Mile Rd. hosts its own boat launch, tackle and bait store while providing those with no vessel a variety of rental options. Take out one of their many houseboats or slip through those shallows with the help of their power, fishing or pontoon boats! When you're ready for a little rest ease into the calming Caribbean mood at the Breadfruit Tree Restaurant, featuring culinary pieces representing the chef's history on the southern islands. SevenCrown.com
Delta Rental Center
Want to get your feet wet without the hassle of buying a boat? Make the drive down to Sugar Barge Marina & Resort and set your sights on a variety of vessels! From stand-up paddleboards and kayaks to larger pedal, fishing, and patio boats, the Delta Rental Center is ready to set you up for a great weekend getaway on the water! DeltaRentalCenter.com
H20 Craft Rentals
Race through the rough channel waves with your Jet Ski from H2o Craft Rentals! Ready and awaiting your call, these experts in the boating field will have you dipping your toes in the water on one of their Yamahas, built to carry you and two other companions. Visit their website today and reserve your ride on the river! H2ocraft.com
NorCal Wakeboard Camp
Journey a little west of San Joaquin County down Highway 4 and you'll be racing right into one of the best wakeboarding regions in the Delta waters. Join NorCal Wakeboard Camps as they teach you how to take on the oncoming waves while you're tearing down the river channels. Rush up and into lively wakes as your instructor teaches you the finer points of balance and technique. Though centrally located in Discovery Bay, Norcal Wakeboard Camp goes where the Delta waters flow. NorCalWakeBoardCamps.com
Wind Surfing & Water Sports
Wind Surfers know where to turn their sails when they're on their way to breezy waters! Glide on in to Sherman Island and find fast friends, good fun and the Delta Windsurf & Water Sports Company. Located off of Highway 160, these professionals can supply all your water sport needs. Spice things up a bit and surf the river's current with their standing paddleboards and kiteboards. With the blowing brunt of the bay at your back you'll be ready for the flight of a lifetime! DeltaWindsurf.com
Delta Fishing Holes
Various locations along the waterways.
The Central Valley's waterways are rife with fishing opportunity! Frank's Tract, a flooded island between False River and Bethel Island, fosters fly-fishing for stripers. This area is also great for crappie and bluegill. Whites Slough, off of 8 Mile Road in the Lodi region, hosts a variety of aquatic catches, but is known most prominently for its trophy bass. Take some time to toss out a lure and troll down a few of the merging waterways from Stockton's shipping channel and check those nibbles on your fishing pole! CaliforniaDelta.org
Lodi Lake Activities
Why leave the city when you're looking for some sand? Lodi Lake can provide you with a little beach time fun when you're spending some time under the sun! If you're eager to get out and onto the waves, but don't feel like going for a swim head on down to the Headwaters Kayak Shop to score an awesome half-day, daylong or weekend deal on a kayak or paddleboard rental. Lodi.gov
Aquatic Dreams Scuba
With so many wonderful opportunities to explore the waterways and channels around San Joaquin County, how can you not learn a thing or two about safety, swimming and the opportunity for scuba diving? Aquatic Dreams Scuba can assist with all three! Try out their snorkeling gear or go for your certified scuba training! Learn your way around CPR or get your certification for Red Cross Life Guard! If you're just looking for a good time try their pool party packages on for size and make the event you're hosting a memorable one! AquaticDreams.com
Eagal Lakes
When it comes to year-round fun in all its splendor, Eagal Lakes in Tracy has you covered. Members can catch up on their fishing down by the San Joaquin River or take out a canoe onto Bass Lake. Campers are free to pitch up a tent in one of many various locations around the resort and enjoy a few s'mores by bonfire. Stop on by the beach volleyball, disc golf, or basketball court and test your mettle against the competition! Jog or bike on through the many trails Eagal Lakes has prepared and then dive into some calm waters for a quick cool-down! Host your next function for fond memories or try out their waterside lessons for more fun! EagalLakes.com