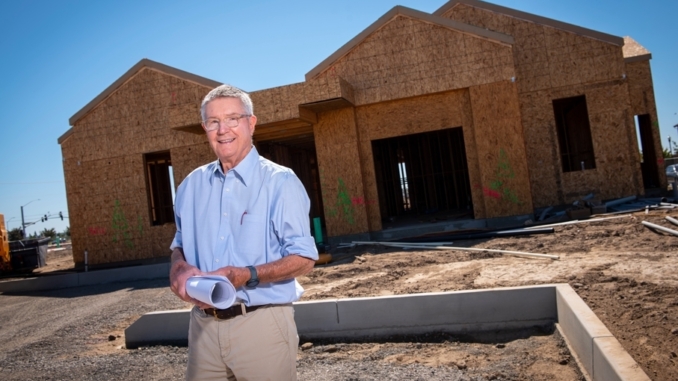 Bart Robinson is a man of few words. He is humble and soft spoken. While he doesn't boast or call out his admirable accomplishments, his actions—past and present, speak volumes. 
When asked about his commendable years in the Navy during the Vietnam War, Bart downplays it. "This was 50 years ago that all this happened," says Bart, a Stockton native and co-owner of Robertson Property Management. "I really haven't thought about it all that much recently, and I haven't done anything important."               
His service, however, tells a different story. "I graduated from college in January of 1967, and I went right into the Navy and Aviation Officer Candidate school," says Bart. "It took three months to become an officer and two months of ground school, about a year of flying, and I got my wings in the middle of 1968."
He went from being an advanced jet student to being an advanced jet flight instructor. After two-and-a-half years, he joined the fleet in San Diego where he flew F-4 Phantoms. He did one tour in Vietnam, one tour in the Mediterranean, completed hundreds of missions, and after eight years, finished his service. "The Navy was just great!" Bart says. "I made a lot of great friends and had a lot of wonderful experiences. There was a little excitement getting shot at… It was a little spicy!" He continues, "I was just a journeyman fighter pilot. I wasn't the greatest person who ever flew an airplane. But I always did my job, and I always had a great squadron and a great ship, and I was proud of it."
After his service, Bart became instrumental in literally building up San Joaquin County, with his business partner, Dave Fisher, who he has known since the fifth grade.
In the past 50 years, his company, Robertson Property Management, has completed tens of thousands of projects and is a major contributor to the Jeff Wright Construction and Engineering Academy on the Lincoln High School campus, where the veteran graduated from in 1962.
When Bart got out of the service, he moved his family from San Diego to Stockton, and soon went into business. "David and I started a landscape business. Basically, we were gardeners. After a couple of years, we weren't making much money at that, so I got a contractor's license, and we built a house. Then we built a couple more houses. We started in 1976 and by 1980, we were building 900 houses a year."
In the early 1980s, Bart's partner wanted to build apartments, and it turned out to be a fantastic business decision. In that decade, the duo built an incredible 20,000 apartments in 14 states, although it wasn't until the 1990s that they began building in the San Joaquin area. "We did some building in Sacramento, some in the Bay Area and Southern California. In the 1990s we started buying some distressed properties in the Lodi and Stockton areas," says Bart. "For the first time in a number of years we built a 152-unit project in Lodi and just a year ago we finished another 150-unit senior apartment project."
Bart has been in the real estate industry for many decades now and has been through all the industry highs and lows. "It's been insane the last couple of years," he says with a laugh. "I think it's kind of cooling off a bit now. About every seven or eight years, there's a big boom, then there's a big bust. I've been through this situation three or four times now."
Currently there is another unit project build happening in Lodi. He can foresee doing one more project and then anticipates retiring. "I play golf and we have a little house in Carmel-by-the-Sea. We're just kind of slowing down," he says.
When it comes to his own digs, Bart isn't far away. He lives just north of Lodi, an area he's called home for 22 years. "It's a great area. There were a bunch of partners involved and there are about six or seven houses out there, spread out over 860 acres. There's a seasonal lake, a forest, and a rolling hills savannah. It's just peaceful and it's nice."