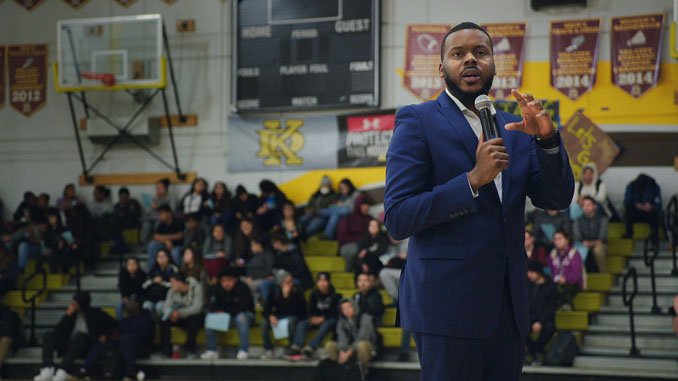 Is ending poverty possible? Michal Tubbs, former mayor of Stockton, thinks it is. "I definitely think that ending poverty… is achievable," Michael says, "And achievable doesn't mean easy, it doesn't mean quick." Instead, Michael describes it as political will—with the right focus, resources, and structural policies in place, he says ending poverty in America is within the realm of possibility.
Michael supports that sentiment—along with other social-political issues—in his new book, a largely autobiographical memoir titled A Memoir of Hope and Home: The Deeper the Roots. The cover is graced with a young Michael, sitting on a tricycle outside of his Stockton, Calif. home. Within the pages, he uses his own life as a lens for larger issues. "The main point is really [that] genius can be found anywhere," he says. "Places like Stockton really matter."
While detailing stories from his own childhood—experiences in local schools, growing up with a father in prison, living in a hard-knock neighborhood—he explores the potential of all children, the importance of a living wage, how mentorship helps disadvantaged youth thrive, and, ultimately, how to make democracy work.
Part of the problem is in the accepted narrative, Michael says. There are stories, like his, of kids from South Stockton and similar neighborhoods making it big, achieving milestone elections and publishing books. But he says telling his story in that way can be harmful because it pushes the idea that a kid from the wrong side of town or a kid facing struggles must be exceptional to be worthy of college, higher education, and more. Instead, all kids, he says, should have the same opportunities, not an added pressure just because of their roots.
While the themes in Michael's book are universal to many places in America, the setting for this memoir is important. "Stockton is a main character," Michael says. The city he grew up in, though sometimes dragged in the media, is credited with shaping his world view and creating his faith in people and humanity. Its diversity—Stockton is one of the most diverse metropolitan areas in the country—also helped shaped Michael's world view and gain an appreciation for people's differences, seeing them as something to be celebrated instead of punished.
Michael's book, in addition to telling his life story, also delves into political issues and the merits of democracy, which makes sense for a man who was both the first Black mayor of Stockton and, at 26, one of the youngest mayors anywhere. When it comes to politics and how change can solve some of America's biggest problems, he literally wrote the book.
Ultimately, the memoir is written for Michael 15 years ago, almost an extended letter to himself. But his audience reaches beyond that to include mothers, young people looking to be inspired, people interested in political policy, and those who will appreciate the local angle. He spends a lot of time detailing the three "mothers" in his own life—the women who raised him to be who he is. But bettering the human experience for disadvantaged youth is perhaps the book's most prominent theme. "My primary focus was sort of young people… and to inspire the next generation."
For Michael, writing a book was a natural next step after relocating to Los Angeles. Not only did it give him a platform to share his social-political ideas, but it was also therapeutic. A self-described book enthusiast (whose first job was working at Barnes & Noble), Michael explores his hardships not just from childhood but his adult life as well, including losing his second election as mayor and the journey that unfolded after that devastating loss.
Michael's book can be found at Barnes & Noble and on Amazon as well as Underground Books in Sacramento. If you'd like to hear it voiced by Michael, the audio book can be downloaded through Audible.
For More Information:
MTubbs.com