Making the move from Reno to Stockton in 2018 felt more like coming home to Sacramento's minor league NBA team. With their parent club close by, the Stockton Kings embarked on a fresh start that solidified their role as a valuable developmental tool and brought new entertainment to the 209.
Basketball enthusiasts understand the value of the G League and its ability to build talent, explore franchise possibilities, and reach for new heights. But what does it mean for San Joaquinians simply looking for date night opportunities, family fun, or some local entertainment? All that, and more.
"Our team is made up of many young players who know how to play the game the right way," Neemias Queta, who plays center on a two-way contract with Sacramento and Stockton, says. "It's going to be a fun season for everyone coming out to watch. We are going to be running, for sure!" After all, an exciting game is all about energy—something power forward Emanuel Terry is known for. "This will be an impactful season," he adds. "I'm excited to be here, and with my energy, I believe we can bring a lot of people around!"
Though the team hasn't played in Stockton since March 2020 when the G League season was cut short due to COVID-19 safety measures, Neemias and Emanuel are warmed up and ready. In fact, much of the roster is fresh off the court from a championship win with the Sacramento Kings at Summer League, an off-season competition organized by the National Basketball Association and held in Las Vegas.
The Kings are more than ready to meet cheering fans at Stockton Arena, with play-by-play analyst Dave "Deuce" Mason, color analyst Morgan "Mo" Ragan, and beloved Mascot Dunkson back in the building. This season marks the first time fans witness Sacramento Kings Legend Bobby Jackson in action as head coach. "With my experience in player development, we are going to work hard and continue to create an atmosphere that allows the players to be successful," Coach Jackson shares. "The G League is great for both the Sacramento Kings and the Stockton Kings and continuity between our staff and players will be one of our key priorities."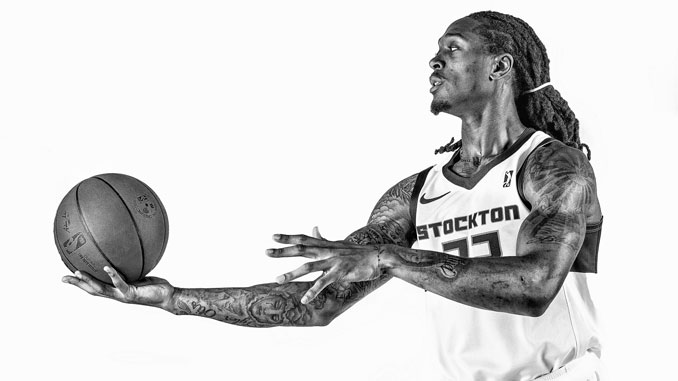 This season, the NBA G League is implementing an innovative structure that includes a 14-game Showcase Cup and a traditional 36-game regular season to create additional excitement and increase competition. After the Showcase Cup, team records will reset and teams will compete in the regular season, followed by the traditional NBA G League Playoffs, where the top six teams in each conference will qualify based solely on their performance in those 36 games.
Fans can now purchase a monthly pass that provides access to all home games within a month for a $20 flat fee or purchase single-game tickets online or at the box office. There are 24 home games this season, with don't-miss events coming up on December 10 and 11, when the Kings take on the South Bay Lakers—and again in March with games against G League Ignite and Santa Cruz Warriors.
The 2021-2022 season is also filled with promotions and theme nights, like the popular Family Feast Night, home to $2 beer, soda, hot dogs, and popcorn every Friday, Saturday, and Sunday all season long. Plans to host more events like fan appreciation days throughout the season are in the works.
Though the Kings have called Stockton home for only three years, their impact is evident throughout San Joaquin. The organization is proud to partner with civic leaders, businesses, schools, and nonprofits through programs like Stuff the Bus and Kings Closet at Stagg High School that support local youth in need, and 209 Minutes—an initiative that encourages fans to donate 209 minutes to local nonprofits during the holiday season.
With the 2021-22 season in full swing, locals can return that support in the stands. The Kings give residents an opportunity to cheer on NBA stars in the making, like Christian Terrell, a Sacramento native, and Sac State alum. "I am a hometown kid. Being able to be a part of a franchise that I've witnessed throughout the years…pretty much all my life…is amazing!"
Get tickets
Monthly Pass: Stockton.GLeague.NBA.com/Pass
Single Tickets: Stockton.GLeague.NBA.com/SingleGameTickets
Keep up on FB: Facebook.com/KingsStockton