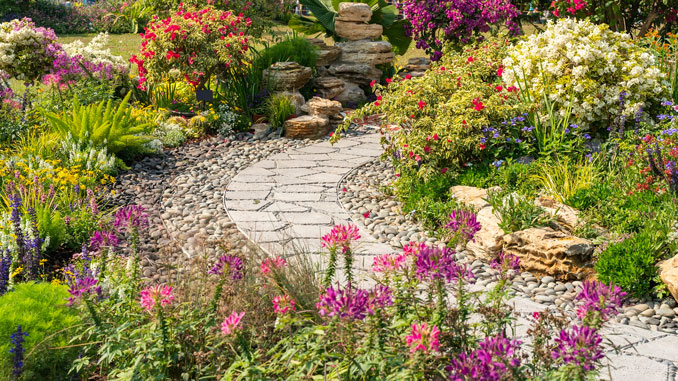 Move over mulch—landscaping rocks are an aesthetically pleasing way to upgrade your yard. Offering both function and longevity, many locals choose rocks to complete a variety of projects. "Our customers use rock in their garden beds, to create borders and pathways, and as statement pieces," says Maggie Rogers from Element Landscape Materials, Inc. in Stockton. "In many cases, customers will buy a combination of river rock, crushed rock, and large boulders, all to serve different functions in the yard."
Currently top sellers at Element include river rock/pebbles and decomposed granite. These two products both offer good ground cover that lasts longer than mulch and sand, which often has to be replaced year over year. In addition, decomposed granite can also be used to create cost-effective pathways and provide decorative ways to surround firepits and cover high foot traffic areas. Many customers choose it because of its diversity, coming in many colors, including natural stone and brighter options to add a pop of color to your space. River rock better replaces grass, used often for flower beds and as borders around other plants and backyard elements. "Like the decomposed granite, river rock also comes in a variety of colors (and sizes) making it very versatile," Maggie says.
While these two products have skyrocketed in popularity as locals take on home improvement projects, Maggie recommends not overlooking Mexican pebbles. "Mexican pebbles are quite unique because they are uncommonly uniform in color, shape, and size." The products carried at Element are also shipped directly from central Mexico so they are the real deal, and that's a fun tidbit to share with guests.
To cut down on maintenance even more—rock already requires less maintenance than many natural elements such as plants, grass, and mulch—opt for rocks that are ¾" or bigger. These larger rocks also cut down on other yardwork, working to fight weeds without causing an issue with water drainage. Rock may be more expensive at first, costing about 30-50% more than the other products mentioned, but over time with money saved on maintenance of the rock as well as the benefits it provides, most customers admit they save.