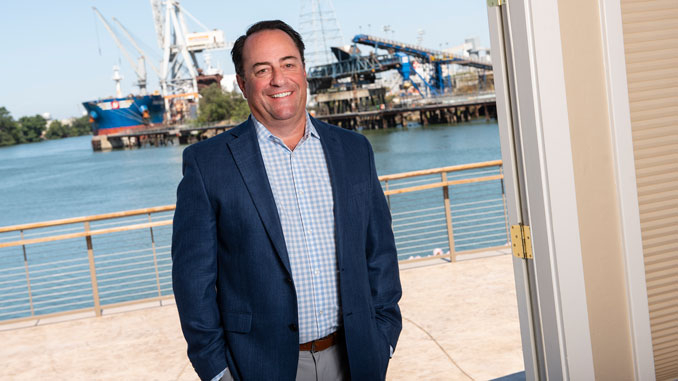 The Port of Stockton is more than a physical feature, it's a philanthropic pillar of our community. But, dedication to community connection spans beyond the support of many local non-profits, with an aim to create more jobs for our tight-knit community, serve as a steward for the environment, and act as a catalyst for positive change.
As Stockton native Kirk DeJesus steps into his new role as director, his focus is set on bolstering infrastructure in order to encourage additional international trade while keeping core characteristics predecessor Richard Aschieris honored for more than 20 years. "As a member of the Stockton community for the past 22 years, I know that it is imperative to support local programs and we will continue to do so," says Kirk. "As we grow, we will encourage and incentivize our tenants to support local jobs which will generate additional local tax revenue."
Kirk's big picture plans are locally focused, as the Port finalizes a strategic plan that outlines a forward path in regard to operational efficiency and financial responsibility. With planned growth and a desire to become a net export facility, Kirk notes the importance of improving infrastructure in order to meet customer's needs while maintaining fiscal and environmental responsibility.
There are a number of projects in process and on the horizon that will represent a significant investment in the community while helping to grow the local economy. Along with these growth and expansion initiatives, the Port of Stockton remains dedicated to reducing its environmental footprint through the purchase of zero-emission equipment and the implementation of programs designed to identify and reduce air pollution and emissions.
Though Kirk now oversees the transport of nearly five million tons of cargo every year for over 50 different countries, he says that the best part, and his most favorite aspect, of the Port is the people. "I feel truly honored to have the opportunity to be a member of such a dedicated and conscientious team."
For More Information:
PortofStockton.com